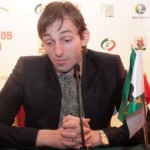 By mishanp on May 22, 2011
That was Alexander Grischuk's view after the third game of the Candidates Final ended in a 14-move draw. In a press conference that mirrored the game – it was short but packed with memorable incident – Gelfand also explained how his first encounter with grandmasters ended in failure. 
Posted in Russian | Tagged Candidates Matches, Gelfand, Grischuk, Ivanchuk | 6 Responses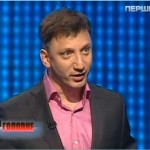 By mishanp on May 3, 2011
Andriy Slyusarchuk's blindfold victory over Rybka last week earned him his 15 minutes of chess fame, which is not at all bad for someone who took up the game 8 months ago! GM Sergey Shipov has written surely the most eloquent assessment of the 'trick', and of the current state of man-versus-machine contests.
Posted in Russian, Ukrainian | Tagged Alekhine, computers, Deep Blue, Fritz, Golubev, Houdini, Ivanchuk, Kasparov, Kramnik, Rybka, Shipov, Slyusarchuk | 2 Responses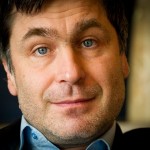 By mishanp on April 29, 2011
Here, as promised, is the concluding part of the recent long interview with Ivanchuk. As well as talking about women players, his favourite games, and when he might quit the game, his wife Oksana also joins the conversation. Few would disagree with her view that "Vassily's easy to love."
Posted in Russian | Tagged blindfold, Flesch, Golubev, Ivanchuk, Kamsky, Korchnoi, Malakhov, Oksana Ivanchuk, Polgar, Surov | 7 Responses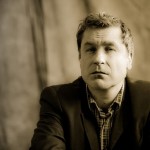 By mishanp on April 27, 2011
Few would identify emotional outbursts as the quality to borrow from Garry Kasparov, but then Vassily Ivanchuk has always stood out from the crowd. In a long and fascinating interview he again displays the self-awareness and deliberate strategy that often lie behind his apparent eccentricities.
Posted in Russian | Tagged Amber, Aronian, Carlsen, computers, Ivanchuk, Karpov, Kasparov, Oksana Ivanchuk, Olympiad, poker, Svidler, Topalov | 2 Responses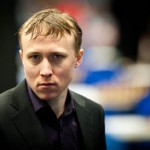 By mishanp on February 22, 2011
Answering reader questions almost a decade after becoming FIDE World Champion as an 18-year-old, Ruslan Ponomariov provides both a revealing insight into the life of an elite player, and a damning indictment of the chess politics that saw his match against Garry Kasparov collapse.
Posted in Russian | Tagged Carlsen, Crestbook, Ilyumzhinov, Ivanchuk, Kamsky, Kasimdzhanov, Kasparov, KC-Conference, Kramnik, Ponomariov, Short, World Cup | 3 Responses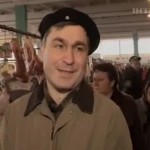 By mishanp on February 5, 2011
Vassily Ivanchuk's stunning win in Gibraltar reminded us all of his enormous chess talent, while his recent long interview with the Ukrainian Zaxid.net addressed the missing piece of the jigsaw – why is it that a genius like Ivanchuk has failed to mount a serious World Championship challenge?
Posted in Ukrainian | Tagged Capablanca Chess, Carlsen, Chess960, computers, FIDE, FIDE election, Gibraltar, Golubev, Ivanchuk, Kasparov, So, Tymoshenko, World Cup | 14 Responses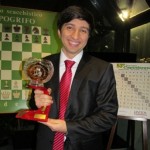 By mishanp on January 11, 2011
Vugar Gashimov's interview for Chess-News after his victory in Reggio Emilia was a vivid reminder of the importance of the human element in chess. He talks about motivation, how not all novelties are found by computers, and how Sofia Rules can lead to less interesting chess.
Posted in Russian | Tagged computers, Gashimov, Ivanchuk, Navara, Reggio Emilia, Short, Sofia Rules, Vallejo | 1 Response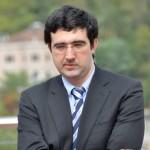 By mishanp on October 20, 2010
Fresh from his smooth win in Bilbao, Vladimir Kramnik gave an interview where he talked about the situation at the top in world chess, Magnus Carlsen's recent loss of form, and his own hopes of regaining the top spot on the rating list.
Posted in Russian | Tagged Anand, Aronian, Bareev, Bilbao Masters 2010, Carlsen, Grischuk, Ivanchuk, Kasparov, Kramnik, Leko, Olympiad, Shirov, Topalov, Vasiliev | 6 Responses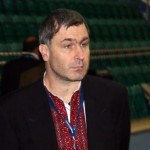 By mishanp on October 19, 2010
Despite his loss today to Aronian, Vassily Ivanchuk has been in impressive form of late, particularly in his dominant performance on the first board at the Olympiad. He recently gave an interview to the Ukrainian "Podrobnosti", where he talks about the Olympiad, what chess means for him and who he sees replacing his generation of players.
Posted in Russian | Tagged age, Anand, Carlsen, Gelfand, Giri, Ivanchuk, Jobava, Karjakin, Maria Muzychuk, Moiseenko, Olympiad, So, Tukmakov, Vachier-Lagrave, Volokitin | 3 Responses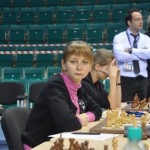 By mishanp on September 30, 2010
Russian Captain Evgeny Bareev comments on the first team failing to beat Ukraine and move into the lead at the World Chess Olympiad. The only (but perhaps sufficient) success story continues to be Sergey Karjakin, who revealed how a little female assistance gave him an easy victory against Pavel Eljanov.
Posted in Russian | Tagged Bareev, Dokhoyan, Efimenko, Eljanov, Ivanchuk, Karjakin, Kramnik, Malakhov, Nadezhda Kosintseva, Olympiad, Ponomariov, Svidler, Tatiana Kosintseva | 1 Response