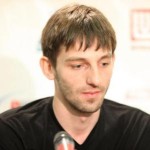 By mishanp on September 28, 2011
Shortly after the World Cup was over runner-up Alexander Grischuk gave an interview to Maria Fominykh. He talked about his route to the final, the "fair play" incident between Navara and Moiseenko, and how chess players approach chess – noting that usually it's as if they're going to a factory.
Posted in Russian, WhyChess archive | Tagged Aronian, Feller, Fominykh, Grischuk, Ivanchuk, Moiseenko, Navara, Potkin, Tkachiev, World Cup 2011 | Leave a response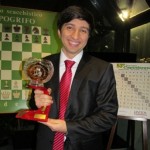 By mishanp on January 11, 2011
Vugar Gashimov's interview for Chess-News after his victory in Reggio Emilia was a vivid reminder of the importance of the human element in chess. He talks about motivation, how not all novelties are found by computers, and how Sofia Rules can lead to less interesting chess.
Posted in Russian | Tagged computers, Gashimov, Ivanchuk, Navara, Reggio Emilia, Short, Sofia Rules, Vallejo | 1 Response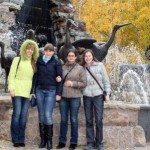 By mishanp on September 28, 2010
The Russian men's teams got back on track in round 6, with Evgeny Bareev again on hand to comment on the victories over the Czech Republic (2.5-1.5) and the Netherlands (3-1). Meanwhile, the women's first team almost ensured themselves gold with a "hair-raising" victory against Ukraine.
Posted in Russian | Tagged Bareev, Karjakin, Karpov, Kasparov, Kramnik, Malakhov, Navara, Nepomniachtchi, Olympiad, Shipov, Svidler, Timofeev | Leave a response