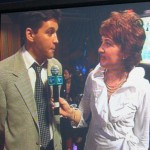 By mishanp on June 23, 2011
Yesterday I tweeted that FIDE was to introduce blitz and rapid ratings from 1 January onwards. The source, Chess-News, gave no details, but it now appears FIDE President Kirsan Ilyumzhinov was talking in a discussion that marked the launch of a new bilingual website by blitz aficionado, Vladislav Tkachiev.
Posted in Russian | Tagged Campomanes, Ilyumzhinov, Makarycheva, Surov, Tkachiev, WhyChess | 9 Responses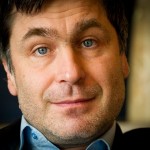 By mishanp on April 29, 2011
Here, as promised, is the concluding part of the recent long interview with Ivanchuk. As well as talking about women players, his favourite games, and when he might quit the game, his wife Oksana also joins the conversation. Few would disagree with her view that "Vassily's easy to love."
Posted in Russian | Tagged blindfold, Flesch, Golubev, Ivanchuk, Kamsky, Korchnoi, Malakhov, Oksana Ivanchuk, Polgar, Surov | 7 Responses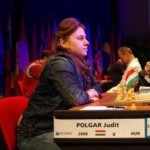 By mishanp on April 12, 2011
While Vladimir Potkin's transformation from coach into major tournament winner was impressive, perhaps the most popular story of the recent European Championship was Judit Polgar's spectacular return to form. After the event she gave an interview to Evgeny Surov of Chess-News.
Posted in Russian | Tagged European Individual Championship 2011, Karpov, Kasparov, Polgar, Potkin, Surov | 7 Responses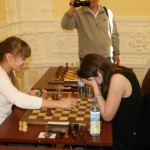 By mishanp on April 4, 2011
Hopefully, at least, as the chess didn't go quite so well for them! The brunette team won the April Fool's Day blitz match in Moscow's Central Chess Club by a crushing 20-point margin, with Nazi Paikidze and Daria Charochkina finishing joint first in the individual standings.
Posted in Russian | Tagged Blondes versus brunettes, Charochkina, Fominykh, Girya, Gunina, Kashlinskaya, Kuznin, Paikidze, Potemkin, Savina, Surov | 4 Responses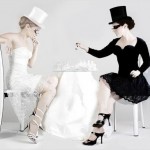 By mishanp on April 1, 2011
Yes, it's the chess event the world's been waiting for! Later today, in the famous Botvinnik Central Chess Club in Moscow, a team of blonde players will compete in a blitz match against a team of brunettes. The games will be broadcast live on the internet (video link unconfirmed!) from 5pm, Moscow Time.
Posted in Russian | Tagged Bivol, Blondes versus brunettes, Fominykh, Gunina, Kashlinskaya, Saulina, Surov | 1 Response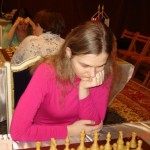 By mishanp on March 13, 2011
Chess events perhaps aren't famed for their organisation, but it's still unusual to find all the participants of a major tournament going on strike before the final round is played. That's what happened in the Cotroceni Women's International that recently finished in Bucharest.
Posted in Russian | Tagged Anna Muzychuk, Cotroceni International, Gunina, Pasarelu, Repkova, Surov, Turova | 7 Responses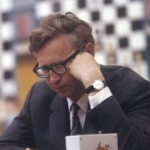 By mishanp on January 14, 2011
The death of the 7th World Champion, Vasily Smyslov (1921-2010), was one of the greatest chess losses of the last year. He featured in two year-end interviews: one with FIDE President Kirsan Ilyumzhinov, who claimed Smyslov also encountered aliens, and the other with GM Sergey Shipov, who recalled the Smyslov he knew.
Posted in Russian | Tagged aliens, Botvinnik, Capablanca, computers, Fischer, Flohr, Gulko, Huebner, Ilyumzhinov, Karpov, Krasenkow, Lasker, Morphy, Shipov, Smyslov, Spassky, Surov | 8 Responses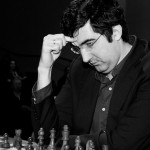 By mishanp on December 31, 2010
Evgeny Surov's interview with Vladimir Kramnik after the recent London Chess Classic provided not only an insight into Kramnik's thought processes during that event, but also a review of 2010 as a whole and an indication of his hopes for the coming year.
Posted in Russian | Tagged Aronian, Candidates 2011, Carlsen, Kasparov, London Chess Classic 2010, McShane, Nakamura, Nikitin, Surov, Tal Memorial 2010, Wijk 2011 | 8 Responses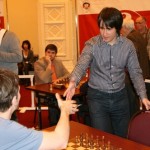 By mishanp on November 20, 2010
After his impressive second-place finish in the Blitz World Championship, Teimour Radjabov talked about the event, but also the issue of Grischuk replacing Carlsen as his opponent in the first round of Candidates Matches.
Posted in Russian | Tagged Aronian, Blitz WC, Candidates Matches, Carlsen, Danailov, Grischuk, Makropoulos, Movsesian, Radjabov, Surov | 3 Responses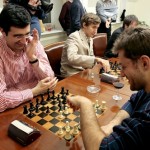 By mishanp on November 16, 2010
On the eve of the World Blitz Championship an event was held in Moscow for the opening of the Russian Women's Championship – where the women were joined by Magnus Carlsen and many of the Tal Memorial players, and Vladimir Kramnik played against a robot.
Posted in Russian | Tagged Aronian, Averbakh, Carlsen, Eljanov, Gelfand, Kosteniuk, Kramnik, Pogonina, Potemkin, robots, Surov, World Blitz Championship | 5 Responses