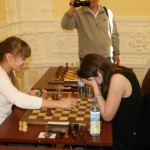 By mishanp on April 4, 2011
Hopefully, at least, as the chess didn't go quite so well for them! The brunette team won the April Fool's Day blitz match in Moscow's Central Chess Club by a crushing 20-point margin, with Nazi Paikidze and Daria Charochkina finishing joint first in the individual standings.
Posted in Russian | Tagged Blondes versus brunettes, Charochkina, Fominykh, Girya, Gunina, Kashlinskaya, Kuznin, Paikidze, Potemkin, Savina, Surov | 4 Responses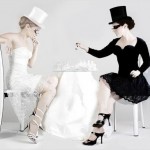 By mishanp on April 1, 2011
Yes, it's the chess event the world's been waiting for! Later today, in the famous Botvinnik Central Chess Club in Moscow, a team of blonde players will compete in a blitz match against a team of brunettes. The games will be broadcast live on the internet (video link unconfirmed!) from 5pm, Moscow Time.
Posted in Russian | Tagged Bivol, Blondes versus brunettes, Fominykh, Gunina, Kashlinskaya, Saulina, Surov | 1 Response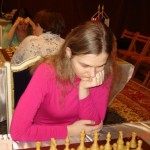 By mishanp on March 13, 2011
Chess events perhaps aren't famed for their organisation, but it's still unusual to find all the participants of a major tournament going on strike before the final round is played. That's what happened in the Cotroceni Women's International that recently finished in Bucharest.
Posted in Russian | Tagged Anna Muzychuk, Cotroceni International, Gunina, Pasarelu, Repkova, Surov, Turova | 7 Responses