Chess events perhaps aren't famed for their organisation, but it's still unusual to find all the participants of a major tournament going on strike before the final round is played. That's what happened in the Cotroceni Women's International that recently finished in Bucharest.
At first glance, the tournament had all the makings of a success. The 10-player round robin event brought together some of the stars of the women's game, including the Muzychuk sisters, 3-time US Champion Anna Zatonskih, top Polish player Monika Socko, and Valentina Gunina, a member of the Russian team that won the recent Olympiad. It was also being held, as Romanian WGM Alina L'Ami  pointed out in a nice preview, in the residence of the President of Romania, apparently with his personal backing for the event.
The other factor that should have helped was that in the absence of Linares, and with the Women's Grand Prix in Dubai coming to an end, there was little competition for publicity from the chess media. As it happened, however, the event was barely covered. Perhaps the official site provides a partial explanation. Although the games were broadcast live, the website is only in Romanian and has limited content: a couple of interviews with players and, strangely, photographs so far only from rounds 1-4 and 8 (unless stated, the photos in this article are taken from the official site). They show the players almost exclusively at the board in a hall with no spectators. It seems that was due to the difficulty of gaining access to the building, but it would still have been easy to present the event in a more compelling fashion.      
Nevertheless, it was only in the last round that an outside observer might really note that something had gone wrong. At first glance, the five quick draws perhaps don't raise any eyebrows, until you look at the tournament situation (see the usual excellent coverage at TWIC).
Valentina Gunina, with the White pieces, was half a point behind World Junior Champion Anna Muzychuk.  After Anna played 6…Bf5 this position was reached: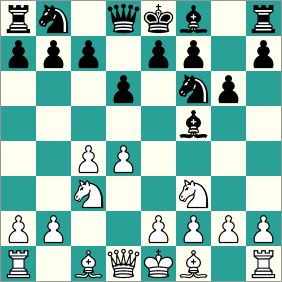 Valentina, needing a victory to win the tournament, went for: 7. Nh4 Bd7 8. Nf3 Bf5 9. Nh4 Bd7 10. Nf3 1/2 – 1/2 The other games were no more inspiring.
So what actually happened? That was revealed in an interview Evgeny Surov of Chess-News.ru conducted with Irina Turova and Valentina Gunina on the evening after the final round. Their flights weren't until the next morning:
Surov: But as I understand it, some people had earlier flights? Otherwise you wouldn't have had to make such quick draws in the last round?

Turova: Of course. For example, I was playing Monika Socko and we had literally 40 minutes left for our game. Of course, I wouldn't want to win a point like that without a fair game. From the first day onwards the organiser was promising us money. Each day he'd deceive us: tomorrow, tomorrow…

Surov: You're talking about appearance money for taking part?

Turova: I'm talking about travel expenses. For example, I flew from Arkhangelsk. My outlay was something like 600 euros for travel alone. That money wasn't paid, never mind the appearance fee…
As you can see, the problem turned out to be the tournament organiser. Surov goes on to question why the players had agreed to take part in the tournament, having had less than ideal experiences in the past: 
Turova: He gave me the money eight months after the last tournament…

Surov: Who's he? Why not name him.

Turova: It's Dan Pasarelu. In June my husband [Maxim Turov] and I won an open tournament in Romania. At the closing ceremony he said that he didn't have any money. And there were quite a lot of Russians there. As far as I know, Gavrilov, a master from Moscow, still hasn't received his money. Pasarelu asked us to keep quiet, to wait…

The Romanian Federation was apparently on our side. They suggested that we wrote a protest letter and then they'd disqualify him, but in that case he wouldn't, of course, give us our money. We didn't know what to do. We even wanted to turn to the Russian Chess Federation for help. In the end we received something like 80 e-mails, and in each of them there was some deception: "tomorrow", "in a week", and so on.

Surov: But in the end did you get your money or not?

Turova: We got it in February. But you know yourself that our nerves aren't made of steel.

Surov: But still, after that situation you nevertheless agreed to travel to Romania?

Turova: The thing was that the organiser was apparently someone else here – a Deputy. They wrote that it was the "President's Cup" and that everything would be at the highest level… That's why I believed them. And I only agreed because it was a strong round-robin tournament, and we don't have many of those.

Surov: That's true.

Turova: I don't have so many chances to play. Moreover, I'd played in this tournament last year, and we were paid everything that time.

Gunina: I agreed for the same reasons. I need to sit and write my thesis now, I haven't written anything at all, and there are only two months left – at the end of April I should defend it. But they phoned me up and invited me, and I looked at the line-up: I was only fifth in terms of ratings. Conditions like that, and a wonderful line-up… And I was very interested in playing, in training a little. Of course, I didn't expect it to go like this.
They begin to go through all the problems in order, starting with some of the players not being picked up at the airport.
Turova: The hotel, in general, had no link to the organisers at all. The management said they didn't know anything and that the organisers hadn't contacted them. In general, we got the impression that our presence was really disturbing the organisers from going about some business of their own.

Gunina: So you can get an idea how Pasarelu treated us, I'll give an example. On the first day after the press conference we asked if we could go to a shop. It was agreed that we'd meet in one and a half hours in order to travel there. We were there at the set time, and then waited 40 minutes outside. It wasn't as cold as it is in Moscow, but all the same. We found a taxi and paid our own money to go to the hotel, and it turned out that Pasarelu was simply having his dinner! We were so angry…
The problems continue, with no score sheets available on the first day (just blank pieces of paper), and the second round played 4 hours earlier despite the regulations having contained nothing about that. The venue was 30 minutes from the hotel, but only two cars and then eventually only a minibus were available to transport the players, so they were forced to wait for all the other games to end.
The hotel itself was fine, although Anna Ushenina had the misfortune to end up with a view of a graveyard:
Gunina: But you could live with all these "trifles": the absence of scoresheets, a view of the cemetery, the absence of shops nearby. But the food…

Turova: That was terrible.

Gunina: On the first two days there was a certain Julian with us (he rang round to us to go to the tournament). While he was there, we didn't eat badly at all, and he paid for everything. But then he left to handle his own affairs, and after a couple of days Eva Repkova signed for everything. The food gradually began to disappear. First honey, then fruit…
To cut a heartfelt but also comical story short, it seems that food was available, but only if paid for especially. Instead of the menu service on the first two days after that it was like eating in a canteen with no choice of meal. Drinks weren't even served with the food.
Events finally came to a head at the end of the tournament:  
Surov: What happened then, on the final day?

Turova: We were getting very nervous after the rest day because of the money not being paid. And in the last round we decided to refuse to play. A few days in advance we made that announcement to all the organisers and arbiters. It seems to me that they didn't particularly believe us. They thought, no doubt, that it wouldn't be possible to get all the women to agree.

Surov: And there was no reaction?

Turova: None at all. Pasarelu only visited the tournament about three times. In the final days he simply started to hide from us. Or he'd come for ten minutes during the games. Who's going to go and talk to him during the games? Of course, yesterday evening he told us that he'd bring us the money at ten in the morning, and we'd go to the round. We agreed. And we prepared for the games all night. But he didn't appear at ten in the morning, or eleven, or twelve. We were all waiting down below in the hall. We were really helped by Eva Repkova. If it wasn't for her, then I don't think we'd have received anything at all. At first she rang the office of the country's president and told the secretary everything. For the last three days the president had been busy with some sort of European commission, but Eva explained the whole situation and, it seems, that got things moving.

Surov: She's from Slovakia, right?

Turova: Yes. She speaks excellent English, but in general Pasarelu doesn't understand any language! How could we speak to him if he didn't want to understand us? Whatever we told him he'd reply with three words: "Everything is okay". Nothing more. Although, as far as I know, he does actually know some English. But Eva is very polite. No-one listened to her. She'd phone three-four times each day using "please" and similar words.

Surov: She's not brash enough for such situations…

Turova: No, she's not, she's very polite. Unfortunately I don't really know who at the tournament would have been brash enough. It was quite uncomfortable for all of us.

Surov: So how was the matter finally resolved?

Turova: In the end this Dan Pasarelu appeared at about one o'clock, when we'd already started to go our separate ways. Some people had even handed in their keys and were sitting with their suitcases. We'd decided to have lunch and sat down at the table. Then he appeared, gave us money, told us "to run off quickly and play". We said that until we'd eaten normally we'd go nowhere.

Gunina: And they told us: "Yes you'll be able to eat there. We'll get the food ready for you". We asked: "what will we have to eat"? They told us: "well, not soup, of course, but sandwiches". They saw our faces and added: "not only sandwiches, but croissants as well".

Turova: They lured us with croissants…

Gunina: I really wanted to play in the last round and was in a fighting mood. I had a novelty prepared that I was intending to use to surprise Anna. But instead of that I was forced to offer a pre-arranged draw, like everyone else.

Turova: Valentina was deprived of the chance to fight for first place. If things went well for me I could have finished third. The spectators arrived at 16:00 for the closing ceremony, but that was when we arrived to play. And everyone saw everything.

Gunina: And this evening, after all the scandals, we thought they'd feed us well. We arrived at the restaurant, and again that chicken… We'd already had it with rice maybe five times. Anna Muzychuk said that we'd soon start to cluck.

Surov: Was the difference in prizes between the places big?

Turova: To be honest, even the regulations don't make it very clear. In my opinion, it was small – 200 or 300 euros, but it was more of a matter of principle. We were all upset, with the possible exception of those who'd guaranteed themselves good positions. Anna Zatonskih probably wasn't upset. Of course, Anna Muzychuk wasn't particularly lamenting. But everyone was left with the feeling that the tournament hadn't really ended. It's as if we'd been playing and playing, but there was still more to go. 

Surov: So in the end it turned out to be a nerve-wracking tournament?

Turova: Of course. We were on edge the whole time. Each day at lunch there was only one topic of conversation. We were all starting to laugh about that.

Gunina: All the other organisers paid attention to us and wanted to help. The Deputy even wanted to give us some of his own money, but he didn't know how much. And afterwards we saw that he was shouting at Pasarelu. It was simply that during the tournament no-one was keeping an eye on him, and therefore he was able to treat us with contempt. You could say that it was one person alone who ruined the whole tournament. 

Surov: Is it true that Pasarelu has been reprimanded?

Gunina: Julian told us that apparently he'd been disqualified for a year. In any case, his name wasn't mentioned once at the closing ceremony, even when they announced who'd organised and sponsored the tournament.
The interview ends with some discussion of the difficulty there had been in getting everyone to unite against the organiser rather than keeping quiet in the hope of getting paid that way.
It's interesting to note that Dan Pasarelu is apparently no stranger to controversy. Chessdom reported last year on the unusual story of how the 75-year-old 7-time Romanian Champion Elisabeta Polihroniade publicly slapped Pasarelu across the face. Pasarelu also defended his reputation (and attacked the Romanian Federation's failure to send a team to the Olympiad) in an interview last year at a Romanian chess blog. The Google translation is enough to sense what a controversial figure he is, and that this isn't the first time he's had trouble paying players.