Moscow's Aeroflot Open can be something of a graveyard for foreign chess talent, so for the Vietnamese GM Le Quang Liem to win it twice in a row was an amazing achievement. It's also thought-provoking: does Le's success tell us anything about the current balance of power between Russia and Asia?
Defending Champion Le Quang Liem led the 2011 Aeroflot Open from start to finish. Even losing in the penultimate round to Ivan Cheparinov couldn't prevent his triumph, on tie-breaks, with a score of 6.5/9 and a 2809 rating performance.
Victory, as they say, has many fathers, and one of the first to appear was Anatoly Shvedchikov, who gave an interview to Evgeny Surov of Chess-News.ru. Although, as I'll explain later, it can't quite be taken at face value, Shvedchikov makes some intriguing claims. The Russian IM, who spent many years working with Vietnamese chess players, first explains how government support laid the foundations for the current rapid growth of chess in Vietnam:
We're now seeing precisely what Russian chess lacks – government funding. And on the basis of that financial support there have been certain achievements and successes. It wasn't by accident that chess was chosen, but because Vietnam had for a long time been unable to achieve success in Olympic sports – due to certain physical factors. Those in charge of Vietnam's Sports Ministry decided to focus on chess and, in general, that was no mistake.  You have to say that Vietnamese chess is now firmly in third place for Asian team events, after China and India. It's overtaken many countries with a developed chess tradition – like the Philippines, Uzbekistan, Kazakhstan and many other serious chess powers.
Shvedchikov goes on to talk about his role in the success of the country's star player, Le Quang Liem:
It's remarkable that this success has been achieved because at a certain point the President and Vice-President of the Federation instructed me to work at home with the most promising Vietnamese sportsman. Over the course of two years I would go three times a week to work with him at his home, as he was still at school, a young lad. That was around four years ago. The work bore fruit, as I was able to convey the very knowledge that was characteristic of the Soviet and German Schools of Chess. I was a pupil of Grandmaster Krogius – an eminent representative of the German School, of positional play, an upholder of that line beginning with Steinitz, Tarrasch, Lasker and other luminaries. The whole wisdom of those systems and methods of defence and thought – and the psychology of thinking methods is fundamental for any chess player – all of that was passed on to Le Quang Liem. There were an awful lot of translations from the library of our Russian sports academy. As a result, he absorbed all of the wisdom that we teach to grandmasters and students… And that symbiosis of the German and Russian…

So, after all, the Soviet Chess School is present in Liem! Who could have imagined it!

Who could have imagined it, indeed. Without doubt it's something of a paradox, because it's hard to find clear examples of positional chess players in Asia, even taking into account the leading Chinese sportsmen. The Chinese School is a little peculiar – it is, after all, distinct from the Soviet. Nevertheless, you can see that Hou Yifan, who won the World Championship and became the sportswoman of the year in China, has come very close to understanding the Soviet School of Chess. And her success is also deserved, unquestionably. Those are all links in one chain. The experience of the Soviet School of Chess has been passed to Asia to a much larger degree than to the West. 
Shvedchikov also attributes Le Quang Liem's success to a "colossal capacity for work" and a solid family background. The first inkling that the interview might be somewhat unreliable, however, came in the comments underneath it. IM Mikhail Vasiliev, describing himself as the Head Trainer of the Vietnamese national teams since 2009, said it was successful "self-promotion" for Shvedchikov, but failed to provide a true picture. 
Vasiliev later elaborated in a blog post at Chess-News, explaining that he'd replaced Shvedchikov a couple of years ago, and although he acknowledged Shvedchikov's "invaluable" contribution he points out that in order to continue improving they'd had to work on computer opening preparation and hold training sessions with highly qualified specialists. He also notes that Le Quang Liem's permanent trainer is Lam Minh Chau, the man with the camera in this photo from Chess-News: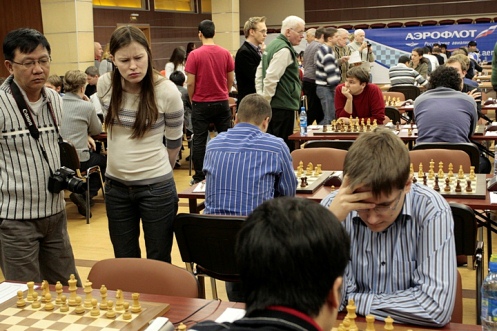 Actually, we know who the highly qualified specialists are. One is Evgeny Bareev, a former top-10 player and currently the man in charge (in chess terms) of the Russian Chess Federation. In a ChessPro interview he mentioned:
I spent a month and a half in Vietnam. I was working with the Vietnamese Carlsen – Le Quang Liem.
The other top-player/coach was former FIDE World Champion Alexander Khalifman, who worked with Le Quang Liem after his victory at Aeroflot in 2010, and went into some fascinating detail about that cooperation in the first part of his KC-Conference at Crestbook (he's been talking about Carlsen and the Soviet School of Chess – if you haven't seen the interview before it's well-worth a read):
What a school is and what its presence or absence means is something that you can understand very well if you analyze with Asian chess players. In February and March I worked a little bit with Le Quang Liem, and I will say honestly that sometimes my eyes popped out of my head. He is also a very talented boy (maybe not a Carlsen, but definitely out of the ordinary), and he is trying very hard to grow. But at the moment all he does is calculate and calculate variations. He calculates very well, by the way. But a school is, in my opinion, what you would call a basis of positional principles, playing from general considerations and this sort of thing. It's very hard to learn it even from good books. In order to know which pieces should go where and when to exchange what, that is when it is very important to work with a qualified trainer.
It seems Khalifman and Shvedchikov share an idea of what chess "school" (or schooling) means, putting the emphasis on positional understanding. Khalifman, however, notes the complete absence in Le Quang Liem of precisely what the trainer claimed to have taught him.
It's also interesting to see how Le Quang Liem is perceived by his fellow grandmasters. In round 5 Evgeny Tomashevsky, who finished level on points with Le, was the first to take even half a point off the Vietnamese player at the Aeroflot Open. He gave an interesting account of the game at Chess-News. You can view that game, together with all Le's games from the Aeroflot Open 2011, below:
Game viewer by Chess Tempo
After that I blundered with the move 26. Nd4. That often happens: you think you have a position with a clear advantage, then you contemplate it for a long time, and not only can you not find a win, but you can't see a clear advantage either, and you begin to look for some path to a forced draw and then blunder on the very first move. After that, however, desperate defence paid off. Perhaps my opponent couldn't quite adapt as he'd had to defend for the majority of the game. Players of his class usually convert such positions. You could probably say that I was, after all, lucky. It's hard to claim the result of the game was fair. Let's say that I was much closer to defeat than he was.
It was the first time in my life that I'd played that variation of the Grünfeld Defence. I managed, as they say, to catch my opponent out in a line. I got an edge, but it seems as though I overestimated my position. I should have played 21. Rxe7 and gone for an endgame where I'd be playing without any risk, for two results. The question would be: can Black draw or not? But I decided I had such a large edge that I didn't need to bother about playing for two results. My opponent, as usual, extricated himself trickily in the best Asiatic style. While it seemed to me I had a winning attack my opponent was thinking in the following manner: "if there's no forced loss, then that means everything's ok". Perhaps that's the way you need to think.
As you can see, what Tomashevsky emphasises here is that Le Quang Liem is less governed by positional considerations than by concrete calculation: "if there's no forced loss, then that means everything's ok" – the computer approach to chess, which may well be the future.
He made a similar point in an interview with Evgeny Surov after the tournament, again at Chess-News.  
For me, Liem certainly is an enigma of a chess player. I can't explain exactly what's behind his achieving such results, but it's clear that the man has a crazy talent for tactics. Besides that, he's got a great capacity for work and ability to focus.
So Tomashevsky supports Khalifman's view, undermining the idea of Le Quang Liem being a representative of "The Soviet School of Chess". It needs to be pointed out, however, that there are few concepts as slippery. Khalifman seems to use the term to refer to an essential body of knowledge. It could also describe a particular approach to chess (cf. the Hypermodern School) – but then how do you account for styles as different as Tal's and Botvinnik's, or Spassky's and Petrosian's? The "School" has variously been credited both with a positional approach, and with introducing deep concrete analysis.
A natural alternative is to see the Soviet School as a physical entity. The term is perhaps most often associated with Mikhail Botvinnik's school, but that appeared relatively late in the day, and there were separate schools all over the former Soviet Union. All of them had different personnel, different training schedules and, inevitably, different approaches to teaching chess. 
In an excellent Chess Moscow article looking at the current state of chess in Russia, Valery Chekhov, a chess school trainer who was once World Junior Champion, demystifies the Soviet School of Chess: (Note that "Pioneers' Palaces" were something like state-run youth centres providing extra-curricular activities. "Palace" comes from the fact the Soviets originally established them in former palaces!)
If you're talking about the Soviet School of Chess, then we had an excellent structure composed of: numerous clubs, Pioneers' Palaces, lots of events, government support. And, as a result – around 5 million people playing chess. And quantity turned into quality. Each year dozens of good chess players would appear. But nevertheless, there was no particular system of preparation. Everyone studied as they could, and as they wanted.
For Chekhov, what Russia requires now, with that quantity gone, is to establish a real system of preparation. Otherwise his prognosis is bleak:
We've lost our structural position. I think that in India or China the supply of young chess players is many times greater than in Russia. Therefore quantity will be transformed into quality there, and not here. In China, India, even in little Armenia – there's government support, and therefore they have psychologists who not only work with the children during the training process, but also support the sportsmen at almost every event. All promising sportsmen are provided with help from trainers and good events to play in. Plus, people in the East always know what comes first, and what's secondary – they know how to prioritise. Therefore I assume they've already been developing a scientific program of study in those countries for a long time now.
Later in the article Chekhov names Vietnam, and goes into more detail on how he sees the future:
In those countries that I've talked about (and there are also other countries that we know little about, for example, Vietnam and Turkey) they resolve the country's chess development problems systematically. We, as always, are just patching up holes. In my view, given the situation that I've described, the condition of children's chess in Russia isn't bad! It's catastrophic! The fact that such an approach is going to make us a second-rate chess power is no longer a question of decades, but of a few years. Does that mean that good, strong chess players won't appear in Russia? Of course not! But the process will be chaotic and unpredictable.  
As you've probably realised, Chekhov's article is part of a much wider debate on the future of Russian chess. I hope to return to that later, but for now, what can we say about Le Quang Liem? Although Shvedchikov's claim that Le's style is a reflection of the "Soviet School of Chess" seems far-fetched, it's clear that Le did have significant help from Russian chess players. You could risk the paradoxical conclusion that rather than conquering Aeroflot, that most Russian of tournaments, despite growing up in a chess wilderness – he succeeded because he'd had a better classically Russian (or Soviet) chess upbringing than most of his rivals.
Perhaps, however, we shouldn't end on chess geopolitics, but with Le Quang Liem's own explanation of his victory, at the Russian Chess Federation website: 
There's no magic. I simply really love chess, I study it constantly, and I try to play in every game rather than make draws. It simply went well!