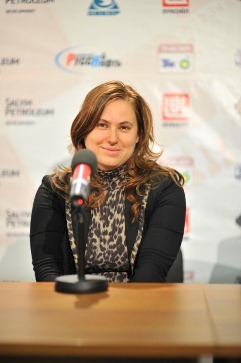 Judit Polgar occupies a unique position in world chess. As well as simply being one of the best players around, she's also living proof there's no genetic barrier to women competing with men in chess. As the latest grandmaster to take part in the "KC-Conference" series you can now ask her virtually anything.
Twelve renowned chess figures have so far answered readers' questions for the Russian-based Crestbook website, providing perhaps the best available insight into life at the top of world chess. The last three, Peter Svidler, Ruslan Ponomariov and Levon Aronian, also answered questions posed in English here at Chess in Translation. Judit Polgar has now kindly agreed to be the next in line.
The way it works is as follows:
You can leave your questions for Judit Polgar in the comments section below (or in Russian at Crestbook, or now also in Spanish at Ajedrez De Entrenamiento). Please only post questions there.
You can ask up to 10 questions, on any topic whatsoever, but remember to be polite and that Judit will have limited time. Also try to read through the earlier questions to avoid too much repetition.
The deadline for questions is Sunday, 27 November.
After that deadline Judit will be sent all the questions. The only editorial control might be to correct obvious spelling/grammar mistakes and group them thematically.
As soon as Judit has answered your questions we'll get down to translating, editing and publishing the results.
The comments section is below this post, but first you'll first find an introduction to Judit Polgar written for this occasion by Sergey Shipov (grandmaster, commentator extraordinaire and Crestbook's editor-in-chief), and below that a short (or as short as Judit's achievements allow it to be!) biography of the world's best female chess player. Both may serve as inspiration for your questions!
Sergey Shipov on Judit Polgar

Judit Polgar is the greatest female chess player of all time. She's never been, and is unlikely ever to become, the Women's World Champion, as that's a goal that makes no sense. The Hungarian queen is so superior to all other women (including her sister Susan Polgar), that you can only talk about her in the context of men's chess.

Judit has spent her whole career only playing against men and I see that as one of the reasons for her rise. The stronger your opponents, the greater the demands, and the more you have to push yourself to achieve your goal. But that factor is only third in order of importance. What comes first is still the colossal natural talent of the youngest Polgar. Her extraordinary abilities. As they say, it's God given – and that's that!

The second reason for her success is the unique family in which Judit grew up. The atmosphere of chess fanaticism created by Laszlo Polgar, the head of the family, and his older daughters, was the fertile soil on which the divine seed fell. The talented child had no doubt why she'd come into the world. From childhood onwards she studied with the best coaches, worked a lot and devoted herself entirely to her goal – which is why she became great.

If you created such conditions for the youngest child in millions of multiple-children families it's by no means certain that even a single one of them would grow into a chess player… never mind a chess player of Judit Polgar's level. She's a phenomenon. Unique.

Judit Polgar's mission on Earth has, by and large, already been completed – she's successfully destroyed the remnants of male chauvinism. She's proved that women are capable of competing with men at the very highest level. All the preconceived notions about the fundamental superiority of the stronger sex above the weaker in chess, and about an upper limit for women, have turned out to be wrong.

I've commented on many of Polgar's games and I've never found myself bored. She always plays with great invention and is capable of seeing hidden resources in positions and posing her opponents unexpected problems.

Judit's natural style is dynamic – she plays for complications and is always ready to sacrifice for the initiative. Her attacking potential is great and multi-faceted. However, her long stay among the elite has forced the warlike Amazon to moderate her fervour and master all the means of combat, including stubborn defence, patience and taking the psychology of her opponents into account. Of course, Polgar never became a technician on Kramnik's level, but she was still able to grow into a player almost devoid of weaknesses. Except, perhaps, that her sense of danger isn't at the elite level. Sometimes she gets carried away with activity, though that recklessness merely adds to the number of her fans. Bold play, shooting from the hip – what could be more beautiful in chess?

I'm endlessly amazed by the fact that getting married and giving birth to children hasn't led to a serious lowering of Judit Polgar's level of chess. Who could have imagined that family matters and an entirely natural lack of time and energy for preparation wouldn't be reflected in her results? But that's how it is.

I was there in person to see our Madonna play at the 2011 European Championship in Aix-les-Bains and also at the 2011 World Cup in Khanty-Mansisyk. It was simply incredible! Judit demonstrated colossal drive, a will to win and high class chess. Just as in her best years… though it's still not certain which years will be considered her best.

I don't want to get ahead of myself and predict how Judit the grandmother will play chess. I hope many of us will live to see and appreciate that.

One way or another, after centuries have passed all of us will be registered in small print in the Great Book of Life as contemporaries of the great Polgar.
Short Biographical Sketch

Judit Polgar was born on the 23rd July 1976 in Budapest. Unquestionably the strongest female chess player in history, she's achieved outstanding success in men's competitions. She can claim wins against World Champions Garry Kasparov, Anatoly Karpov, Boris Spassky, Vasily Smyslov, Veselin Topalov, Viswanathan Anand and FIDE World Champions Alexander Khalifman, Ruslan Ponomariov and Rustam Kasimdzhanov, as well as against many other leading grandmasters. She's been awarded seven Chess Oscars, and been named "Women's Chess Player of the 20th Century". She lives with her husband Gusztav Font (a veterinary surgeon) and two children, Oliver and Hanna.

The Hungarian chess player became a men's international master in 1988 and a men's grandmaster in 1992. Her current Elo rating is 2710 (35th in the world). Her highest rating is 2735 (July and October 2005, 8th in the world). She's headed the female rating list since 1989.

Judit and her sisters Susan and Sofia were brought up according to a unique system worked out by their father, Laszlo, and mother, Klara, who were both teachers. The sisters didn't go to school but were instead educated at home. As well as their general studies they worked on chess, with the older sisters also becoming strong chess players. Grandmaster Susan Polgar achieved outstanding results, and after winning a match against the Chinese player Xie Jun in 1995 she became the 8th Women's World Champion. She now lives in the USA. Sofia Polgar is an international master and lives in Israel.

The greatest success, however, was achieved by the youngest sister – Judit. Her talent was soon evident – at six years of age she started to play in tournaments and by nine the Hungarian Chess Federation had established her rating at 2080. At seven Judit played blindfold games against masters, while at 11 she beat Grandmaster Vladimir Kovacevich in a tournament game. Judit won her first international tournament when she was nine, and at 12 and 14 she won the Boy's World Championships in those age groups. She claimed her first prize of $1000 when she was nine, winning one of the tournaments of the New York Open.

In the Women's Chess Olympiads of 1988 and 1990 she became an Olympic Champion as part of the Hungarian team (together with her sisters Susan and Sofia, and also Ildiko Madl), posting the best individual results (in 1988 on board two she conceded her opponents only half a point in 13 games!). After the second Olympiad win (aged 14!) Judit began to play exclusively in men's tournaments. That decision looked natural, as already as a 12-year-old Judit had achieved a rating of 2555, which was 35 points higher than the rating of the then Women's World Champion, Maia Chiburdanidze.

Judit was awarded the title of (men's!) international grandmaster in 1992 at the age of 15 four months and 28 days, becoming the youngest grandmaster in the world at that point, and surpassing Bobby Fischer's achievement by a month. In January 1996 Judit's rating reached 2675 and she entered the World Top 10 for the first time.

She's taken part in the official men's World Championship qualifying cycle on a number of occasions. Back in 1993 she became the first female chess player to qualify to take part in an interzonal tournament. In the 1999 FIDE World Championship in Las Vegas she reached the quarterfinals, where she lost to the future winner, Alexander Khalifman. In 2005 she took part in the "tournament of eight" in San Luis (Argentina), finishing eighth. She narrowly lost a 6-game Candidates Match to Evgeny Bareev in Elista in 2007. At the 2009 FIDE World Cup in Khanty-Mansiysk Polgar lost on tie-breaks in the third round to the future winner, Gelfand (inflicting the only defeat he suffered in the whole tournament). She finished 4th at the 2001 European Championship in Ohrid.

Polgar has won or finished among the prizes in a great number of international tournaments, including those at the highest level. Her most notable successes are winning: the Hungarian Championship (1991), Hastings (1992), Madrid (1994 – with a 2778 performance, 1.5 points ahead of Kamsky, Bareev and Salov), Leon, Spain (1996), the US Open (1998), the Hoogeveen tournament (1998, 2001 and 2003), Bali, Indonesia (2000 – ahead of the then reigning FIDE World Champion Khalifman and his predecessor Karpov), Malmo (2000). Among her significant successes are: the OHRA Open in Amsterdam (1989, sharing 3rd place with Gelfand), the Madrid International in Linares (1992, sharing 2nd place behind Karpov), the Reshevsky Memorial in Manhattan (1992, 2nd place), the Donner Memorial in Amsterdam (1995, 3rd place ahead of Seirawan, Khalifman, Morozevich, Salov and Shirov), Vienna (1996, sharing 3rd place with Kramnik and Leko behind Karpov, Topalov and Gelfand), Linares (1997, 5th place ahead of Ivanchuk, Short, Gelfand and Shirov – Kasparov was the winner), Dortmund (1997, 5th place ahead of the then FIDE World Champion Karpov), Wijk-aan-Zee (1998, sharing 6th place and winning a game against the overall winner Anand), Merida (2000, 2nd place behind Shirov), Linares (2001, sharing 2-6th places behind Kasparov, against whom she drew both her games).

Judit's greatest achievement might be considered to be her second place at the Wijk aan Zee tournament in 2003 (8/13, with no losses). Only Anand finished half a point ahead of her, while a point or more behind were Kramnik, Topalov, Karpov, Ponomariov, Grischuk, Ivanchuk, Shirov and Radjabov.

On her return to chess after an extended break connected to the birth of her son Oliver, Judit played in the super-tournaments in Wijk aan Zee (2005, shared 4th place with Kramnik, Adams and Grischuk – Leko was the winner) and in Sofia (2005, shared 3rd place with Ponomariov, behind Topalov and Anand but ahead of Kramnik and Adams). After another break from chess activity due to the birth of her daughter Hanna Judit successfully appeared at the small but prestigious Essent tournament in Hoogeveen (2006, shared 1st place with Mamedyarov, winning both games against the then leader of the world rating list, Topalov), and then in Biel (2007, shared 3rd place, Carlsen was the winner). In a 6-player tournament in Vitoria, Spain, Judit shared 3rd place behind Topalov and Ponomariov and ahead of Kasimdzhanov and Karpov. Her last appearance to date at Wijk aan Zee was in 2008, when she finished in 9th place with a 50% score.

Judit has frequently represented Hungary at team events. The greatest success came in the 2002 Olympiad in Bled, when the Hungarian team won silver medals (Judit had the 3rd best result on the 2nd board, after also playing a few games on the 1st). In 1999 the Hungarian team finished 2nd at the European Team Chess Championship (Judit had the best individual result on the 2nd board). At the 2000 Olympiad the Hungarian team finished without medals, but Polgar had the best performance on the 2nd board (2772). Great interest was aroused by Judit's rapid chess victory over Garry Kasparov in the Russia – Rest of the World match that took place in Moscow in 2002, as it was the first time in history (and not only in chess but also in other sports) that the highest rated man had lost to the highest rated woman.

She's played in a number of high profile exhibition matches. In 1993 she won a match against former World Champion Boris Spassky 5.5:4.5. In 1995 she defeated Dutch grandmaster Jeroen Piket 6:2. In 1996 she won a match against Junior – the computer World Champion at that time. A rapid chess match in 1998 against Anatoly Karpov, who was then the official FIDE World Champion, ended with Judit winning 5:3. Another rapid chess match against Viswanathan Anand in Mainz in 2003 was a fierce struggle without a single draw and finished with Judit losing 3:5.

Judit has always taken an interest in non-classical forms of chess. She's played a few times in the Amber Tournament in Monaco (her best result was 5th place in 1993). In 1998 she shared 1st place with Anand at the prestigious Wydra Memorial (rapid chess) in Israel. In 2007 Polgar finished 4th at the Blindfold World Cup (6 chess players took part and the winner was Bu Xiangzhi, who Judit beat). In the 2001 Rapid Chess World Cup in Cannes, France, Judit reached the semi-final, where she lost to Bareev (who lost to Kasparov in the final). In the Blitz World Championship in Israel (2006) she shared 5th place with Gelfand (the winner was Svidler).

After that period of moderate chess activity related to the birth and taking care of her two small children, 2010 marked the fully-fledged return of Judit Polgar to contemporary chess. Among her greatest successes were: winning a rapid chess exhibition tournament in Mexico (2010, winning matches against Ivanchuk and Topalov), a crushing victory in a rapid chess match against David Navara (Prague, 2010) with a score of 6:2, sharing 1st-4th (3rd on tiebreakers – there were 167 grandmasters in the tournament) at the 2011 European Championship in Aix-les-Bains, France and, finally, getting into the quarterfinals of the FIDE World Cup 2011 in Khanty-Mansiysk, where after defeating such well-known grandmasters as Movsesian, the tournament's rating favourite Karjakin and Dominguez, Judit, in what's already become a tradition, lost to the tournament's future winner, Svidler. The numerous fans of this wonderful chess player admire her combative and creative style of play, and don't doubt there's still a lot more to come.

Books and documentaries have been produced about Judit Polgar, while she recently published her own book aimed at children (with illustrations by her sister Sofia), called "Chess Playground". http://juditpolgar.com/book_en.html

Judit Polgar's official website can be found at: http://www.polgarjudit.com/index_en.html
The best way of seeing how the "KC-Conferences" work in practice is to read through some of the earlier examples. Those currently available in English are:
The comments section below is now open until Sunday 27 November  for your questions for Judit Polgar!