Archives by date
You are browsing the site archives by date.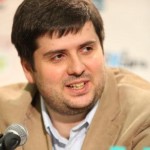 By mishanp on October 7, 2011
Peter Svidler has had a stellar last couple of months, winning the Russian Championship, the World Cup and now the European Club Championship. He recently gave an interview where he talked about his World Cup victory, and also what he isn't willing to do to become World Champion.
Posted in WhyChess archive | Tagged Fominykh, Grischuk, Polgar, Svidler, World Cup 2011 | Leave a response