Archives by date
You are browsing the site archives by date.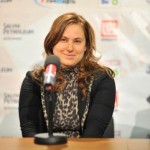 By mishanp on November 21, 2011
Judit Polgar occupies a unique position in world chess. As well as simply being one of the best players around, she's also living proof there's no genetic barrier to women competing with men in chess. As the latest grandmaster to take part in the "KC-Conference" series you can now ask her virtually anything.
Posted in Russian | Tagged Crestbook, KC-Conference, Polgar, Shipov | 42 Responses