Archives by date
You are browsing the site archives by date.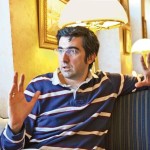 By mishanp on August 4, 2013
Vladimir Kramnik has had a wildly uneven 2013, swinging from the highs of the Candidates Tournament and Dortmund to an abject last place at the Tal Memorial. The Alekhine Memorial was merely disappointing, and afterwards he gave a long interview to a popular Russian weekly magazine.
Posted in Russian | Tagged Alekhine Memorial, computers, Fischer, Kasparov, Klitschko, Kramnik, Vodianova | 4 Responses