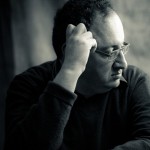 By mishanp on June 15, 2011
Boris Gelfand's view, in an interview with Chess-News after winning the Candidates Matches in Kazan, was that an in-form Ivanchuk is still the best player in the world. As well as the topic of age in chess, he also talked about preparation, computers, Sofia Rules and the World Championship format.
Posted in Russian | Tagged age, Candidates Matches, Carlsen, computers, Gelfand, Grischuk, Ivanchuk, Sofia Rules, Topalov | 20 Responses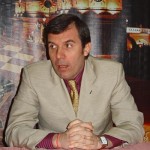 By mishanp on February 17, 2011
In a short but fascinating interview, Silvio Danailov, Veselin Topalov's manager and the President of the European Chess Union, shed light on the fate of a number of tournaments, his protégé's form, and new and controversial plans for the future of chess.
Posted in Russian | Tagged Candidates Matches, Danailov, European Women's Championship, Kramnik, Linares, M-Tel Masters, Sofia Rules, Topalov, Vasiliev | 5 Responses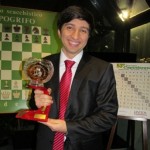 By mishanp on January 11, 2011
Vugar Gashimov's interview for Chess-News after his victory in Reggio Emilia was a vivid reminder of the importance of the human element in chess. He talks about motivation, how not all novelties are found by computers, and how Sofia Rules can lead to less interesting chess.
Posted in Russian | Tagged computers, Gashimov, Ivanchuk, Navara, Reggio Emilia, Short, Sofia Rules, Vallejo | 1 Response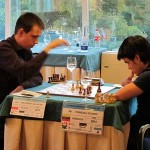 By mishanp on July 28, 2010
Radosław Wojtaszek, one of Anand's seconds in Sofia, gave an interview to the Polish chess magazine "Mat". Topics included the help provided by Kramnik & co., the enigma of Topalov's "weak" play but stellar rating, and the effect of the volcano on Anand's plans.
Posted in Polish | Tagged Anand, Bartel, Carlsen, computers, Gajewski, Giri, Kramnik, Mat, Sofia Rules, Świercz, Topalov, WC 2010, Wojtaszek | 18 Responses
By mishanp on November 9, 2009
Ilya Odessky's report included a transcript of Kramnik's demonstration of his game with Anand, given as proof of the folly of considering draws necessarily boring.
Posted in Russian | Tagged Barski, draws, Fominykh, Ivanchuk, Kramnik, Leko, Odessky, Ponomariov, Sofia Rules, Tal | Leave a response