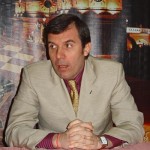 By mishanp on February 17, 2011
In a short but fascinating interview, Silvio Danailov, Veselin Topalov's manager and the President of the European Chess Union, shed light on the fate of a number of tournaments, his protégé's form, and new and controversial plans for the future of chess.
Posted in Russian | Tagged Candidates Matches, Danailov, European Women's Championship, Kramnik, Linares, M-Tel Masters, Sofia Rules, Topalov, Vasiliev | 5 Responses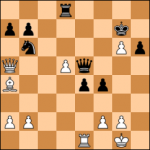 By mishanp on February 21, 2010
In the Topalov-Aronian game at Linares Topalov missed a beautiful, hard-to-see but not hard-to-calculate, combination. His previous good luck combined with Aronian's previous bad lack inspired a remarkable summary from one commentator.
Posted in Russian | Tagged Aronian, Linares, Topalov, Vasiliev, Zagrebelny | Leave a response