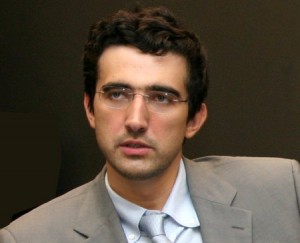 With chess about to start in Khanty-Mansiysk, Vladimir Kramnik gave an interview to Yury Vasiliev of  Sport Express. As well as expressing his hopes for the Russian team in the Olympiad he talks about how he helped Anand in Sofia, the glass cube in Bilbao, and gives a damning assessment of Topalov and Danailov's recent comments about the Candidate Matches. 
Kramnik and Vasiliev were speaking in a sanatorium in Zvenigorod, near Moscow, where the Russian teams had their pre-Olympiad training camp. As I reported (complete with photo) at the beginning of Sergey Shipov's preview of the Olympiad, Kramnik managed to damage his hand playing football or basketball, which probably means he'll come in for some real teasing from his colleagues when they see this interview:
Everyone's looking after their own condition. The younger guys are playing volleyball and basketball while, as a veteran, I prefer to swim in the pool. I keep constantly reminding everyone to be more careful as getting an injury on the eve of the Olympiad is, to put it mildly, undesirable.
Kramnik talks about the good atmosphere in the team, how they're willing to share novelties with each other, and says that the first team reserve player Vladimir Malakhov, as a newcomer to the event, will have extra motivation. The interview continues (note, Carlsen is playing!):
You recalled the Olympiad in Manila where you posted a legendary result – 8.5/9 – on the reserve board, while I mentioned the recent Olympiad in Turin, when you had the best result on the first board. This time the tournament on the first boards will be even more impressive – Carlsen, Aronian, Gelfand, Ivanchuk, Kamsky, Topalov, Mamedyarov, Leko, Shirov. Out of the elite only Anand's missing…

Is Carlsen playing? I thought he'd refused. In any case, whoever plays, the first board at the Olympiad is very powerful. It's almost a super tournament. Playing on the first board is the same as playing at Linares or, let's say, Dortmund. It's clear that the Russian first team will have to play all the best teams, which means that I'll have to meet all the best elite chess players. For me, as it turns out, it'll be a normal tournament – from the point of view of its strength, and particularly in terms of responsibility.

The first board always sets the tone for the match…

Although it brings the same points as any other board, for the team the first board does of course have a particular psychological significance. If the leader plays well it inspires confidence in the team. In the 90s when Kasparov was the team leader (and he usually played successfully on the first board), it was much easier for those "behind him". I understand that perfectly and I'll try to show what I'm capable of.  
Kramnik talks about how well the Russian Chess Federation has prepared for the event, and says that the Russian second team are young and ambitious and will provide serious competition for the first team. Then he gives his verdict on Russia's chances:
And now for the moment of truth: when, if not now?

Yes, we're staking everything on victory. It's also very important for me personally, as in terms of contemporary chess I'm already an old player, and I don't know how many more Olympiads I'll have, so I really want to win this one.

But if you look at the situation objectively, then you have to realise that our competitors are very strong. For example, the Ukrainian team has finally got together its optimal line-up, which is almost equal to ours in terms of ratings. So we don't have a great advantage, but in modern chess that's essentially impossible. There's the traditionally strong Armenia, China is improving with each Olympiad, and other teams have also come up, for example, France.

So it's going to be very tricky, no-one can guarantee a victory, and more likely than not it'll all depend on one move in the final round. But I can only repeat: we'll do everything we can to win. We just need that little bit of luck, which I hope this time will finally be on our side.
The conversation is perhaps of greater interest, however, when it moves on to other topics. This is the full text of the remaining part of the interview:
Now, Vladimir, a few "non-Olympic" questions. You travelled to Zvenigorod straight after the tournament in Shanghai. The tournament was short – only six games. But it was a qualifier for the "Grand Slam" final in Bilbao, where you haven't yet played. How would you rate your play in China and your prospects in Bilbao?

In Shanghai my main task was to get warmed up for the Olympiad, which in general was why I agreed to play there. I needed some practice, especially as the time control was similar to the one they'll use in Khanty-Mansiysk: somewhere between rapid and classical chess. Playing in China wasn't so easy for me as the difference in time zones and climate was significant, and I ended up arriving literally a day before the tournament began, which, clearly, was a mistake. In the end I qualified, and now I'll have to play in a very strong tournament literally a couple of days after the Olympiad.

In Bilbao, which you qualified for, the first days of October will see the first Category 22 tournament in history. A landmark event, as people say nowadays. If your information about Carlsen not taking part in the Olympiad is true, then it'll be the case that both he and Anand will appear at that historical tournament in a more advantageous situation – they'll be fresh.

In principle, playing in a Category 22 tournament, a first in the history of chess, will be very interesting. The line-up is extremely strong. Of course, it would be good to prepare appropriately for such a serious tournament, and not to dash from one place to another [literally – "from the ship to the ball"]. But, on the other hand, even if I'll no doubt be a little tired after Khanty-Mansiysk, I'll be, as they say, played in.  

You'll have to play in the glass "aquarium", set up on a square and surrounded by hundreds of spectators standing on all sides. I remember that Anand, playing in the first such tournament and ending up last without a single victory, said that he'd never play in the "aquarium" again. However, as it turned out, he changed his mind and decided to try it out a second time. But what do you think about the exotic conditions in which you'll have to play in Bilbao?

I've never hidden my feeling that it would be better if very strong tournaments were held on a theatre stage as is done, for example, in Dortmund. The exotic conditions can affect your performance. At least I've heard from some chess players who've had to play in the "aquarium" that it's harder to play behind glass than it usually is. But what can you do if the organisers have decided… I suspect that the conditions in the "aquarium" won't be the most comfortable, but it's not the end of the world, and in any case it won't be the decisive factor.

Of course you followed the Anand-Topalov title match. What were your impressions?

It seemed to me that Anand should have won more easily. In the second half of the match for some reason or other he made serious and uncharacteristic blunders. For example, in that game where he missed an elementary draw, or in the next where he missed an elementary win. So the suspense was maintained right up until the end and the match was very tense. In terms of play Anand was clearly superior to Topalov, but it has to be noted that the Bulgarian grandmaster, it seems, was a little better prepared theoretically, and in sporting terms dealt with the tension better. But in a pure chess sense the match showed what we'd all known already before that: Anand's play is superior to Topalov's. The Indian grandmaster is a great chess player!

Anand, in his long interview in India, said that you'd helped him in the match against Topalov. How did you implement that assistance in practice?

I've always had very good, I'd even say friendly, relations with Vishy, despite the fact that for many years now we've been competing with each other. In the match with Topalov a number of the opening lines played were ones which I'd developed. And therefore when it became clear that Anand was experiencing difficulty in my "trademark" openings, I decided to help him. Not in order to show that I was supporting him morally, but because I felt that I could really help him. Now I can tell you that in a series of games the play went according to what we'd worked out. So that I really was able to give assistance to Anand, which I was very glad about.

But weren't you amazed that you ended up, so to speak, in the same Anand training team as, even if at a distance, Kasparov and Carlsen?

No, that didn't surprise me at all. Knowing both of the players in the match in Sofia well, simply on a human level it was no surprise to me that 99% of the chess world was rooting for Anand and was ready to help him.

There's plenty of time before the Candidates Matches in Kazan, and we'll manage to speak more than once, I hope, but nevertheless I can't help but ask you how you assessed Topalov's declaration that he wouldn't play in Russia with a Russian player?

Well, Danailov and Topalov say a lot of things. It's long been clear that they're focused on such scandalous PR. I'm used to their "sensational" declarations, as well as to the fact that they go back on their words. First Topalov declared that he wouldn't play in Russia at all and then Danailov explained the position of his protégé, that it was only me he wouldn't play…  

For me it's totally obvious that if it comes to our match – and we can only meet in the final – then Topalov will, of course, play. But in the meantime, as is his habit, he likes to make a lot of noise and scandals. I don't intend to judge him, it's his choice, but such a style disgusts me. At the same time, I repeat, I'm sure that Topalov's preparing very seriously for the tournament in Kazan and will be a very serious opponent.

This autumn, and then winter, are packed for you: Shanghai, Khanty-Mansiysk, Bilbao, Moscow (Tal Memorial), London, Wijk-aan-Zee… You call yourself an older player but you're appearing in tournaments with a frequency that you didn't have even when you were preparing for your match with Kasparov. How can you explain that paradox?

(Laughs) Yes, my timetable is more junior than veteran. I really don't remember ever playing in so many events in a row. I must confess that I intentionally decided on it, as it's part of my plan for preparing for the Candidates Matches. For reasons I don't want to go into just now I want to play as much as I can at the moment. But directly before the tournament in Kazan I'll switch to a more regular timetable of appearances.

And will you play in Linares?

For the moment I don't know. It'll depend on the exact dates of the Candidates Tournament. In March I'll play in Nice, in the tournament held there every year.

In the "blind-sighted", as my "SE" colleague Vladimir Pronin calls it?

Yes, this year it's the 20th anniversary. And already a year ago the organisers approached me especially so that I could construct my timetable to take part in that outstanding event.

Well, and finally, a question that's already become traditional: how's your daughter Dasha?

Due to the fact that from one trip I went off on another, without stopping by my house, I've had to watch her progress in the photographs and videos my wife sends me on the internet. Dasha can say some words, for now mainly French, but also Russian. I'll try to arrange for Maria and Dasha to come to Bilbao. I dream of being with them. I've really missed them!