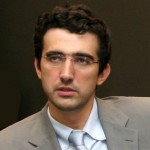 By mishanp on September 20, 2010
With chess about to start in Khanty-Mansiysk, Vladimir Kramnik gave an interview to Yury Vasiliev of  Sport Express. As well as expressing his hopes for the Russian team in the Olympiad he talks about how he helped Anand in Sofia, the glass cube in Bilbao, and gives a damning assessment of Topalov and Danailov's recent comments about the Candidate Matches. 
Posted in Russian | Tagged Anand, Bilbao, Candidates Matches, Carlsen, cube, Danailov, Kasparov, Kramnik, Malakhov, Shanghai, Topalov, Vasiliev, WC 2010 | 11 Responses
By mishanp on June 20, 2010
The second installment of Boris Gelfand's answers to the questions of Crestbook readers kept up the incredible length and quality of the first. A general title might be, "Everything you ever wanted to know about GM chess but never dared to ask". He patiently answers questions ranging from "e4 or d4" to "what's the meaning of life"!
Posted in Russian | Tagged age, Anand, Anti-Moscow, Carlsen, Caruana, cube, Elista, FIDE election, football, Gelfand, Giri, Grischuk, Ilyumzhinov, Ivanchuk, Karpov, Kasparov, Kramnik, Makropoulos, Najdorf, Nakamura, Petroff, Pirc, Rodshtein, time control, Topalov, WC 2010 | 5 Responses