Archives by date
You are browsing the site archives by date.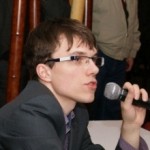 By mishanp on March 16, 2012
Mateusz Bartel could have been forgiven for taking life easy after winning the Aeroflot Open and a coveted place in the Dortmund super-tournament. Instead he went on to win the Polish Championship for the third year in a row. Leszek Kropisz interviewed a player whose star is in the ascendancy.
Posted in Polish | Tagged Aeroflot Open, Bartel, Caruana, Macieja, Mat, Mitoń, PCF, Polish Championship, Soćko, Wojtaszek | 3 Responses