Russia's 3:1 victory over the USA in round 4 saw some of the best Olympiad coverage yet. Bareev's traditional commentary (read on for what Malakhov could learn from a cleaning lady!) was joined by Karjakin's overview of the round, two photo reports and live and post-game insight on Kramnik-Nakamura.
Rather than translate each source separately, I've decided to focus on the Russian first team's win, and take each game in turn. But first, some overall comments:  
Russia 3: USA 1  
Vladimir Barsky, in a photo report on the Russian Chess Federation website:  
The match attracted great interest – a lot of spectators crowded in front of the tables, and at some point the arbiters, at the request of Vladimir Kramnik, moved some of the most curious further away from the players.   
Evgeny Bareev, speaking to Yury Vasiliev for Sport Express:  
We were all of the opinion that the 2nd and 3rd rounds had been very tough for us. And there was a feeling that we'd managed to come through a difficult patch. It doesn't mean that it'll be plain sailing ahead. But today, strange as it sounds, the match was a lot easier than the previous two.  
Vladimir Kramnik 1/2 – 1/2 Hikaru Nakamura  
Bareev:  
As for Kramnik, he played very well against Nakamura, achieving a totally won position, but in Nakamura's time trouble he spoiled it at the end and let the victory slip. Nevertheless, a 3:1 score against the USA is very respectable…  
Sergey Karjakin, talking to Barsky:   
The position in the Kramnik – Nakamura game, of course, was hard to evaluate, but you never lost the sense that white should be better, that Volodya would win or draw. There were almost no worries about the outcome of the game.  
Mikhail Golubev, commentating live for ChessPro, summarised the game as follows:  
I think we've witnessed a great battle. I won't try and judge how logical the outcome was. But Nakamura demonstrated phenomenal resourcefulness in solving the complex problems that Kramnik posed him. Your commentator didn't find the time and/or desire to glance at what was happening in the other games today (and so I've no idea what's going on there). If only it was always that way!  
Sergey Shipov included the game in his video roundup (in Russian, though perhaps a non-Russian speaker can gain something from watching the moves), but also responded at his forum to Nakamura's tweet, "Absolutely disgusted that I missed 34…Nc2 and let my team down by not winning. Oh well, tomorrow is a new day!":  
Crazy! He has an absolutely hopeless position, barely saves it, and still complains that he didn't win! However, it's to just such impudent people, as a rule, that success comes…  

The move 34…Nc2, of course, didn't win. White could draw in various ways.  

The simplest is: 35. Nc7 Qb4 (and just try to find that!) 36. Reb1 Qxe4+ 37. Kg1 Nd4 (the exchange on a1 leads to a quiet game with chances for white) 38. Rxb7 Nf3+ 39. Kf1 and black has nothing better than perpetual check.  

So you can let him know! :)  
Gata Kamsky 0 – 1 Alexander Grischuk 
Bareev: 
Both Karjakin, and Grischuk, have won three games here in Khanty-Mansiysk, but while Sergey's been getting points playing white Grischuk's been getting them with black on a higher board. Touch wood… You can sense that Sasha's in pretty good form, he's playing brightly, creatively. Any win is precious, but to beat such a dangerous opponent as the great Gata Kamsky is really good! Even more so as matches with America have always been significant for us…  
Karjakin:  
We expected that Kamsky and Grischuk would play some very sharp Sicilian, but Gata played Nf3 and g3 – he decided to go for long-term play. Sasha managed to outplay him. At some point heavy manoeuvring began, and Sasha out-manoeuvred him. Gata got nervous and began to hit the clock – clearly there was time trouble, and he'd stopped liking the position.  
Alexander Grischuk, quoted by Vasiliev in his ChessPro photo report:  
He moved and moved, but then he had nothing left to move with. There were a lot of pieces, but none to move with.  
Vasiliev (at Sport Express):  
I bumped into Gata coming out of the playing hall and he was unnaturally pale, with his head thrown back and his eyes half-closed. He was scrolling through the encounter in his head and trying to understand where he'd made the decisive mistake. You can lose in many ways, you can blunder, you can pick up the wrong piece in time trouble, but to lose LIKE THAT?! Losses like that leave a very painful imprint on a sportsman's soul.  
Sergey Karjakin 1 – 0 Alexander Onischuk  
Vasiliev, at Sport Express, explaining Bareev's reasoning in only giving Karjakin the white pieces:  
But the idea's simple: white in Karjakin's hands is like a lightsabre in the hands of a Jedi Knight.  
Bareev:  
Karjakin caught Yury Shulman out immediately in the opening and got an almost won position (it seems, out of his home analysis).  
Karjakin (this is the start of his analysis before he goes into more detail):  
I was put on board three specially, though I thought I could also have played on the last, with black. In that case Svidler would have played Onischuk with white. In general, Peter and I have a similar opening repertoire, so after it was decided that I was going to play he helped me with my preparation. For which I'm really grateful!  
Yury Shulman 1/2 – 1/2 Vladimir Malakhov 
Bareev:  
The only worry was our fourth board. Voldoya Malakhov came up against a "novelty" that even the building's cleaning lady knew about. But he just sat there, amazed… In the struggle that followed, however, Malakhov managed to establish counterplay with the help of an extremely tenacious defence, and it all ended up fine.  
Karjakin:   
While Malakhov really did get into a dangerous position, a pawn down. But generally he holds such endgames very confidently, and we were hoping that he wouldn't lose. You have to put in a lot of effort to beat him!  
As well as the focus on the Russian teams, the photo reports by Barsky and Vasiliev included a lot of other tidbits. For example:   
Barsky quoted Sergey Rublevsky as saying "the gas attack's starting again", in reference to the Chinese chess players apparently having smeared themselves with "fragrant (to put it mildly)" ointments. Other photographs include the arrival of the "2 Ks", with Kasparov signing autographs, and a contestant praying during the round.  
Vasiliev addresses the question of the excessive number of Russian teams:  
Everyone's in absolute agreement that it's clearly too much. It's interesting that Ilya Levitov also thinks so. But couldn't the top manager of the Russian Chess Federation stand up to the insistence of local enthusiasts…  

It's a pity. After all it's nothing terrible. It's much worse. It's funny. I think they should have stopped at the number 3. Everyone would still have accepted that. But 5 – it's clearly too much.  
He also "pops the question" (sort of!) to Veselin Topalov, who shows off his wedding ring and confirms that he's just got married.  
Running through the report is the theme of the weather having taken a turn for the worse.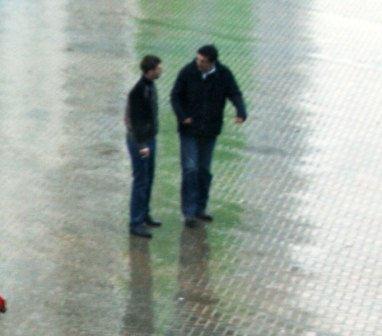 Can you identify these suspicious figures Vasiliev spotted in the Khanty-Mansiysk rain?