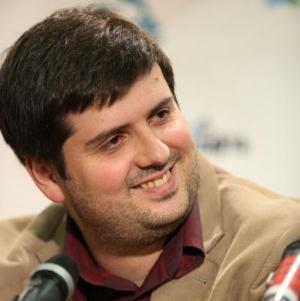 After an utterly deserved victory at the World Cup (picking up 20 rating points and moving into the Top 10 in the process), Peter Svidler gave an interview to Yury Vasiliev of Sport Express. He discussed a number of old scores he'd had to settle along the way.
First published but no longer available at WhyChess – more here
Vasiliev mentions that the tournament draw had pitted Svidler against a series of "inconvenient opponents":
Yes, my tournament fate was no laughing matter. In the first round I was playing against a player who's not particularly well-known to Russian chess fans – the Brazilian Darcy Lima. But I talked to Sasha Grischuk a lot here and he's played him twice at the World Cups. So Grischuk warned me in advance: "Be prepared for that man to play tough and well against you". It all turned out as Sasha said. The man played tough and well. But I hadn't had any previous meetings with him before that, as I hadn't either with the Vietnamese player Nguyen Ngoc Truong Son, who I played in the second round.

The Vietnamese player is considered a prodigy…

They're all prodigies there in Vietnam. And that the guy could pose problems was something I knew about in advance. But all that was nothing. Afterwards four matches awaited me with people I've got a very bad score against. Against the Italian Fabiano Caruana I had "minus 2" before this tournament, with no wins, a clear "minus" against Gata Kamsky, a great big "minus" against Judit Polgar and, finally, a "minus" against Ruslan Ponomariov…

But, from a certain point onwards, I began to perceive that as a good sign. After beating the first two opponents who I'd had problems with historically I decided: the fact I'm coming up against them all here is good, because it means I have the chance to somehow reestablish our relations and repay some debts…

It seems to me that the match against Kamsky is particularly worth singling out in that regard. After that it was as if you had wings – you raced to the final…

The match against Gata was difficult. With White I won a game which there was no way I should have won. The good way of putting it would be: I outlasted him. The game with Black, on the other hand, gave me a very big boost…

I followed that game live and when the computer showed your move 26…Re2!! on the screen I initially thought: no doubt there's some transmission error… And then it hit me: what a beauty! For a moment it even seemed to me that the ghost of Paul Morphy was sitting behind you and inspiring you to make that move… To my taste that was the most beautiful move not only at the World Cup but, perhaps, the most beautiful move of the year in general.

We've all seen such things in old books… There are combinations with that motif in the games of Frank Marshall… But when you're involved you think: well, my word, why did such a thing happen?! That can't help but give you an extra motivation to play well in future. As they say, if the wind's in your sails you can't allow that to be in vain.

And it wasn't in vain. The whole chess community agrees that you demonstrated the most powerful play at the tournament and deserved to win.

I don't know what the community says but for me the opinion of Sasha Grischuk is very important, and after the end of our match he told me: "You played well in this tournament, including during our match". If Sasha says that then that's probably the way it was.

We'll get onto your match against Grischuk, but after Kamsky you had a match against the best female player of all times and nations, Judit Polgar, at whose hands you'd often suffered…

As Alexander Khalifman expressed it, Judit has a positive score against all of those who had problems with the female sex. If I'm playing well against her now it means something's gone right in my life. (laughs)

Against Ponomariov you also had unpleasant memories – from 10 years ago…

Ponomariov knocked me out in the semifinal of the World Championship in Moscow, and also beat me a few times afterwards. My score against Ruslan isn't good. So it meant that I faced a group of people in a row who theoretically should have been a problem for me!

But in the end all of that turned out to be some sort of special sign of destiny, a challenge that you accepted and came through with flying colours. And now we come to the final match against Grischuk, your close friend and colleague during the battles in Kazan. How did you manage to get in the mood for a serious fight against a friend?

Sanya and I talked a lot before the final and spent quite a lot of time together. When we both won our semifinal matches we discussed that issue. And we came to the conclusion: yes, it's not good, but it would be much worse if we were playing for third place, as in that case one place in the Candidates Tournament would be at stake. But when both of us had already got into the Candidates that could be considered a milder variant… What can you say? After all, we can't create an artificial situation whereby we won't meet at the board until the end of our lives. As you know, that's a pipe dream…

In the match against Grischuk I deliberately did all I could not to play what we'd looked at together. After all, we'd also worked a lot together before Kazan. In general, none of the matches in Khanty-Mansiysk were simple, but that one against Sanya turned out to be the most difficult for me.
Later in the interview Svidler said he had no problem with the fact he wasn't invited to the Tal Memorial (they chose the line-up before his recent excellent results), but he was amazed Alexander Grischuk wasn't going to take part. He also said he'd be happy to play for Russia in the European Team Championship if he was selected – which seems likely, given Vladimir Kramnik and Sergey Karjakin have already asked not to be involved.