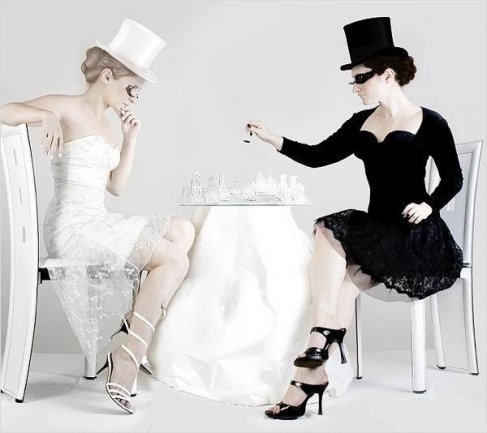 Yes, it's the chess event the world's been waiting for! Later today, in the famous Botvinnik Central Chess Club in Moscow, a team of blonde players will compete in a blitz match against a team of brunettes. The games will be broadcast live on the internet (video link unconfirmed!) from 5pm, Moscow Time.
The regulations of the event are a little out of the ordinary. As well as the players being invited based on the colour of their hair, it's also stated that:
– an essential condition for being admitted to the tournament is: light clothing for blondes, dark clothing for brunettes.
As perhaps a conoisseur of these events asked on a Russian chess site, why not the reverse?
The stated aims of the tournament are: "the popularisation of chess" and "raising the sporting mastery of female chess players".
To that end, each member of the 10-woman blonde team will play a 5-minute blitz game against each brunette player
(the original regulations suggest mechanical clocks and no incremement, which as Evgeny Surov noted should make it entertaining!). There are prizes both for team and individual performances, though no-one will leave empty-handed as there are also souvenirs for all.  
The line-ups suggest that although the blonde players have an edge on the top boards the brunette team has more strength in depth. In fact, if you're a blonde chess player in the Moscow area you might consider turning up, as for now the blonde team is still one short!
                   Blondes                                                       Brunettes
1. WGM Valentina Gunina 2472                   WGM Nazi Paikidze 2425
2. WGM Olga Girya 2425                              WGM Anastasia Savina 2383
3. WGM Tatiana Grabuzova 2336                WGM Svetlana Matveeva 2380
4. WGM Irina Vasilevich 2324                      WGM Maria Manakova 2336
5. WIM Maria Fominykh 2303                      WGM Alina Kashlinskaya 2320
6. WIM Tamara Minogina 2244                    WIM Daria Charochkina 2330
7. WFM Alina Bivol 2137                                WIM Karina Ambartsumova 2308
8. Nadezhda Potikhoshkina 2167                   WFM Varvara Saulina 2286
9. Maria Severina 2049                                  WFM Tatiana Bogumil 2096
10.         ???                                                      WFM Victorya Zarivkina 2059
You should be able to follow the games live at a new Russian website: http://gogolevskiy14.ru/ (the address of the Central Chess Club in Moscow)
Update: Live games here (3 each round): LIVE BROADCAST