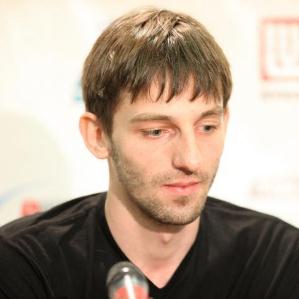 Shortly after the World Cup was over runner-up Alexander Grischuk gave an interview to Maria Fominykh. He talked about his route to the final, the "fair play" incident between Navara and Moiseenko, and how chess players approach chess – noting that usually it's as if they're going to a factory.
First published but no longer available at WhyChess – more here
Grischuk was talking to Fominykh for the Russian Chess Federation website:
Was your performance in Khanty-Mansiysk comparable to some of your previous successes?

It was, of course. I'd include this World Cup among my greatest successes. It's comparable to getting to the FIDE World Championship semifinal in 2000, and winning Linares and the World Blitz Championship.

Do you like the World Cup format itself?

Yes, I like knockouts. The only thing is that it really wouldn't hurt to have two extra rest days – let's say, after the second and fourth rounds. What's good about knockouts? In round-robin tournaments you sometimes lose any chance of finishing in a top position, and the end of the tournament turns into torture. But here you're always fighting to win.

In the 2001-2 World Championship the final was held separately. What do you think about that system? No doubt you were incredibly tired by the final?

I was tired, of course. But in 2002 it was the World Championship, while now it's a Cup, so there's nothing terrible about it all being together. However, if you did add just two more rest days then it would be much easier for the players.

And, by the way, I was most tired before the match against Navara rather than before the final.

The match against Vladimir Potkin took away all your energy?

Yes, before the second game, which I had to win, I prepared right up until breakfast – that started at 6am in the hotel. So I went to breakfast and then to sleep.

Before the event you'd no doubt had a glance at your draw. How many rounds did you manage to guess?

No, I hadn't looked at the draw at all, but people told me about it. For example, I was informed that in the second round I might have to play the famous Feller. And in Khanty itself Volodya Potkin told me that we might have to play in the fourth round. So that was how I had a rough idea of my draw.

Did you only prepare in advance for your first opponent?

To be honest I didn't prepare for my first opponent either. There was no way to prepare with all the tournaments this summer.

During the match with Sebastien Feller did you have any suspicions? How was it to play against him?

No, it's obvious that against me and against Viorel Iordachescu in the first round he played fairly. And then it's a question of psychology. The thing is that if your opponent's cheating nothing's going to help you. So you have to pay no attention to what's being said and simply play.

And was it difficult psychologically to play against David Navara, particularly after that incident with Moiseenko?

I don't understand all the commotion about that situation with Moiseenko. As I understand it in chess there can only be three versions of picking up the wrong piece. The first is that a player takes hold of one piece, then puts it back down and takes another. There the "touch-move" rule naturally comes into play. In that case I'd even force my grandmother to make a move. The second version is when someone clearly intended to pick up one piece but accidently touched another. But everything's also clear there: there can't possibly be any "touch-move". And the third version – if a player picks up two pieces at the same time. That would no doubt be an issue, but I've never seen anything like that. So then, it seems that with Navara and Moiseenko it was the second case. There shouldn't be any issue. It's simply that in time trouble Moiseenko, in a bad position, realised that he was losing the match and emotionally said that his opponent had picked up the piece. But then he realised there was no violation and that should have been the end of the incident. Navara decided to punish himself for who knows what by offering a draw in an absolutely won position. It's good that he was the only one to suffer – he had to play a tiebreak, but what if it was a different format and the result affected the placings?

It wasn't difficult for me to play against Navara psychologically, but physically. My only thought was – let's get this game over with as soon as possible and go to sleep!

But if you felt such extreme physical exhaustion how did you force yourself to play, particularly at that point when you had a lost position in the second game?

At the point when the position was lost nothing depended on me anymore and a miracle had to take place. And it took place! But playing however you're feeling – that's our job, and it's not the first time I've had to force myself. When Aronian made his sudden rise Vlad Tkachiev wrote something like this about him: "It's nice to look at the man: everyone goes to play as if they're going to a factory, but it's as if he's going to a feast!" And what became of that? A few years have passed and you look at him and see that just like everyone else he goes to play as if he's going to a factory. In the majority of cases it's the same for me as well. But not, for instance, with the tiebreak against Ivanchuk. Although, unfortunately, the majority of tiebreaks are also like going to a factory.

And why is it like a feast against Ivanchuk in particular?

Firstly, it was the semifinal of the World Cup – already some sort of achievement. Secondly, the winner would immediately qualify for the Candidates Matches. And thirdly – it was Ivanchuk!

People call him a genius. Do you agree with that opinion?

All I can say is that it's always interesting to play against Ivanchuk. As for genius – that's a concept that's a) undefined and b) vague.

Who helped you at the tournament?

Sasha Riazantsev remained after he'd been knocked out, for a single match – against Morozevich. Then for personal reasons he had to leave, but he helped me over the internet. Etienne Bacrot also helped over the internet. I'm very grateful to them as they were a great help!

The match against Morozevich went easily for you? Or wasn't that the case?

Of course it wasn't like that. The first game was extremely tense. Anything whatsoever could have happened. In the second game – yes, there wasn't a fight, but I'm no longer so shocked by his draw offer. I looked at the final position and there really isn't, essentially, anything White can do there.

And what went wrong in the final? You played too sharply in the first game?

No, in the first game we got a position where you had to play aggressively. In general, as in the match against Potkin, I was too relaxed before the first game. It's very hard for me to play against friends. In the final I had chances to win in the third and fourth games, but not super realistic ones. It wasn't a case of needing to make a few accurate moves and I'd have won.

Do you think Peter was in mega-form?

Yes, unquestionably. He played better than everyone at the World Cup.
At the end of the interview Grischuk gave a brief and amusing commentary on one of the strangest chess stories of the last few months – Evgeny Bareev's resignation and reappointment and re-resignation from the role of head coach of the Russian team:
There's been some kind of leapfrog with the coaches. You don't know what to believe. Bareev resigned – it turns out that was a joke. They confirmed Bareev – also a joke. Now it's become clear that the resignation wasn't a joke and they've appointed Riazantsev. But it's not clear if that can be taken seriously.