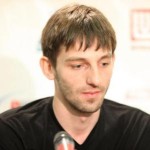 By mishanp on September 28, 2011
Shortly after the World Cup was over runner-up Alexander Grischuk gave an interview to Maria Fominykh. He talked about his route to the final, the "fair play" incident between Navara and Moiseenko, and how chess players approach chess – noting that usually it's as if they're going to a factory.
Posted in Russian, WhyChess archive | Tagged Aronian, Feller, Fominykh, Grischuk, Ivanchuk, Moiseenko, Navara, Potkin, Tkachiev, World Cup 2011 | Leave a response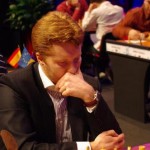 By mishanp on April 8, 2011
In an interview given after becoming European Individual Champion, Vladimir Potkin talks about how he won, what it means for his "day job" of coaching Ian Nepomniachtchi, and gives his view on the cheating scandal that was the talk of the town in Aix-les-Bains.
Posted in Russian | Tagged Aronian, cheating, Efimenko, European Individual Championship 2011, Feller, Jobava, Levitov, Nepomniachtchi, Olympiad, Parligras, Polgar, Potkin, Shipov, Timofeev, Vasiliev | Leave a response