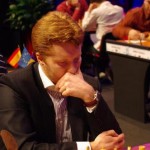 By mishanp on April 8, 2011
In an interview given after becoming European Individual Champion, Vladimir Potkin talks about how he won, what it means for his "day job" of coaching Ian Nepomniachtchi, and gives his view on the cheating scandal that was the talk of the town in Aix-les-Bains.
Posted in Russian | Tagged Aronian, cheating, Efimenko, European Individual Championship 2011, Feller, Jobava, Levitov, Nepomniachtchi, Olympiad, Parligras, Polgar, Potkin, Shipov, Timofeev, Vasiliev | Leave a response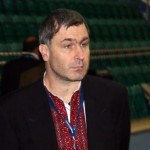 By mishanp on October 19, 2010
Despite his loss today to Aronian, Vassily Ivanchuk has been in impressive form of late, particularly in his dominant performance on the first board at the Olympiad. He recently gave an interview to the Ukrainian "Podrobnosti", where he talks about the Olympiad, what chess means for him and who he sees replacing his generation of players.
Posted in Russian | Tagged age, Anand, Carlsen, Gelfand, Giri, Ivanchuk, Jobava, Karjakin, Maria Muzychuk, Moiseenko, Olympiad, So, Tukmakov, Vachier-Lagrave, Volokitin | 3 Responses