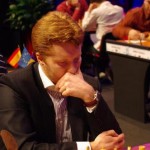 By mishanp on April 8, 2011
In an interview given after becoming European Individual Champion, Vladimir Potkin talks about how he won, what it means for his "day job" of coaching Ian Nepomniachtchi, and gives his view on the cheating scandal that was the talk of the town in Aix-les-Bains.
Posted in Russian | Tagged Aronian, cheating, Efimenko, European Individual Championship 2011, Feller, Jobava, Levitov, Nepomniachtchi, Olympiad, Parligras, Polgar, Potkin, Shipov, Timofeev, Vasiliev | Leave a response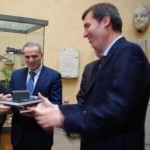 By mishanp on March 31, 2011
In Sergey Shipov's latest report from the European Championship in Aix-les-Bains he returned to the issue of cheating in chess, after discussing it with the President of the ECU, Silvio Danailov. Their conversation seems to shed new light on the open letter that was published yesterday.
Posted in Russian | Tagged cheating, Crestbook, Danailov, European Individual Championship 2011, Feller, Khalifman, Shipov, Wirig | 6 Responses