Hikaru Nakamura's tournament victory was described as "the birth of a supernova" by Yury Vasiliev in two final reports from the Tata Steel 2011 Tournament. The Russian journalist was on the ground in Wijk aan Zee to provide photo reports and comments from players and observers throughout the event.
Vasiliev was reporting from Wijk-aan-Zee for Sport Express and ChessPro. Below I've translated some of the highlights, mainly from the final reports, but I'm only scratching the surface. For more it's worth clicking on the links (I've also included links to Google-translated versions), especially as the photographs are at least half of the appeal of the ChessPro reports. All the photos in this article are taken from there.
Hikaru Nakamura: Birth of a supernova 
Source: Sport Express in Russian, or in Google translation
The hero of the report was, of course, the tournament winner, who confirmed his place among the chess elite, just in case anyone still had any doubts after e.g. his near miss at the Tal Memorial. Vasiliev transcribes some of Nakamura's press conference and also conducted an exclusive interview. It's mainly quickfire questions (it turns out Nakamura drives a Japanese car, sometimes too fast…), but here's a quick snippet:
You won six games, which reminds me of Kasparov's results when he played here. Which of the games you won gave you the most satisfaction?

Thanks for the comparison with Kasparov – it's very flattering. As for the games I won, the best in terms of preparation was against Smeets. I really liked the game against Shirov, although I made a few inaccuracies.

I covered this tournament last year and noticed that you arrived for your game against Kramnik in a suit and tie, while this time round you had the same pullover you wore for the other games. Does that mean you've started to respect Vladimir less?

(Laughs) No, my relationship with Kramnik hasn't changed. This time I didn't wear the formal suit and tie because I assumed there'd be a short draw.

Did you choose the Berlin especially in order to get an almost precise copy of the game Smeets-Kramnik, which went on one move longer than your 20-move game?

Yes, you could say that.
The final quote from Nakamura is that he now knows he can compete successfully against any chess player. 
Vasiliev is often the best source for the opinions of Russian and Russian-speaking players. He included the following three short interviews (you might like to compare Kramnik talking about his plans for Wijk in the New Year interview I translated from Chess-News):
Vladimir Kramnik:

I approached this tournament mainly as a training exercise and I managed to do a lot of the things I wanted to here. Before the tournament I set myself a main goal: to play solidly and calmly. It didn't enter into my plans to be overly revealing in the openings, so I had to keep some things for myself. A really stupid loss to Carlsen in the final stages meant my result ended up being average, though it could simply have been good.

If it wasn't for the two "cloned" 20-move draws – with Black – against Smeets and Nakamura, the result, perhaps, might also have been better?

If White wants to drain the life out of the position and make a draw then he can. In tournaments at this level such draws are on the conscience of the player with White, so any complaints should be directed at my opponents. I was amazed they went for play like that, but unfortunately there's no way of deviating in that line.

Ian Nepomniachtchi:

It's hard to play a tournament like this if you don't have an element of luck. I can't recall a single situation in which I got lucky, though I do recall some extremely annoying blunders which prevented me from posting a better result. If I'd been a little more solid I could have fought for the top-3, but the two losses in a row got in the way. Against Nakamura I tried to make a real game of it, but didn't succeed. Against Vachier-Lagrave I turned an equal position into a lost one, imperceptibly, in the space of about two moves… But among the positives I'd include the fact that I managed to get priceless experience of playing the world's best chess players. 

Alexander Grischuk:

I simply feel in tip-top shape – I've never felt better. But I played the worst tournament of my life. It's hard to explain. But in general my play at the Russian Championship and the Tal Memorial was quite rotten. Somehow things worked out for me there and I didn't lose a single game, though I could have lost a great number at the Tal Memorial. Here it was the opposite: I lost all the games in which during the course of them I had no chance of losing…
Supernova
Source: ChessPro in Russian, or in Google translation
In his final ChessPro report Vasiliev recorded Grischuk giving him a more down-to-earth account of his performance. Note Grischuk lost five times and won one game, plus also having had an "overwhelming" (in his words) position against Magnus Carlsen in the last round:
If you mix five barrels of crap with two barrels of jam, you still end up with seven barrels of crap.
Apart from all the photos (particularly of the press conference with Nakamura) the most interesting piece of information is perhaps the following gleaned from Kramnik over the traditional post-tournament pea soup:
I took the opportunity to get Kramnik to clarify a question which had provoked a lot of argument on our forum – who offered the draw in the game against Carlsen. It turned out to be White, after 17. Qxa5. "And before that?" – "Before that I was better, so why would I offer a draw?!" Vladimir confirmed the guess of his rival and our commentator: in the line 19. Nxd7 he hadn't noticed the extremely crafty 19…Bb7! But more than anything else he was upset that he hadn't drawn a "completely drawn ending".
The following is a brief account of Vasiliev's three earlier reports for ChessPro – note that he arrived in Wijk-aan-Zee in time for the fifth round.
The Kid and the Sea
Source: ChessPro in Russian, or in Google translation 
The "kid" in question is Magnus Carlsen (that's actually quite a long story) and Vasiliev's first report has some great photos of the players all at sea in the newly-decorated venue. One sequence there is of Kramnik and Aronian's post-mortem after their draw in round 5. According to the captions Kramnik is saying Aronian as Black has to try and escape with a draw, while the ever-optimistic Aronian claims he has the winning chances. Loek van Wely is called upon to declare that a draw was a fair result.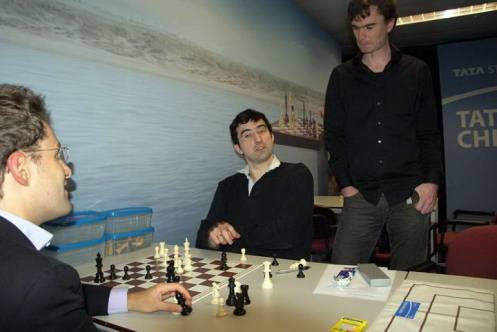 Alexei Shirov had this to say after his remarkable game against Nepomniachtchi, where the players rapidly got an endgame where Black's fortress holds despite the bemusement of the chess engines. 
There are two interesting points. In preparation you usually look at the "first line", but here the "first line" was different, of course. The computer isn't yet capable of evaluating that ending as drawn. It gives White a "decisive advantage". I saw that the computer's second line was entering that endgame, which needed to be looked at. Well, and as for the rest… I've been playing this line for so many years… And here I've suffered two losses in it… (Translator's note: against Smeets and Nakamura)  But I realised that I lost those games not because of preparation, but for other reasons. It seems I lacked the necessary concentration. And therefore today I decided: I'll play it again if he plays the Ruy Lopez. Although I expected the Scotch, which Ian has used to achieve so many crushing victories. I mainly prepared for that. But I also feel confident in the Ruy Lopez…
Vladimir Kramnik was also quoted giving some more details about his spectacular win against Shirov:
How far did your analysis go?

Until perpetual check. Usually when you analyse with Black you stop when you have a draw, hoping that you'll work it out at the board. I studied it at the board and saw that I had the 25…Nb2 resource, and in general it's dangerous for White… I'm not sure that Black's simply winning, but it's very hard to play as White when there are so many threats… He was already short on time and it seems he didn't calculate 26. exd5 fully as my king escapes… And it seems – tempo by tempo – that he can't hold.

The computer says that if Black played 27…Re8+ you'd have won sooner…

In such positions it's important to calculate one clear path. It's longer, but I'd calculated it to the end. I'm happy I managed to use some preparation and win a beautiful game.
Sky blue is calming
Source: ChessPro in Russian, or in Google translation
The first part of Vasiliev's second ChessPro report from Wijk was given over to an interview with the tournament director, Jeroen van den Berg. Apart from discussing the colour scheme… he also, for instance, gave this answer as to why Veselin Topalov didn't make it to Tata Steel:
We invited Anand and Topalov before the start of the World Championship Match in Sofia. The result wasn't yet known so we offered them identical conditions. Anand agreed immediately, while Topalov's manager Danailov said: "No". He wanted better conditions. Then the match took place and we didn't come to an agreement with Topalov's manager.
I'd also recommend the excellent English interview with van den Berg by Alina L'Ami (and her website as a whole!).
Back in Vasiliev's report you can find some wonderful photos of Nakamura and Kramnik modelling interesting headgear… and there's also a photo of the remarkable crowd waiting to see Carlsen lose to Nepomniachtchi in round 10. "Nepo" said of the position where Carlsen refused a repetition: "White there, if you're talking about playing for a win, has nothing good…". His second, Vladimir Potkin, revealed: "We guessed right with the opening – the only variation we looked at BEFORE [the game], appeared IN [it]".
There's also some typically deadpan "Aronian" dialogue after the Giri-Aronian game:
"Are you happy, Levon?" I asked Aronian during some lively analysis of the game he played with Giri.

"Why should I be happy?" Levon asked, not raising his head from the board.

"Well, after all the computer shows that you were "worse" all the time".

"If I was playing a computer, then I'd be happy", Levon replied.

And he was absolutely right! Because the boy Giri understood that he was "better". But he didn't want to take the risk. That, gentlemen, is what's called "early professionalism"…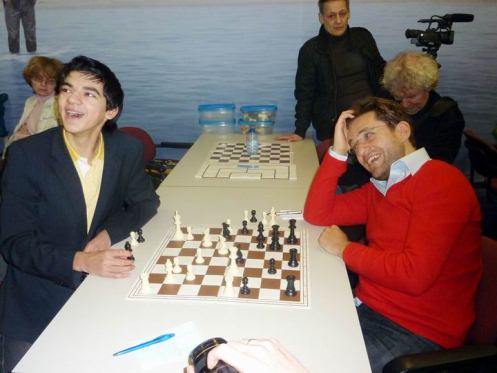 Body language: Chuchelov's visions
Source: ChessPro in Russian, or in Google translation
A large part of Vasiliev's third report for ChessPro was taken over by an interview with the Russian Grandmaster Vladimir Chuchelov, now living in Belgium and coaching Anish Giri and the Dutch team as a whole. He also used to coach Loek van Wely, who is currently taking a "time-out" from chess.
Chuchelov says of the 16-year-old Giri:
He's very pleasant to work with. Anish has an excellent sense of humour, which is very important for a chess player, as the work's very hard. He grasps jokes immediately, and we laugh a lot during our training, while still working productively. We've managed to find a lot of interesting things during our sessions.
Curiously he talked about body language and how he sensed before Carlsen-Giri that the Norwegian player was ready to lose. Of the game itself: 
So then, your "visions" before the game with Carlsen became a real "blunder" of a piece by your pupil's opponent…

In the game there weren't any points at which Anish needed to do anything special. Well, except that he needed to believe that Carlsen had really blundered a piece… But I really liked the fact that Giri's doubts didn't last long.
The rest of the report is mainly given over to photos. You can see Giri's mother and two sisters, some of the female participants at Wijk aan Zee, and Anand receiving the New in Chess award for the Novelty of the Year for his 10. Na3 against Topalov in the fourth game of their match (one of Anand's seconds, Radosław Wojtaszek, described that move in his annotations to the games).
At the end there are photos of the mothers of Anish Giri and Ilya Nyzhnyk watching their sons. As it happens the 14-year-old Grandmaster Nyzhnyk may soon be making more headlines as he's just given a press conference where he stated that he'd like to play for a country which will provide "opportunities and promise" – though no offers have yet come in and "for now the Ukrainian flag stands on my table when I play". But that's another story…
UPDATE: 3 February, 2010
It turns out that the story about Nyzhnyk above (from sport.rbc.ua) was a complete misrepresentation of the press conference ("How to become a young grandmaster") on which it was supposedly based. In an article entitled Ukrainian wunderkind isn't planning to change his citizenship, the website that hosted the original conference, obozrevatel.com, explains the falsification and links to the full text of the conference. The relevant comments were:
Ilya! Congratulations on your successful perfomance in Wijk-aan-Zee. My question is: You're much more popular as a chess player in Europe than in Ukraine. Have you thought of changing where you live? And which country do you like most?

Ilya Nyzhnyk: I can't change where I live myself – I'm still too small for that. I live where my parents live. As for the country… I've liked absolutely all of the countries I've played in.

[…] Ilya, have you thought of switching to the Russian Federation as Sergey Karjakin did? You'd have a much better chance of becoming a super-grandmaster!

Ilya Nyzhnyk: For now I can't switch to anywhere. But, frankly, I've never even thought about it.
Other answers include Ilya revealing he hasn't played his "immortal" game yet (phew!), and doesn't have a girlfriend. All in all, he comes across as an absolutely normal 14-year-old boy, and not the worldly-wise negotiator he'd been made to appear in the apparently fabricated story.