Quick tip for anyone playing White against Ian Nepomniachtchi: when down on time in an equal position don't even dream of refusing a draw by repetition! Wang Hao tried it, then Anish Giri (remember Gandalf?) and today Magnus Carlsen was the latest victim. Sergey Shipov described a wonderful game.
Shipov's original commentary in Russian can be found at Crestbook.
GM Sergey Shipov's live commentary on:
Tata Steel Chess 2011, Rd 10
MAGNUS CARLSEN – IAN NEPOMNIACHTCHI

Good time of the day to you, dear viewers. This is Grandmaster Sergey Shipov welcoming you to the anniversary 10th round of the super-tournament in Wijk-aan-Zee. Today we're going to watch the battle of two peers, two bright talents with varying fates. First it's worth returning to the past. In junior competitions Magnus and Ian played each other and competed in tournaments on numerous occasions, and back then the advantage was on the side of the Russian. After that the Norwegian dramatically improved, got into the jet stream and rose to the very top of the chess world. Now Carlsen is stronger overall, despite the recent successes of Nepomniachtchi, but in a one-on-one encounter ratings, reputation and even the experience of participating in elite tournaments count for little. The bitterness of past defeats isn't forgotten. Childhood experiences are the most vivid. Therefore, from a psychological point of view, Ian might be a very inconvenient opponent for Magnus. I don't think that Nepomniachtchi fears Carlsen at all, in contrast to the majority of other chess players. Beating your former "client" out of habit – what could be simpler? Of course, the "client" has changed a little, but his first name and surname have remained the same… Well, we'll watch and support.
1. e4 c5 The Sicilian Defence.
2. Nf3 d6 3. d4 cxd4 4. Nxd4 Nf6 5. Nc3 a6 The Najdorf Variation.
6. Be2 It seems that Carlsen isn't against repeating the opening section of his memorable game against Nakamura.
6…e5 And Nepomniachtchi is willing to comply.
7. Nb3 Be7 8. o-o No! Magnus is the first to deviate. That's typical guile in the opening preparation of grandmasters. Let your opponent prepare for one line – while you prepare another. His preparation will be devalued, while yours will come into play!
8…o-o 9. Kh1 White's preparing the f2-f4 pawn advance.
9…Nc6 One of a number of sensible ways Black can develop.
    [Also popular are 9…Be6, 9…b6 and so on.]
10. f4 b5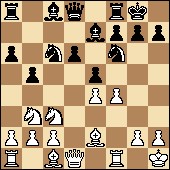 He doesn't give up the centre by exchanging on f4, but very calmly develops the queenside. There's also the idea of b5-b4, threatening the e4-pawn.
11. Be3 Magnus is repeating his old try in this position.
    [Respected authorities from the older generation here preferred 11. Bf3.]
11…Bb7 12. a4 Before the knight jumps to d5 White tries to provoke the b5-b4 move, which will weaken Black's queenside.
12…exf4 And this small surprise is clearly home preparation. I'm judging by the speed it was played. The move is absolutely logical. If White's lost a tempo on Bc1-e3, it now makes sense to take on f4 – let the white bishop make another move. Then it'll be clear that a tempo's been lost. Or that's simply how it'll seem…
    [In the game M. Carlsen – L. Dominguez, Nice 2010, they played
12…Nb4 13.Qd2 d5 14.fxe5 Nxe4 15.Nxe4 dxe4 16.Nd4 Nd5 17.Nf5 Qc7 18.Bd4 e3 19.Qe1 Bc5 20.Bxc5 Qxc5 21.Bd3 Bc8 22.Nd6 Qd4 23.axb5 Be6 24.bxa6 Qxe5 25.Qh4 f5 26.Nc4 Qf6 27.Qh3 f4 28.Qxh7+ Kf7 29.Qe4 and White won a sharp struggle.]
13. Rxf4 White's response was also asking to be played. The bishop will find work on e3 as well.
13…Ne5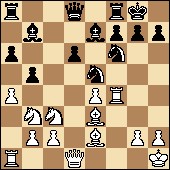 Ian is continuing to play with emphatic speed. He's trying to put psychological pressure on his opponent! As if to say, look, brother, all my moves were written down in advance. Just you try and cope with my analysis at the board… If you take a fresh look at the board then the question arises: why shouldn't White take twice on b5? First with the pawn, and then with the bishop, keeping control over the e4-point. But then that very control is lost by White after Ne5-g6! Black then wins back the pawn, getting wonderful play… Magnus is spending a long time studying the position that's arisen: 1:29 – 1:44.
14. Qd4 A solid developing move.
14…Nc6 15. Qd2 Ne5 Nepomniachtchi is making Carlsen an offer that's hard to refuse – repeating moves with a draw. I'd stake my last rouble on the offer being rejected! Here capturing on b5 with comprehensive exchanges has been played before, but the Norwegian will no doubt think about the move 16. Nd4 – with a pawn sac. That would be just his style. Another interesting approach is 16. Nd5. There's an incredible number of variations there. You could spend all day calculating without getting to the bottom of it. Therefore Magnus will have to use his intuition. Time isn't waiting: 1:19 – 1:44. And now: 1:05 – 1:44. I'm phoning some Russians in Wijk-aan-Zee. Wake up Carlsen!
16. Qd4 What's this? Am I really going to lose my last hard-earned rouble?
16…Nc6 17. Qd2 Ne5 Still not a three-fold repetition…
18. axb5 The choice has been made! It didn't even take half an hour. And the rouble has been saved. I ask sceptics to pay out on my win!
    [I nevertheless liked the continuation
18.Nd4 For example, 18…Ng6 19.Rff1 b4
(19…Nxe4 20.Nxe4 Bxe4 21.Nf5!)
20.Nd5 Nxe4 21.Nxe7+ Qxe7 22.Qxb4 Nh4 23.Nf5 Nxf5 24.Rxf5 Ng3+ 25.hxg3 Qxe3 26.Bd3 and White, it seems, has a slightly more pleasant position.]
18…axb5 19. Re1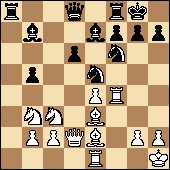 A reasonable novelty. I already found it 20 minutes ago, looking at the source game. The only thing was that I couldn't decide where to put the rook – on d1 or e1? Either way, White concentrates his forces in the centre, leaving the a8-rook firing into space. Black can take the e4-pawn by first driving the rook away from f4. However, you need to study the consequences… And Ian is doing that, having started to think for the first time in the game: 1:01 – 1:35. And now it's already 1:01 – 1:22. The Russian's doubts are understandable, as White has a great concentration of forces in the centre. Nevertheless, no reasonable alternative to 19…Ng6 is visible. Otherwise White gets an advantage at no cost whatsoever.
    [In the advanced chess game Mberggen – Juggernaut, PlayChess 2007, there followed (with different move numbers, as they didn't repeat moves)
19.Rxa8?! Qxa8 20.Qd4 Nc4! 21.Bxc4 bxc4 22.Qxc4 d5! 23.Qc7 Bd8 24.Qd6 Re8 25.Rf1 dxe4, and Black got an edge, but couldn't overcome White's computer defence.]
19…Ng6 Yes, Nepomniachtchi came to the same conclusion.
20. Rff1
    [If 20. Rf5 Nxe4 21. Nxe4 Bxe4 22. Rxb5 then the strange position of the rook on b5 made it impossible to evaluate the position as favourable for White.]
20…b4
    [In the line 20…Nxe4 21. Nxe4 Bxe4 White could take on b5 not only with the bishop, but also with the knight 22. Nd4!?]
21. Nd5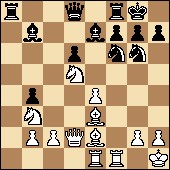 21…Nxe4 Ian is boldly throwing himself into the turbulent waters of complications.
    [It looked more reliable to play like an old man: 21…Nxd5 22. exd5 Bf6 – and, it seems, Black manages to set up a solid position without losing anything. But such an outcome isn't a great draw for youngsters…]
22. Nxe7+
    [It was worth looking at the restrained
22.Qd4, true, then the doomed bishop could escape –
22…Bh4! 23.Rd1 (so after all it needed to be placed on d1 immediately)
23…Re8 – yes, and here as well Black is perfectly fine.]
22…Qxe7 23. Qxb4 White has not only obtained the advantage of the two bishops, but also won back the pawn. Moreover, the position of the rook on e1 has turned out to be very appropriate, as the e-file has been opened up. All those factors are in White's favour. But what does Black have?
23…Nh4 There's what – pressure on the g2-point. Crude and blatant. And that factor, it seems, outweighs all of White's achievements.
24. Bf3 The advantage of the two bishops had to be given up.
    [You couldn't ignore the threats –
24.Nd4 Ng5!]
    [Or 24.Bd3? Nxg2! 25.Kxg2 Ra4!! 26.Qxa4 Nc3+ and Black has extra material.]
24…Nxf3 25. gxf3 And the structure spoilt.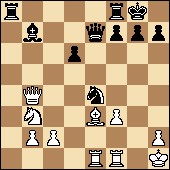 The bishop on b7 continues to play first violin in Black's orchestra. The position of White's king provokes anxiety.
25…Qd7! An accurate move, which you had to have seen in advance. The ferocious Ra8-a4! blow has been prepared in case the knight's captured. Did Carlsen miss this resource? Let's look at the clocks: 0:45 – 1:24.
    [Leading to ruin was 25…Nf6? 26. Bg5 Qd7 27. Bxf6 gxf6 28. Qf4, and White's attack is irresistible.]
26. Bf4! The only saving move. Yes, yes, that's the question now – can White save himself? Black has a serious initiative.
    [Looking at the line
26.fxe4 Ra4 27.Qc3 Bxe4+ 28.Kg1 Qg4+ 29.Kf2 Qg2# will waste a grandmaster about two seconds, no more.]
    [A little longer is necessary to see the idea of the knight sac:
26.Qd4 Ng3+! 27.hxg3 Qh3+ 28.Kg1 Qxg3+ 29.Kh1 Bxf3+ 30.Rxf3 Qxf3+ 31.Kh2 Rae8 32.Nd2 Qh5+ 33.Kg2 Re6 – here it's also tough for White.]
    [There's also another beautiful way of carrying out that idea:
26.Nd4 Rfb8! 27.Qc4 Ng3+ 28.hxg3 Qh3+ 29.Kg1 Qxg3+ 30.Kh1 Ra5 and the white king falls.]
26…Ra4 Moving pieces backwards is the last thing our young fighter wants to look at. He only wants to go forwards!
    [But it was still worth looking at
26…Nf6 with this idea:
27.Qxd6 Qh3 28.Nd4 Rfe8!
(another line –
28…Rad8 29.Qb4 Rxd4 30.Qxd4 Bxf3+ 31.Rxf3 Qxf3+ 32.Kg1 isn't so dangerous)
29.Qb4 Rxe1 30.Rxe1 Bxf3+ 31.Nxf3 Qxf3+ 32.Kg1 h5! and it's a little too cosy for the white king.]
    [However, after
26…Nf6 White is in no way obliged to take the dubious pawn. It's more practical to play the generally strengthening move
27.Nd4!]
27. Qb6 Nf6 Ah! Now here Ian is freeing the fourth rank for a rook raid to the kingside.
    [The very sharp attack
27…g5 led in many lines to a powerful attack for Black. However, there was a defence –
28.c4! (blocking the rook and deflection)
28…Rxc4 29.Na5 gxf4 30.Nxc4 Ng3+! 31.Kg1! Nxf1 32.Rxf1 with drawing exchanges.]
28. Qxd6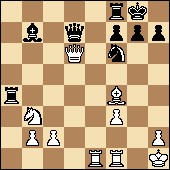 Here you could and should take. But, naturally, Black won't exchange queens. Let's look at the clocks: 0:30 – 1:01.
28…Qg4 All correct. Making a path for the b7-bishop!
29. Nd4 Magnus is walking a tightrope over the deepest of abysses. One false step, one inaccurate move – and a loss will be inevitable. But the rope, it seems, is made of steel. If he can walk it to the end, then White will hold on… Ian's taking a lot of time looking for a win that isn't there: 0:31 – 0:42.
29…Rxd4 You won't find anything better. After all, given the chance White could also keep the black rook out of affairs via b2-b4!
30. Qxd4 Bxf3+ 31. Rxf3 Qxf3+ 32. Kg1 Qg4+ 33. Kh1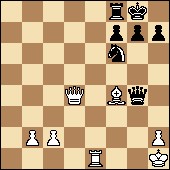 Black has perpetual check, but you want something more… On the other hand, playing for a win might backfire into playing for a loss, as any ending will be extremely favourable for White, who has distant connected passed pawns.
33…Qc8 Nevertheless Ian's continuing the struggle! A fighter. A man. The black queen is acting as though it wants to take the c2-pawn, but it's heading for b7. If you make a fortress and include the rook in the struggle, then Black's attack will be strong. But is there time for those "ifs"? I have in mind chess tempos. There are enough minutes on the clock: 0:29 – 0:40.
    [On 33…Rc8 the simple 34. c3 was strong.]
34. Qf2 Technically played. With the queen at its side it's not so bad for the king. The c2-pawn is defended, and the b2-pawn won't do Black any good. I'll repeat the strategic intrigue: if White can make his king safe, let's say by putting a pawn on h3 and the king on h2, then the advantage might gradually switch to him. The bishop is strong on an almost empty board. The b2 and c2 pawns are potentially strong. A lot's going to be decided by the concrete moves that come in the immediate future.
34…Qb7+ Now we'll test out what was said about the b2-pawn.
    [It looked promising to play 34…h5. Firstly, one way or another you need to make a fortress, and secondly the g4-outpost might come in handy for the knight. And thirdly, though it's a fantasy, the pawn's aiming for h3.]
35. Kg1 Ne4 A solid positional decision. You need to locate and support the knight not on g4, but e4. From that dominating position it'll be no worse than the much-praised bishop.
    [The line 35…Qxb2 36.Be5 Qb4 37.Bxf6 gxf6 and here, let's say,
38.Re3 led to a position that was completely harmless for White.]
    [I also looked at the preliminary
35…Rd8, but exchanges would take place there as well:
36.Bg5! Qxb2 37.Bxf6 gxf6 38.c4 with a quick draw.]
36. Qd4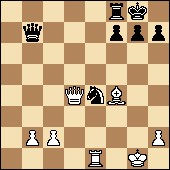 White can't get rid of the e4-knight, as it'll find support. That means you have to surround it and prevent it from getting to g5.
36…Re8 Another solid move.
    [The rushed 36…f5 – with the understandable idea of saving a tempo and sending the rook to g6 via f6 – opened up Black's rearguard too early. White would get counterplay: 37. Ra1! with the threat of Ra1-a7.]
37. Re2 This seems to be too passive. But Carlsen no longer has time to study subtle nuances: 0:13 – 0:31.
    [The hyper-active 37. Be5? lost straight away to 37…Ng5!]
    [But 37. b4 was good – the pawns at some point should fulfil the role of a distraction.]
37…h6 Nepomniachtchi has started to play quickly and surely. He's carrying out a prepared plan of attack. For example, he might now put the rook on e6 and there are already the first real threats. Should a pawn be placed on f5? That's a question to decide based on circumstances. The king, no doubt, can be placed on h7. By the way, the g7-pawn might also soon rush forward with a war cry.
38. h3 Magnus has freed up a relatively comfortable square for his king. In any case, it'll manage to hide from the black rook on g6. He's not thinking about pushing his passed pawns for now.
    [On 38. Rg2 there would follow 38…g5! 39. h4 f6, and White's attack chokes due to a lack of infantry.]
38…Re6 Ian is rushing to create threats before passing the time control, but with such an appealing position there's actually no need to hurry and be distracted by the clocks. It'll be a shame if he doesn't make full use of his opportunity.
    [Both 38…f5 and 38…Kh7 also looked strong.]
39. Kh2 As predicted. Time: 0:04 – 0:26.
39…f5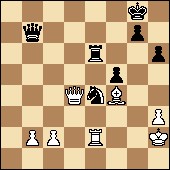 Now that's correct. Freeing the black pieces from the dreary work of supporting the knight.
40. b4 "Better late than never", thought Carlsen. But, I fear, it really was too late already.
    [It was worth exploiting the black king's delay on g8 via
40.Qc4 Qf7 41.Qd5!, so that after
41…g5 there was the reply
42.Be5!]
40…Kh7! The last preparatory move before Black's attack. The time control has passed – time to drink some coffee. The evaluation of the current position is that it's going to be tough for White. The Ne4-g5! blow, which wouldn't work with the king on g8 because of Qd4-c4!, is already a threat.
41. Re3 This doesn't alter Black's plans of attack.
    [I looked at 41.Rg2 g5 42.Be5 Qe7! 43.Bb8
(43.Bg3? f4! 44.Be1 f3 -+)
43…Qe8! (the bishop's diagonal is short)
44.Bf4!
(44.Bg3 f4)
(44.Bc7 Re7!)
44…Qf7 45.Be5 Re7 – and although White by some miracle has managed to hold the bishop at a distance from the g3-square, he's now in almost complete zugzwang. The next move, leading neither to losses nor a dramatic black attack, was impossible to find.]
41…Rg6 Ian has decided simply to give mate on g2. Magnus is suffering so much at the board that you can see it without the help of a camera and many thousands of kilometres away! Barely having passed the first time control he's approaching a second bout of time trouble: 0:27 – 1:14.
42. Re2
    [The 42.Rb3 manoeuvre which, perhaps, figured in the Norwegian's plans, would only make Black's storm easier:
42…Qe7! 43.b5 (late, too late!)
43…Qh4 44.Qe3 Nf2! 45.Qd2 Ng4+ 46.Kh1 Ne5! 47.Bxe5
(47.b6 Nc4! 48.Qc1 Qf2 -+)
47…Qe4+ 48.Kh2 Qxe5+ 49.Kh1 Qa1+! 50.Kh2 Qg1#]
    [In analysis I considered the most reliable move to be
42.Bg3 But I doubt it would save White…]
42…Qb5 Hangmen in black are closing in on the white monarch.
43. Re1 And the members of his court are forced to step aside.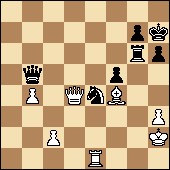 43…Rc6 In principle that's correct – you need to extend the attacking front. Hunting after the white king you shouldn't forget about the white pawns. However, the move in the game has one flaw…
    [It was even stronger to send the queen on a roundabout route: 43…Qa6.]
    [Or 43…Qa4 The idea is to break into the king's chambers via a2 and b1.]
44. Rxe4 Carlsen immediately makes use of the chance he's been given.
    [After 44. c3 Black would calmly return the rook to its spot – 44…Rg6! and then move the queen to a2.]
44…fxe4 45. Qxe4+ Rg6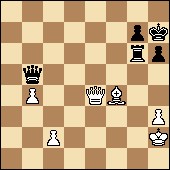 So then… What does White have for the exchange? The pawns are going nowhere for now.
46. Bg3 But his king has been secured. Ah, it was in vain that Nepomniachtchi allowed that exchange sac on e4. In vain! In my opinion White now has serious drawing chances. The evaluations of chess engines are purely materialistic in character. We're entering endgame territory, where computers aren't capable of giving adequate evaluations.
46…Qd7 Creating threats against the white king – there's nothing else. And hope that you manage to take White's distant passed pawns.
47. h4 The h3-square is as essential for his Majesty as air. At the same time the move creates the serious threat of h4-h5!
    [On 47.c4 there would follow 47…Qd2+ and, at the very least, capturing on b4.]
    [And 47.Qe2 freed the black rook from the pin –
47…Re6!]
47…h5 But as a result White has provided Black with the excellent g4-square. And the h4-pawn will also be a weakness in the ending. No, Black should still win! In terms of the position. The clocks are also in his favour: 0:13 – 1:02.
48. c4 Not an obvious choice. Magnus is leaving the b4-pawn en prise… It seems he wants to distract the enemy queen.
    [I looked at the most stubborn
48.Qe2 For example, if
48…Qg4 49.Qxg4 Rxg4 50.c3 Rc4 51.Be1 Kg6 52.Kg3 Kf5 53.Kf3 there's a big question mark over Black's win.]
    [Therefore after
48.Qe2 it's stronger to play 48…Qf5! with activation of the rook to follow.]
48…Qd2+ 49. Kh3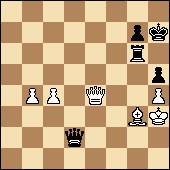 And now if you take the b4-pawn, then Qe4-d5! would follow, with the h5-pawn falling.
49…Qc3! There's the refutation. Black is no longer playing for pawns.
50. Qf4 And now, again, you needn't take anything. 50…Qd3!, with the threat of Rg6-g4 or Rg6-f6, is decisive. As soon as the rook is free to move the white king will perish.
    [If 50. Qe5 then 50…Qf3!]
50…Qxb4 Unfortunately, despite looking at the position for a long time, Ian didn't find the precise solution. Now the game will drag on, and it's still not clear how it will end…
    [So then, the path to a win was
50…Qd3!, for example,
51.c5 Rf6 52.Qe5 Qf3! 53.Kh2 Ra6 (the rook finds its way into White's rearguard)
54.Qb2 Re6 (either there, or here)
55.Qc2+ Kh8 and the decisive infiltration follows.]
51. Qf5 Qxc4 52. Qxh5+ Rh6 53. Qf3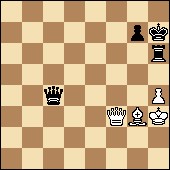 One against one on one flank is a great mess. Being up such an exchange is something you might not manage to convert.
53…Qe6+ 54. Kh2 Rf6 55. Qd3+ Rf5
    [It's interesting that the position arising after
55…Qf5 56.Qxf5+ Rxf5 is won for Black, according to the 6-piece tablebase. But who'll show that to the player at the board?]
56. Qc2 Qd5 57. Bf2 Kh6 The king is going to h5. Then after the exchange of queens it'll be possible to give up the exchange on h4 – with a winning pawn ending. Well, that clarifies a lot when evaluating the position.
58. Be3+ Kg6 Ian's clearly playing on his opponent's "flag", which really is "hanging": 0:01 – 0:50.
    [On 58…Kh5 it seems that you could hold with 59. Bf2, with the idea 59….Qf3 60. Bg3!]
59. Bf2 Kf6 Another move for a move's sake.
60. Bg3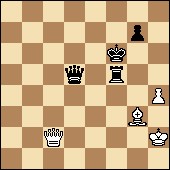 He didn't manage to flag his opponent. He'll have to win according to the position – which is very tricky. In any case, it's obvious that Ian is very tired. And for now he seems unable to see that endgame circumstance that's entirely obvious for someone looking on from the sidelines, which I'll repeat again: after the exchange of queens Black should crowd out the white king from the h4-pawn and sacrifice the exchange on that square. With an elementary won pawn ending.
60…Rf1 Nepomniachtchi definitely wants to decide the fate of the game with queens on the board.
61. Bf2 The check on h1 is only a check.
61…Rd1 No, it's not possible to mate White. Exchange queens, Ian! It seems as though the game's going to be decided only in Magnus' third and final time trouble: 0:08 – 0:59. Remember that after every move made 30 seconds is added on to the clock. That makes life much easier.
62. Qc3+ Qe5+ At last. True, the black king is taken further away from the h4-pawn…
63. Qxe5+ Kxe5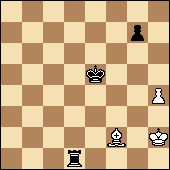 64. h5 Carlsen understands that with the pawn on h4 he has no chance of salvation. So he's trying to change the situation.
64…Kf6 The h5-pawn is doomed. Probably the Norwegian wanted to give it up on h6? In that case Black would still have a won position. After all, Shirov won just such an ending recently against Grischuk. But there are simpler solutions. It's now become clear that on 65. h6 there would follow the unscheduled 65…g5! with an elementary win.
65. Bh4+ Kf5 66. Be7 Rd7! The king is going to g5 to destroy the pawn personally.
WHITE RESIGNED. Bravo, Ian! Firstly, he proved to be better prepared in the opening. Secondly, he played very confidently and demonstrated a remarkable will to win. And thirdly, the psychological factor had its say. Carlsen couldn't play at his full strength against a historically inconvenient opponent for him. Even 10 years on from those previous losses. Well, on that note this is me, Grandmaster Sergey Shipov, ending this sumptuous evening of chess. Thanks for your attention. We'll meet… the day after tomorrow! Tomorrow is another tournament rest day. We'll also take a rest from it all.
0 – 1
Game viewer by Chess Tempo
Despite the long game Sergey Shipov also found the time and energy to record another video round-up of the day's play. The first game he looks at is again Carlsen-Nepomniachtchi, where he slightly revised some of his judgments.
Despite the international language of chess shining through… the words are in Russian, so here are a few of the points Shipov makes:
He still likes 16. Nd4!?
He thinks 19. Rd1! probably was better than 19. Re1 – the difference is that if Ian followed the same plan as in the game Carlsen could take on b4 with 22. Qxb4! as the rook on d1 defends the d5-knight.
25…Qd7!! – a brilliant move Magnus may well have missed – is now considered worthy of two exclamation marks.
Carlsen's play was insipid before the first time control (not surprisingly, as he was in time trouble). Instead of 37. Re2 you needed to play 37. b4! with good chances of escaping.
Just after the time control – around 40…Kh7 – White's simply lost.
There was nothing wrong with 43…Rc6 (allowing the exchange sac) and despite Shipov's fears during the game Nepomniachtchi always had things under control. Apparently someone on the ICC wrote during that stage of the game that Sergey should smoke some marijuana. That made him laugh, though he said of course he uses other national remedies…
I'll be translating Sergey Shipov's commentary on Round 11, LIVE, at 13:30 CET, Friday 28 January, here: http://www.chessintranslation.com/live-game/