Levon Aronian's long series of tactical tricks provoked Sergey Shipov to exclaim, "he's simply a magician", but despite the ingenuity it was ex-World Champion Vladimir Kramnik who had the winning chances before this intriguing fifth round battle in the Tata Steel Tournament ended in a draw. 
Shipov's original commentary in Russian can be found at Crestbook.
GM Sergey Shipov's live commentary on:
Tata Steel Chess 2011, Rd 5
VLADIMIR KRAMNIK – LEVON ARONIAN

Hello, dear spectators. Having had a rest and become a better person, this is again Grandmaster Sergey Shipov, ready to work and to endure. Time heals all ills. As does cold water, a good sleep and healthy food. (Translator's note: the references to cold water and becoming better may be to Epiphany Eve mentioned in the P.S. to the last commentary.) The tournament is only just getting going, and more than a few big games are in store for us. We're about to watch one of them right now. When the line-up is so varied, the favourites put their main emphasis on encounters with the suspected outsiders, and play with double the solidity amongst themselves. But so far Kramnik hasn't managed to put into practice that classic Petrosian plan. Compare his game with Wang Hao to Anand's game with the same player a day later. The champion beat the clear outsider smoothly and easily, while the ex-champion struggled away, but still couldn't win. What can be done about that? How can you fight to win the tournament? The answer's simple – you have to beat your direct rivals among the favourites. For example, Aronian. But Levon, as you can imagine, has some objections to that. So let's see whose plan will work out.
1. d4 d5 2. c4 c6 3. Nc3 Nf6 4. cxd5 So… Have my incantations really lost their strength? I indulged in some shamanism especially so that the game would turn out bold and hard-fought. However, it's too early to get upset. You can also get a struggle in the exchange variation of the Slav. Remember how Kramnik beat Anand with it in the Blitz World Championship a couple of years ago. I also recall a Russian Championship in which Morozevich regularly exchanged pawns on d5 – and won one game after another.
4…cxd5 5. Bf4
    [Allow me to show that memorable battle, which was more like a drubbing:
5.Nf3 Nc6 6.Bf4 a6 7.Rc1 Bf5 8.e3 Rc8 9.Be2 e6 10.O-O Be7? 11.Qb3 Na5
(11…b5 12.Nxb5!)
12.Qa4+ Nc6 13.Bxa6! Ra8 14.Bxb7! Rxa4 15.Bxc6+ Kf8 16.Nxa4 Ne4 17.Bb7 Nd6 18.Bxd6 Qxd6 19.Rc6 Qd7 20.Rc8+ Bd8 21.Ne5, and Black capitulated, V. Kramnik – V. Anand, Moscow 2007.]
5…Nc6 6. e3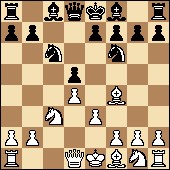 The knight remains on g1 for now – that's a known military finesse. White maintains the possibility of Bf1-d3, Ng1-e2, f2-f3, g2-g4 and so on.
6…Bf5 Black's bishop is the first to reach the b1-h7 diagonal. That means for now White's bishop will remain on f1.
7. Rc1 White is waiting for the move e7-e6, which will cut the f5-bishop off from the queenside. Then White will engage in an offensive on that section of the front.
7…e6 Played after a certain amount of thought. It seems Levon was recalling the theory of this line.
    [Also played here is 7…a6 and then, as a rule, White simply plays 8. Nf3]
8. Qb3 But Vladimir's playing quickly – he's clearly acting according to a plan he devised this morning. The b7-pawn is under attack, and it's hard to defend…
8…Qb6 Exchanging queens as a means of lowering the tension.
    [The main line here was previously considered to be
8…Bb4, for example,
9.Bb5 O-O 10.Bxc6 Bxc3+ 11.Rxc3 bxc6 12.Qa3 Ne4 13.Rc1 g5 14.Bg3 Qb6 15.Nf3 f6 16.Nd2 Nxg3 17.hxg3 a5 18.O-O a4, and Black equalised in the encounter R. Ponomariov – J. Smeets, Nice 2010.]
9. Qxb6 axb6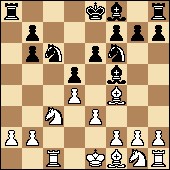 Since Capablanca's time it's been known that such endings are nothing like as simple as they seem. Black's queenside is still vulnerable. The b6-pawn is weak. Kramnik has sunk into serious thought… Clocks: 1:29 – 1:29. It seems that's a hint at the evaluation of the position?
10. Bb5
    [Before the prophylactic
10.a3 was played here. Among the games in my database I'll note this one, in which the struggle took an extraordinary path:
10…Be7 11.f3!? O-O 12.g4 Bg6 13.h4 h5 14.g5 Ne8 15.Nb5 f6 16.gxf6 Bxf6 17.Bc7 Nxc7 18.Nxc7 Rac8 19.Nxe6 Rfe8 20.Bh3 Bf7 21.Nxg7 Kxg7 22.Bxc8 Rxc8 23.Ne2 – and in the game M. Kartunnen – K. Haznedaroglu, Heraklion 2007, a complex position arose with mutual chances.]
    [While the cheeky
10.Nb5? is completely out of place:
10…Bb4+ 11.Kd1 Rxa2!]
10…Be7 Correct. There's no need to get clever here. Simple development is the correct path to equality… or to play in which White's minimal edge won't make itself felt. Strange as it sounds, the move in the game is a novelty.
    [Seen before was
10…Bb4 11.a3 Bxc3+ 12.Rxc3 (a strange exchange from Black's point of view)
12…Rc8 13.Ne2! O-O 14.f3! (I mentioned this set-up before)
14…h6 15.g4 Bg6 16.Kd2, and in the game I. Miladinovic – T. Sideris, Halkida 1998 White got a persistent advantage.]
11. f3 And so that military finesse that I talked about has been played. The flexible chain of white pawns is beginning its advance, and the f5-bishop aids White's plan.
11…o-o You also can't forget about the bitter fate of the b6-pawn. White can attack it with the knight from a4 or the bishop from c7. But not now, not now…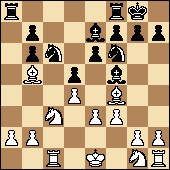 For now it's worth noting Black's counterattacking possibilities. At the given moment he's hinting at the cavalry charge Nc6-b4-d3. And if White plays 12. a3, then the path of the black knight changes a little: Nc6-a5-c4. Maybe Kramnik rushed a little with the move f2-f3? As they say, he forgot about development – and now there are certain difficulties. It would be better in the given position if the knight was already standing on e2, and the pawn was lurking on f2… However, you simply need to calculate the lines. Perhaps it works out ok. I recommend putting the pawn on a3 in any case. Vladimir is taking so long to make his move that I'm already beginning to worry about him. Such slowness should have a cause. Perhaps it's this: 12. a3 Nh5!? 13. Bc7 Rfc8 14. Bxb6 Nf6! with the threat of Nf6-d7. Not an easy line and a dangerous idea – again based on Black's edge in development.
12. a3 Nevertheless. Now we'll see just which knight Levon sends to the edge of the board. Both possibilities are tempting. Everything needs to be thoroughly weighed up, but luckily there's plenty of time: 1:03 – 1:20.
    [After 12. Nge2 Nb4 Black's infiltration on d3 guaranteed him a comfortable life.]
    [The Nf6-h5 idea could be ruled out by including 12. g4 Bg6 and only then 13. a3 – by the way, that wouldn't have been a bad decision, in my view.]
12…Rfc8 A flexible and useful manoeuvre. The c6-knight's time will come.
    [Having looking into the 12…Nh5 attack, I found a simple refutation – 13. Be5! The threat of g2-g4 is serious, so you can't exchange on e5. And if you can't then the idea loses its sense. It's no good!]
13. Nge2 White's set-up is becoming harmonious and solid.
13…Na5 The only constructive idea. True, now in some lines you have to take into account the Nc3-a4 attack, as the knight's path to d7 is cut off. Perhaps that's what needs to be played right away.
14. Na4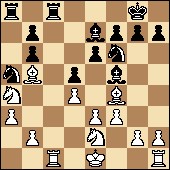 So then, the weakness of the b6-pawn has become clear. All that White lacks in order to be completely happy is the move Ke1-f2. But you can only be completely happy in heaven, which no-one has yet seen. However, Black still has problems now. He needs to play very accurately and energetically.
14…Rxc1+ Played after long doubts. But the move is good and logical.
15. Nxc1 To play Be7-d8 or not to play Be7-d8, that is the question. Active counterplay on the c-file looks more promising to me.
15…Nc4 Also an option.
    [I looked at 15…Rc8 16.Ne2 Nc4!
(but not 16…Rc2 17.Kd1!)
17.Kf2 (no good is 17. Bxc4 Rxc4 18. Nxb6 Rc2!) Bc2 18.Rc1 Bxa4 19.Bxa4 Ra8! 20.Bb5 Nxb2 21.a4 – you can't take the a4-pawn, of course, but the worst thing threatened for the b2-knight is being exchanged for the bishop on c4. It seems Black was fine here. Would have been fine…]
16. Bxc4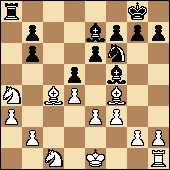 Correct. You need to test out your opponent's idea. What and where to capture now? It's easier to take on a4, but that leads to an endgame that's stable and worse for Black. It's more interesting to play the mischievous 17…dxc4 with sharp play which is hard to calculate to a clear finale.
16…dxc4 Well done, Levon! He's played boldly and intricately. The white knight is being offered a two-course meal.
17. Nxb6 Vladimir accepts the offer. Here, besides the obvious 17…Ra6 (with the idea of 18. Nxc4 Rc6!), there's another bold move 17…c3!? And the a8-rook won't do White any good, as then Black will promote the pawn. The calculation of lines has come to the forefront, and the slightest slip might lead to defeat – for either colour. Let's look at the clocks: 0:39 – 0:42.
    [It was clearly fruitless to play 17. Nc3 Nd5! with, at worst, equal chances for Black.]
17…Ra6 The choice has been made.
    [In the line
17…c3 you have to look at 18.bxc3 Ra6
(18…Rxa3 19.Kd2!)
19.e4
(19.Nc8 Bxa3 20.e4 Nxe4!)
19…Rxb6 20.exf5 Rb2 21.Bd2 exf5 22.Ke2 Nd5 23.Kd3 – and White is, nevertheless, better.]
18. Nxc4 The knight has eaten its fill. Now it'll be eaten. (Translator's note: in Russian you talk about "eating" rather than "taking" chess pieces.)
18…Nd5 Another surprise! Aronian again and again finds unobvious possibilities, which are hard to spot from a distance. The idea of the move is to open up the centre and unleash the potential of the black bishops.
    [I looked at 18…Rc6 19.e4!
(worse is 19.b3 b5!)
19…Rxc4
(19…Bxe4?! 20.Ne5)
20.exf5 and… I couldn't find a clear path to equality. For example,
20…Rc2 21.Nd3 Nd5
(21…Rxg2!?)
22.Bd2 exf5 23.Kd1 Rc4 24.Ke2 Rxd4 25.Rc1 – despite equal material White has the better chances, as he has the promise of creating a passed pawn on the queenside.]
19. Ne5 Kramnik sidesteps the principled lines. It seems he found a persistent edge there, to the side… But I can't find one.
    [Stronger was 19.Ke2, after which Black being two pawns down could only be compensated for by study-like play. For example, this:
19…Rc6 20.Nd2 Nxf4+ 21.exf4 Rc2 22.b4 Rc3 23.Ncb3 Bd3+
(23…Bc2? 24.Rc1)
24.Kf2 Bh4+! 25.g3 Bf6 – and you end up with quite a strange situation. There are extra pawns, Black has no clear threats, but how can White untangle himself – who knows? Say what you like – bishops are a force to be reckoned with!]
19…Rb6!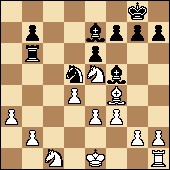 A precise decision. Black manages to weaken his opponent's queenside. It'll be hard for White to hold onto his material edge. On 20. b4 the rook will return to a6. What happens if White puts a knight on d3 – I'll either show you in the notes… or we'll see it in the game. Time is slipping away like water between your fingers: 0:22 – 0:38. And it's still a long way to the time control.
20. Ned3 That's just it. The b2-pawn is defended, but White's let down by the h1-rook being out of play. Black can hit f4, then d3, then a3.
    [On 20. b3, instead of capturing the a3-pawn there was also the interesting 20…g5, with the idea of getting to the e3-pawn.]
20…Bxd3 Also a good move order.
21. Nxd3 Bxa3 No. Levon's not capable of playing simply! He's come up with another surprise.
    [After 21…Nxf4 22. exf4 Bxa3 Black manages to take the b2-pawn without letting a piece out of the bind. In that case equality was guaranteed.]
22. Bg3 Of course. Vladimir manages to maintain his flexible pawn structure in the centre.
    [The simplest of lines 22. bxa3? Rb1+ 23. Ke2 Rxh1 with an advantage for Black, needn't be demonstrated.]
22…Bxb2
    [Leading to the loss of a piece was 22…Nxe3? 23. Ke2!]
23. Ke2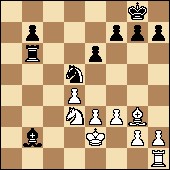 Material equality has been reestablished. From a positional point of view I don't think that either side has a noticeable advantage. The b7-pawn, for now, doesn't look like a distant passed pawn. It's more of a weakness.
23…Rc6 Ah, but what a chess player Aronian is. He's simply a magician! When he's in the mood he delights the public on every move. So now the bishop is left en prise. But it's not so simple – the black rook is aiming for the second rank.
    [It looked good to maintain things with
23…f5, for example,
24.e4 Nf6 25.Ke3 Rb3 26.Rd1 b5 with approximate equality.]
24. Bf2 Modestly, but powerfully played. Defending the e3-pawn, White devalues the infiltration of the black rook, for which Ke2-d1! has been prepared. Rh1-b1 isn't yet a threat, in light of the fork on c3, but there's the e3-e4 idea. When White has dealt with Black's shallow tactical threats it'll be possible to put pressure on the b7-pawn and seize the initiative.
24…Rc2+ Having realised that in calm, unhurried play it's Black who'll come up against problems, Levon goes for a new series of complications.
25. Kd1 Rxf2 A forced exchanging operation. Otherwise the b2-bishop can't be saved.
26. Nxf2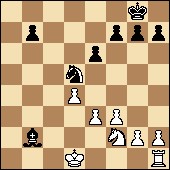 And here, having assessed the consequences of the variations, Kramnik offered a DRAW, which was accepted. There might have followed:
26…Nxe3+ 27. Kd2 Nxg2 28. Kd3
    [or 28. d5 exd5 29. Rb1 Be5!]
28…Nf4+ 29. Kc4, and here the most reliable move is
29…b5+! – either Black exchanges another pair of pawns, or pushes his passed pawn to b4, where it'll be supported by the d5-knight. In general, there's approximate equality on the board. A brief summary of the game: Kramnik managed to set Black certain problems after the opening, and Aronian set about dealing with them in the most bold and creative of manners. I've got a strong suspicion that on around the 19th move White could have played better and might have got a tangible advantage. But in the game he allowed the position to be simplified and it was a logical draw. As a result, the draw sequence of the ex-champion has grown to 5 games. And it'll be hard to break… On that note, this is Grandmaster Sergey Shipov saying goodbye to my readers. Thank you for your attention and all the best!
1/2 – 1/2
Game viewer by Chess Tempo
I'll be translating Shipov's commentary on Round 6, LIVE, at 13:30 CET, Friday 21 January, here: http://www.chessintranslation.com/live-game/