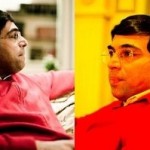 By mishanp on May 10, 2012
After last year's Tal Memorial, where Viswanathan Anand drew all nine games, he gave a long and fascinating interview to Vlad Tkachiev. Topics included the champion's current form and the upcoming match against Boris Gelfand. On the eve of that match I'm resposting the interview here as it's currently unavailable at WhyChess.
Posted in Russian | Tagged Anand, Aronian, Carlsen, Gelfand, Kasparov, Kramnik, Tkachiev, WhyChess | 3 Responses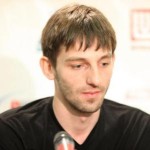 By mishanp on September 28, 2011
Shortly after the World Cup was over runner-up Alexander Grischuk gave an interview to Maria Fominykh. He talked about his route to the final, the "fair play" incident between Navara and Moiseenko, and how chess players approach chess – noting that usually it's as if they're going to a factory.
Posted in Russian, WhyChess archive | Tagged Aronian, Feller, Fominykh, Grischuk, Ivanchuk, Moiseenko, Navara, Potkin, Tkachiev, World Cup 2011 | Leave a response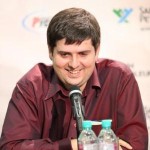 By mishanp on September 13, 2011
Russian Champion Peter Svidler has reached the World Cup final after beating Ruslan Ponomariov with the black pieces. Although Svidler was scathing about his opening play his handling of the rest of the game was bold and almost flawless.
Posted in WhyChess archive | Tagged Grischuk, Ivanchuk, Ponomariov, Svidler, Tkachiev, World Cup 2011 | Leave a response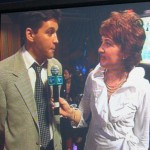 By mishanp on June 23, 2011
Yesterday I tweeted that FIDE was to introduce blitz and rapid ratings from 1 January onwards. The source, Chess-News, gave no details, but it now appears FIDE President Kirsan Ilyumzhinov was talking in a discussion that marked the launch of a new bilingual website by blitz aficionado, Vladislav Tkachiev.
Posted in Russian | Tagged Campomanes, Ilyumzhinov, Makarycheva, Surov, Tkachiev, WhyChess | 9 Responses