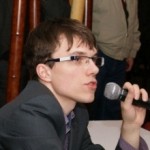 By mishanp on March 16, 2012
Mateusz Bartel could have been forgiven for taking life easy after winning the Aeroflot Open and a coveted place in the Dortmund super-tournament. Instead he went on to win the Polish Championship for the third year in a row. Leszek Kropisz interviewed a player whose star is in the ascendancy.
Posted in Polish | Tagged Aeroflot Open, Bartel, Caruana, Macieja, Mat, Mitoń, PCF, Polish Championship, Soćko, Wojtaszek | 3 Responses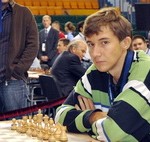 By mishanp on September 29, 2010
The key encounter in round 7 of the Olympiad was between the top two Russian men's teams, with the "veterans" prevailing thanks, once again, to Sergey Karjakin. Meanwhile, the emotional roller-coaster of  Radek Wojtaszek's win against Hikaru Nakamura was captured in live commentary by Mateusz Bartel, the fifth member of the Polish team. 
Posted in Polish, Russian | Tagged Bareev, Bartel, Grischuk, Karjakin, Kramnik, Levitov, Nakamura, Nepomniachtchi, Olympiad, Svidler, Vasiliev, Wojtaszek | Leave a response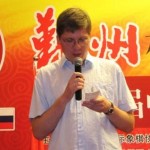 By mishanp on September 5, 2010
There's an urban myth that Vladimir Malakhov, rated 2725, a World Cup semifinalist and on the Russian 1st team for the Olympiad, is an amateur chess player. He sets the record straight in an interview with Wojciech Gryciuk for the Polish Chess Federation website, while also making some startling revelations about top-level chess.
Posted in Polish | Tagged Adams, Arkhipov, Bartel, Dreev, Dvoretsky, endgames, Malakhov, Mamedov, openings, PCF | 6 Responses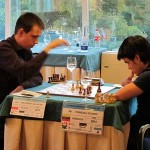 By mishanp on July 28, 2010
Radosław Wojtaszek, one of Anand's seconds in Sofia, gave an interview to the Polish chess magazine "Mat". Topics included the help provided by Kramnik & co., the enigma of Topalov's "weak" play but stellar rating, and the effect of the volcano on Anand's plans.
Posted in Polish | Tagged Anand, Bartel, Carlsen, computers, Gajewski, Giri, Kramnik, Mat, Sofia Rules, Świercz, Topalov, WC 2010, Wojtaszek | 18 Responses