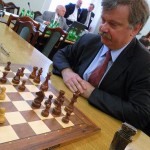 By mishanp on July 31, 2010
Tomasz Sielicki, the President of the Polish Chess Federation, gave an interview responding to criticism from the leading Polish player, Radosław Wojtaszek. Sielicki also outlines the achievements of his year in charge and discusses preparations for the upcoming Olympiad. 
Posted in Polish | Tagged Beliavski, Danailov, ECU election, Gajewski, Jakubiec, Krasenkow, Mat, Olympiad, PCF, Sielicki, Sulypa, Świercz, Wojtaszek | 2 Responses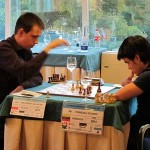 By mishanp on July 28, 2010
Radosław Wojtaszek, one of Anand's seconds in Sofia, gave an interview to the Polish chess magazine "Mat". Topics included the help provided by Kramnik & co., the enigma of Topalov's "weak" play but stellar rating, and the effect of the volcano on Anand's plans.
Posted in Polish | Tagged Anand, Bartel, Carlsen, computers, Gajewski, Giri, Kramnik, Mat, Sofia Rules, Świercz, Topalov, WC 2010, Wojtaszek | 18 Responses