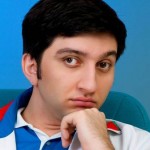 By mishanp on October 8, 2010
Perhaps the most significant story in the run-up to this year's Olympiad was the Azerbaijan team's decision to leave out Vugar Gashimov. They paid the price at the chess board (finishing 12th), but there were also more problems between the team and captain during the event, and conflict continues to rage now it's over.
Posted in Russian | Tagged Azmaiparashvili, Danailov, Gashimov, Guseinov, Gustafsson, Ilyumzinov, Karpov, Kasparov, Mair Mamedov, Mamedov, Radjabov, Rustamov, Safarli, Yazici | 9 Responses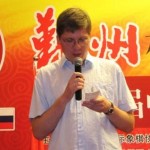 By mishanp on September 5, 2010
There's an urban myth that Vladimir Malakhov, rated 2725, a World Cup semifinalist and on the Russian 1st team for the Olympiad, is an amateur chess player. He sets the record straight in an interview with Wojciech Gryciuk for the Polish Chess Federation website, while also making some startling revelations about top-level chess.
Posted in Polish | Tagged Adams, Arkhipov, Bartel, Dreev, Dvoretsky, endgames, Malakhov, Mamedov, openings, PCF | 6 Responses

By mishanp on December 5, 2009
Rauf Mamedov lost to a Chinese player in the first round of the World Cup, but was far from singing the praises of Chinese chess.
Posted in Russian | Tagged Chinese School, Gashimov, Kamsky, Mamedov, World Cup, Zhou | Leave a response