This is how Grandmaster Michal Krasenkow describes chess in his wide-ranging responses to reader questions at the Crestbook website. Other topics include phoney titles, the "theorisation" of chess and Krasenkow's thoughts on emigrating from Russia to live in Poland.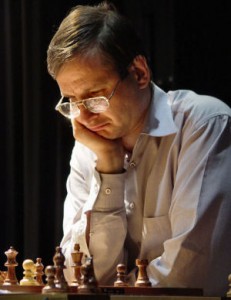 Michal Krasenkow was the first grandmaster to take part in the "KC-Conference" project at Crestbook. KC is KasparovChess, the name of the forum where members were asked to submit questions. The great value of the approach, apart from letting chess fans interact with elite GMs, is the more in-depth look it provides into both the individual player and the world of chess. As the questions are more universal than topical, the fact that it first appeared in Russian in September 2009 makes little difference, though it's interesting to see e.g. how Krasenkow's comments on the unpredictability at the top in chess  seem partly outdated with Carlsen's growing dominance.  
My full translation of Krasenkow's responses can be found at Crestbook here: http://www.crestbook.com/node/1287 
A few quick teasers:
stirlitz: Dear Michal, it would be extremely interesting if you could describe the life of a chess professional from a financial point of view i.e. without going into excessive detail, what are your basic sources of income, do you earn money from anything other than chess, and how satisfied are you with the current state of affairs?


As I said, in chess I'm freelance. I play in tournaments and leagues, I train, I write articles, i.e. I do various things but all of them are connected in some way with chess. I don't particularly try to earn money by any other means – in business, I'm absolutely nothing. I'm not complaining (touch wood!) about the current state of affairs. It never even occurred to me to compare my income (as Oleg Korneev does) with the earnings of bankers and managers :)

WinPooh: Michal, I'm interested in your opinion on the problem of the excessive "theorisation" of professional chess nowadays. From an amateur's point of view top-level play is turning into a game of "who has the best memory". Won't this, and the dangers of computer assistance, lead to the total disappearance of professional chess? Or a mass switch to Fischer Random Chess?

For the time being we're still a long way from that – at the highest level the majority of games are still decided by a struggle at the board. And human memory isn't unlimited. Computer assistance is a problem. For now it's still a marginal phenomenon. Human nature comes to the rescue – chess players usually want to win on their own, without anyone's help. But you can't rely on nature for too long. We need to come up with effective anti-cheating measures.
And Michal had this to say when asked about his best game:
I long considered my greatest achievement to be the game with De Firmian at the Polanica-Zdrój tournament (1995), until my pupil and now a grandmaster, Michal Olszewski, discovered that I missed a simple winning combination in the middlegame. So now I have to say that my greatest achievement is still ahead of me :)
Although Krasenkow is better known for spectacular attacking chess it was quite a game. Finding the sequences that win a pawn at move 25 or 38 (clue – the same first move both times!) would only have deprived us of a strategic masterpiece. 
Game viewer by Chess Tempo
Once more, my full translation of Krasenkow's answers to reader questions can be found at: http://www.crestbook.com/node/1287
Also in English is Alexander Khalifman's Conference, in three parts, starting here: http://www.crestbook.com/node/1233
Other translations, including Q&A sessions with Shirov and Grischuk, are coming soon.