Alexander Grischuk, one of the most interesting characters at the top of world chess, responded to reader questions at Crestbook. Topics included his preference for blitz and rapid chess, his other career as a poker player… and almost everything else under the sun.
Grischuk has been on the rise of late, picking up rating points at the Olympiad and now posting a 2880 performance to win the board 3 prize at the European Club Cup in Bulgaria. One more Topalov loss in Nanjing would see Grischuk enter the top 5 on the live rating list.
My full translation of the interview can be read at Crestbook's English website. It was first published in Russian around a year ago, but few of the questions were tied to current events (readers at the KasparovChess forum had a couple of weeks to submit questions for Grischuk). Below I've included a few short excerpts to give a taste, but the real appeal of these "conferences" is in the overall picture the full (and very long!) texts give of the grandmasters.   
Blitz and rapid chess
Grischuk is undoubtedly the strongest grandmaster to advocate a move away from classical chess time controls. He explains why he prefers the quicker games:
It's more appealing because it's much more dynamic, there's more emphasis on it being a game and the stronger player wins more often (and in a match by more) against a weaker player.
He also gives his take on playing to flag your opponent (a subject probably close to the heart of the average chess fan!):
How admissible is it in blitz to play for a win on time in drawn positions? 

There's a clear line for me here. Let's say that as a result of a tense struggle you've got to a dead-drawn ending (let's say a rook ending with 2 v 2 on one flank). In that case I won't play on time. But if such an ending occurs after I've had an extra piece and 40 seconds against 20 then I'll go all out to try and flag my opponent. i.e. for me – at the moment when I had an extra piece and 40 seconds against 20 the game is over (I've won) and the rest is just playing it out, it's not important how.
Poker
A lot of the questions were about Grischuk's juggling a career as a chess player with that of a poker player:
Can playing poker, which demands a lot of time, really contribute to your success in chess?

Hardly, but life isn't only about success in chess!
Grandmaster titles
Is the current system for granting the grandmaster title fair (correct)?

In general it's a reasonable system, I think, though it's simply time to introduce a new title i.e. to become a grandmaster now you need 3-4 tournaments with a 2600+ performance and a rating of 2500+. You could introduce the title of "super grandmaster" (provisionally speaking – the name's not important), and for that you'd have to have 3-4 tournaments with a 2700+ performance and a rating of 2600+.
Marriage
With some people questioning whether Veselin Topalov's recent marriage has affected his chess, it's perhaps worth giving Grischuk's opinion on the question:
Is it true that marriage = minus 50 rating points? When did you play better: when you were a bachelor or now, when you've become a father?

It's not true. About the same, but I think that now I'm a little stronger.
An interview with Grischuk's wife, Grandmaster Natalia Zhukova, can be found at Alexandra Kosteniuk's blog (from where I took the photo).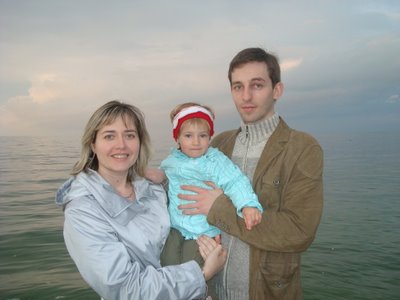 The full interview with Alexander Grischuk can be read here at Crestbook:
KC-Conference with Alexander Grischuk
Other conferences available in English are:
KC-Conference with Michal Krasenkow
KC-Conference with Alexander Khalifman (in 3 parts)
The conference with Alexey Shirov has been translated (by Dana Mackenzie), and should be appearing soon.