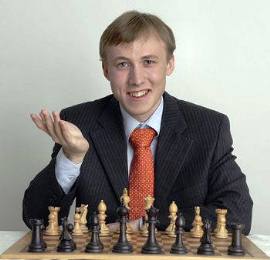 First Svidler, now Ponomariov. Once again, as part of the Crestbook KC-Conference project, you have the chance to ask a super-grandmaster absolutely anything you want.  Don't miss it!
When Ruslan Ponomariov became a grandmaster he was the youngest player in history to do so. He then went on to become the youngest World Champion in history (in a FIDE knockout, it's true, but beating Morozevich, Bareev, Svidler and Ivanchuk along the way!). Nevertheless, he's still perhaps one of the lesser-known super-grandmasters, so this is a chance to put things right.
The way the interview works is as follows:
Questions for Ruslan Ponomariov can be left as comments below this post (or in Russian at Crestbook's KasparovChess forum) until 10 December inclusive.
Please only post questions there. You can ask more than one (even as many as 10), though remember Ruslan will have limited time.
Questions can be on any topic, but please be polite and avoid e.g. personal attacks. Also please try to read previous questions to avoid repetition.
After 10 December Ruslan will be sent all the questions. The only editorial control might be to correct obvious spelling/grammar mistakes and group the questions thematically.
It's up to Ruslan, of course, how detailed his answers are and whether for any reason he decides not to respond to some of the questions.
Ruslan will probably have answered the questions in about a week, and then his answers will be published as soon as possible at Crestbook (hopefully simultaneously in Russian and English).
You can see the process in action with the recent Svidler interview. English questions were asked here in the comments to "Your questions for GM Peter Svidler" and answered (well half of them, so far!) at Crestbook's "KC-Conference with Peter Svidler: Part 1".
As before, the post asking for questions for Ruslan Ponomariov at Crestbook also included a short biography and an introduction by Sergey Shipov:
Short Biographical Sketch

Ruslan Ponomariov (Ruslan Olegovich Ponomariov) was born on 11 October 1983 in the town of Gorlovka, Ukraine. He's been an International Grandmaster since 1998, and is also an Honoured Ukrainian Master of Sport. His current FIDE rating is 2744 (November 2010, 11th place on the FIDE rating list). His highest place on the FIDE list was 6th (2743 – April-July 2002, and 2738 – April 2006).

Ruslan learned to play chess from his father at the age of 5. At 9, Ruslan became a Class A player, and in September 1993 he moved to Kramatorsk, where he lived in the family of his namesakes. The head of the family, Mikhail Nikitovich Ponomariov, was the director of a chess club, and then the Head of the famous A. V. Momot Kramatorsk School. His son, Boris, became Ruslan's trainer. There was no need to wait long for the talented boy's results. As a ten-year-old he finished third at the Under-12 World Championship in 1994. At 12, Ruslan won the Under-18 European Championship in 1996. A year later he won the Under-18 World Championship. Finally, in 1998, at the age of 14 years and 17 days Ruslan became the youngest grandmaster in history, beating the record then held by Bacrot by a year and a half.

Ruslan Ponomariov has won or finished among the prizes in many international tournament, including Kiev 1997 (1st), Donetsk 1998 (1 – zonal tournament, where Ruslan won one of two places in the FIDE World Championship in Las Vegas), Kharkov 2001 (1), Kramatorsk 2001 (1), Pamplona 2005 (1), Cuernavaca 2006 (1-2), Poikovsky 2006 (2-4), Karlovy Vary 2007 (1-2), San Sebastian 2009 (1-2). His super-tournament successes include: Linares 2002 (2), Moscow Tal Memorial 2006 (1-3), Moscow Tal Memorial (2008) 2-5 and, finally, the recent Dortmund 2010 (1).

Ruslan's greatest achievement was winning the FIDE World Championship in the Moscow knockout tournament in 2002, where he beat, in turn: Li Wenliang, S. Tiviakov, K. Georgiev. A. Morozevich, E. Bareev and P. Svidler. He met Vasily Ivanchuk in the final match and won convincingly (4.5:2.5), thereby becoming the youngest World Champion in history. Ruslan was also successful in a number of knockout championships that followed: he's a two-time finalist of the FIDE World Cup – 2005 (losing to Aronian) and 2009 (losing in the blitz tie-break to Gelfand). In the 2007 World Cup he got to the quarterfinals, where he lost to the future winner G. Kamsky. In 2001 Ruslan was runner-up at the European Championship, losing out to E. Sutovsky on a tie-break.

As FIDE World Champion, Ruslan Ponomariov should (as part of the unification process established in the "Prague Agreement") have played a match against Garry Kasparov, with the winner then playing the winner of the match between Vladimir Kramnik and Peter Leko. The match should have taken place in September 2003 in Yalta, but was called off at the last moment – for reasons that have never been made fully clear.

He's played successfully for the Ukrainian team. Back at the Olympiad in 1998 in Elista the 15-year-old Ruslan helped his team to a bronze medal (as the "second reserve" he got a medal for his individual board result and also won the decisive game in the final round). At the 2000 Olympiad in Istanbul Ponomariov won the gold medal on the team board. In 2001 in Erevan the Ukraine, with Ruslan on board 2, won the Team World Championship for the first time in their history. Finally, at the 2004 Olympiad in Calvia, Spain, he was in the winning Ukrainian team. For a few years he didn't play for his country due to a conflict with the Chess Federation, but after a change in management he was again a member of the team that won the 2010 Olympiad in Khanty-Mansiysk.

He's been awarded the 5th grade of the Ukrainian government's Order of Prince Yaroslav the Wise and is a winner of the "Chess Hetman" prize in 2005 and 2009 (it's judged by voting amongst Ukrainian grandmasters).

Ruslan is a universal chess player (according to some experts – "Karpov-like"), known for his uncompromising fighting spirit and principled character.

He enjoys an active lifestyle, liking to travel and play sport.
Note the trainer Sergey Shipov mentions below is almost certainly Magnus Carlsen's occasional trainer.
Sergey Shipov on Ruslan Ponomariov

Ruslan Ponomariov reminds me of the hero of Harry Harrison's books – the one made of stainless steel. An extremely tenacious, self-possessed and resourceful fighter. Lost positions don't exist for Ruslan. He fights to the end, and often does the impossible. The impossible for other players.

The Ukrainian grandmaster is flexible and technical, versatile and fearless. He can, and this is a very valuable asset, be different. And his opponents can never accurately predict his actions.

When I first saw the young Ponomariov I was stunned by his unchildlike seriousness. He played and reasoned like a worldly-wise adult. One well-known trainer, also shocked by the impression produced by Ruslan, predicted an inglorious future, saying the boy's nervous system wouldn't stand it… I, believe it or not, argued with the maestro. And turned out right. Ponomariov's junior successes smoothly grew into victories in adult tournaments – right up until the Championship summit. And, to be honest, there was the impression that wasn't the limit. It seemed as though all the great Ks would soon be left behind, but… 

The rest is an enigma, which I hope Ruslan himself will untangle.

And I'll also note that 27 isn't old for a chess player. After his first impressive victories Fischer also spent a long time in the shade, but then, approaching 30, he pulled off another spectacular rise. Anand won a title match at 40, while Steinitz proved his superiority over the rest of the world at 50! So everything's still ahead for Ponomariov. I really hope I can commentate on a World Championship Match he's involved in… I assure you, it'll be interesting.
You can find links to the other "KC-Conferences" translated into English – with GMs Shirov, Grischuk, Krasenkow and Khalifman – here at Crestbook.
The comments below are now open for your questions for Ruslan Ponomariov!