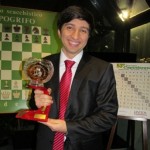 By mishanp on January 11, 2011
Vugar Gashimov's interview for Chess-News after his victory in Reggio Emilia was a vivid reminder of the importance of the human element in chess. He talks about motivation, how not all novelties are found by computers, and how Sofia Rules can lead to less interesting chess.
Posted in Russian | Tagged computers, Gashimov, Ivanchuk, Navara, Reggio Emilia, Short, Sofia Rules, Vallejo | 1 Response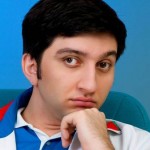 By mishanp on October 8, 2010
Perhaps the most significant story in the run-up to this year's Olympiad was the Azerbaijan team's decision to leave out Vugar Gashimov. They paid the price at the chess board (finishing 12th), but there were also more problems between the team and captain during the event, and conflict continues to rage now it's over.
Posted in Russian | Tagged Azmaiparashvili, Danailov, Gashimov, Guseinov, Gustafsson, Ilyumzinov, Karpov, Kasparov, Mair Mamedov, Mamedov, Radjabov, Rustamov, Safarli, Yazici | 9 Responses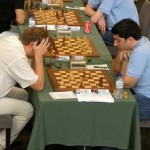 By mishanp on September 9, 2010
In an ugly turn of events, Azerbaijan, previously real contenders for a gold medal at the Olympiad, have chosen to leave out Vugar Gashimov, one of their star players. This follows a bitter conflict with the team management and a nationalistic campaign against the 2719-rated player.
Posted in Russian | Tagged Anand, Azmaiparashvili, Gashimov, Kasparov, Mamedyarov, Morozevich, Olympiad, Radjabov, Ragimov, Safarli | 6 Responses

By mishanp on December 5, 2009
Rauf Mamedov lost to a Chinese player in the first round of the World Cup, but was far from singing the praises of Chinese chess.
Posted in Russian | Tagged Chinese School, Gashimov, Kamsky, Mamedov, World Cup, Zhou | Leave a response
By mishanp on December 3, 2009
Eljanov on Ukrainian players wanting to abandon their federation and Shirov's unusual training methods, Gashimov on "incorrect" Chinese chess, and more: the Azerbaijan site was on hand to report a lot of interesting material from the World Cup in Khanty-Mansiysk.
Posted in Russian | Tagged Chinese School, Eljanov, Gashimov, Kamsky, Kamsky-Topalov, Laznicka, Mamedyarov, Shirov, Ukraine, Wang Yue, World Cup | Leave a response