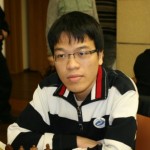 By mishanp on March 2, 2011
Moscow's Aeroflot Open can be something of a graveyard for foreign chess talent, so for the Vietnamese GM Le Quang Liem to win it twice in a row was an amazing achievement. It's also thought-provoking: does Le's success tell us anything about the current balance of power between Russia and Asia?
Posted in Russian | Tagged Aeroflot Open, Bareev, Carlsen, Chinese School, Hou Yifan, Khalifman, Krogius, Lam Minh Chau, Le Quang Liem, Mikhail Vasiliev, Shvedchikov, Soviet School, Tomashevsky, Valery Chekhov, Vietnamese Chess | 7 Responses

By mishanp on December 5, 2009
Rauf Mamedov lost to a Chinese player in the first round of the World Cup, but was far from singing the praises of Chinese chess.
Posted in Russian | Tagged Chinese School, Gashimov, Kamsky, Mamedov, World Cup, Zhou | Leave a response
By mishanp on December 3, 2009
Eljanov on Ukrainian players wanting to abandon their federation and Shirov's unusual training methods, Gashimov on "incorrect" Chinese chess, and more: the Azerbaijan site was on hand to report a lot of interesting material from the World Cup in Khanty-Mansiysk.
Posted in Russian | Tagged Chinese School, Eljanov, Gashimov, Kamsky, Kamsky-Topalov, Laznicka, Mamedyarov, Shirov, Ukraine, Wang Yue, World Cup | Leave a response