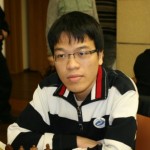 By mishanp on March 2, 2011
Moscow's Aeroflot Open can be something of a graveyard for foreign chess talent, so for the Vietnamese GM Le Quang Liem to win it twice in a row was an amazing achievement. It's also thought-provoking: does Le's success tell us anything about the current balance of power between Russia and Asia?
Posted in Russian | Tagged Aeroflot Open, Bareev, Carlsen, Chinese School, Hou Yifan, Khalifman, Krogius, Lam Minh Chau, Le Quang Liem, Mikhail Vasiliev, Shvedchikov, Soviet School, Tomashevsky, Valery Chekhov, Vietnamese Chess | 7 Responses
By mishanp on December 4, 2009
GM Evgeny Bareev gave a long and outspoken interview to Maria Fominykh for Chesspro. Highlights included his description of why Jan Nepomniachtchi was excluded from his chess school, and how Carlsen is following in Kasparov's footsteps.
Posted in Russian | Tagged Bareev, Carlsen, Danailov, Karjakin, Kasparov, Le Quang Liem, Nepomniachtchi, Sjugirov, Tal Blitz | Leave a response