One of the stories of the recent World Team Championship in China was the return of Peter Leko after a long absence from competitive chess. He played as though he'd never been away, posting an unbeaten 2800+ performance. In an interview he revealed what was behind his decision.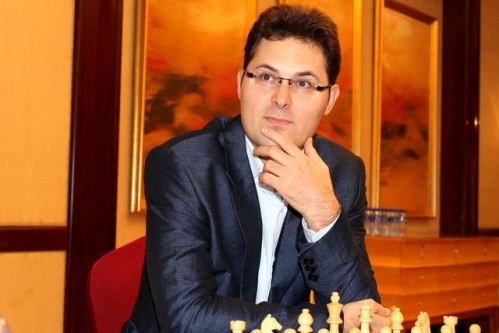 The interview came as part of Vladimir Barsky's fifth round report for the Russia Chess Federation website. At the time Hungary had recovered from a slow start to post a remarkable sequence of three wins over Azerbaijan, Ukraine and Israel. Peter Leko was instrumental, winning his games on top board against the latter two teams (note you can play through all Leko's games in China in the viewer after the interview). 
To begin with, why is it so long since we've seen Peter Leko in action?

I wanted to take a certain break. For the last 10 or even 15 years I've been playing non-stop at the very highest level, and after last year's Dortmund I decided to take a break. True, I still had to play at the Olympiad for the Hungarian team; I didn't perform very well there, but that no longer had any influence on my decision.

You simply wanted to take a rest from chess?

Yes, that was the original plan. But after two weeks I sensed I couldn't get by without chess, it was my life, and I started to work on it. I decided that I wouldn't play before the World Team Championship, and it was very pleasant simply to work while not experiencing the continual stress of knowing that tomorrow you're again playing against Anand, Kramnik, Aronian or Carlsen, and you've got nothing in the opening!… Simply to work on chess and not think about what to play tomorrow. Of course, it was very hard in the first round here. It's even hard just now! My head isn't yet working automatically. After a 9-month break it's not so easy. You can play training games at home but that's completely different – you don't feel as though a real battle's going on.

What happened against Ivanchuk?

That game proceeded in a very, very interesting manner, and also from a psychological point of view! I played a very strong novelty. 17…f5 had already been played, but no one had sacrificed with the move 18…f4. I'd prepared that idea many years ago and had already lost hope that someone would go for that position. I couldn't remember a thing! He found the reply 20.Re4; I thought for an hour and couldn't see any more than a draw. In actual fact, after the sacrifice I wanted to play differently, but at the board I considered the path I chose to be objectively the best. There was a very interesting psychological moment: if I'd played my analysis at blitz speed then he wouldn't have played 30.Bg2, and after 30.Kf1 we'd have agreed a draw. But he sensed that I was playing on my own rather than playing out computer analysis, so he decided to play 30.Bg2. The two bishops and rook are very strong, and he also has a dangerous passed pawn. However, I also pick up a lot of pawns, and the c4-pawn will always give me counterplay. Kamsky also asked me afterwards: "What was going on in your game? I couldn't work out if you were winning, losing or it was going to be a draw". Ivanchuk and I didn't know either! When you've got less than 10 minutes left it's very hard to correctly evaluate such a position.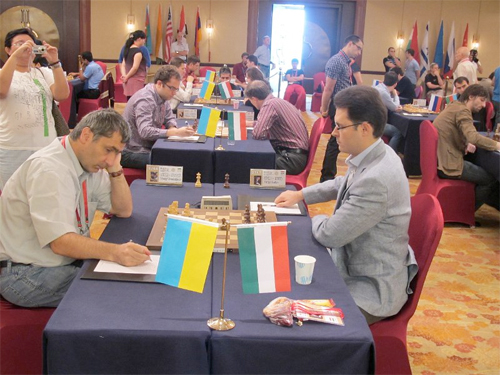 Vassily Ivanchuk – Peter Leko
Ruy Lopez C89

1.e4 e5 2.Nf3 Nc6 3.Bb5 a6 4.Ba4 Nf6 5.0–0 Be7 6.Re1 b5 7.Bb3 0–0 8.c3 d5 9.exd5 Nxd5 10.Nxe5 Nxe5 11.Rxe5 c6 12.d4 Bd6 13.Re1 Qh4 14.g3 Qh3 15.Qe2 Bg4 16.Qf1 Qh5 17.Nd2 f5 18.c4 f4

19.cxd5 c5 20.Re4 c4 21.Bc2 fxg3 22.hxg3 Bxg3 23.fxg3 Rxf1+ 24.Nxf1 Qh3 25.Re3 Rf8 26.Bd2 Bf3 27.Rxf3 Rxf3 28.Be4 Rxg3+ 29.Nxg3 Qxg3+

30.Bg2 Qd3 31.Be1 Qxd4+ 32.Bf2 Qxb2 33.Rf1 Qd2 34.Bc5 g6 35.Rf8+ Kg7 36.Rf2 Qd1+ 37.Rf1 Qd2

38.Kh2 c3 39.Rf2 Qe1 40.Bd4+ Kh6 41.Bh3 c2 White resigned

And what can you say about the game against Roiz?

That also ended up being a good game. When you haven't played for a long time and look at all the openings you find you know a great deal, but you can't remember a thing! After all, I play both 1.e4 and 1.d4 and you can't keep every variation in your memory. On the other hand, when you can start with either move it gives you confidence. In the game against Roiz I also spent an hour thinking about two moves, 15.Be3 and 16.Ne1. The position there's already somehow "inhuman"! To be honest, I couldn't see how Black could equalize after 16.Ne1, and I also couldn't see any other move for White. Arshak told me just now that the computer doesn't give 16.Ne1, but I thought it was a very strong move. After it Rois also thought from 40 minutes, but he probably missed the very strong move 21.Qc2! in advance. Most likely he was counting on 21.Qxb4 Nxb4 22.Be4, but then 22…Rac8, and Black can probably draw. I've got two bishops and the open b-file, while his bishop is stuck on a7. That was a key moment.

So maybe the manoeuvre 15.Be3 and 16.Ne1 is very strong, or perhaps the computer will say you can't play like that at all. It needs to be looked at. In any case, I'm very glad I found it. It was very important to prevent the Bxf3 exchange.

Peter Leko – Michael Roiz
Caro-Kann B12

1.e4 c6 2.d4 d5 3.e5 Bf5 4.Nf3 e6 5.Be2 Ne7 6.0–0 c5 7.c4 Nbc6 8.Na3 a6 9.dxc5 d4 10.Qa4 Ng6 11.Rd1 Bxc5 12.b4 Ba7 13.c5 0–0 14.Nc4 Be4

15.Be3 d3 16.Ne1

16…Qd5 This is the principled move – everything else is weaker. For example, 16…Ngxe5 17.Nxe5 Nxe5 18.Nxd3 Bxd3 19.Bxd3 Nxd3 20.Qa3 – I win back the piece and the bishop remains on a7. Black's position is very unpleasant.

17.Nd6 Ngxe5 18.Nxe4 Qxe4 19.Nxd3 Nxd3 20.Bxd3 Qxb4

21.Qc2! 21.Qxb4 Nxb4 22.Be4 Rac8, and Black will probably draw.

21…Qh4 22.g3 Qh5 23.Rab1 Rab8 24.Be2 Qe5 25.Rd7 Rfd8 26.Rxd8+ Rxd8 27.Rxb7 Rb8 28.Bxa6 Nb4 29.Qa4 Nd5 30.Qd4

Black resigned

During the break you must have continued to follow what was happening in the chess world closely. What impression did you have of the matches in Kazan, and of all this talk about the draw death of chess?

I simply watched all the games as a chess player. I know very well that sometimes you put a great amount of energy into a 20-move draw and then they criticise you for it, which is very unpleasant. However, it's much more unpleasant when everything's decided by blitz in matches at that level. I don't think draws are the greatest problem we have in chess nowadays; Gelfand's games showed that you can't talk about any draw death.

Look: in the match against Kramnik Grischuk took a draw with White on the 8th move in order to get to blitz. Grischuk's actions were reasonable: if those are the regulations then he picked the optimal path for himself. But you can understand the bewilderment of people who ask: what's going on? Why are they taking 8-move draws? Grischuk's strategy justified itself as he got to the final where, initially, he played very well and perhaps objectively should have won – in the first two games he let good chances slip. But then Borya also started to play very well and deserved his victory.

At the kind of level where World Championship qualifying is taking place there should be 6 or 8 classical games, so it won't be possible to just to "sit tight" through all the black games. Of course, it's hard to find an optimal format. If there are 8 games then everyone will ask: why not 4? When it's 4 everyone will ask: why not 8? But still, the matches in Kazan reminded me of the World Cups in Khanty-Mansiysk, where you only have two games and then it's rapid and blitz. You don't even understand why you're advancing or getting knocked out. You seemed to have been playing well, but you lost one blitz game and that's that – out! Or perhaps you were winning but you made a one-move blunder – and you're out! It's not pleasant when something like that happens in the classical cycle. Things need to be changed a little, but how – I don't know, that's not a question for me.

Emil Sutovsky didn't ask you to express your opinion?

It seems he held his survey among the top-20, while I lost all my rating points and no longer get asked about anything! But actually I'm glad I can concentrate on chess; we'll see where I am in a year's time.

I liked the fact that during the matches in Kazan my nerves were calm and I could simply watch. There was a great number of interesting games. All this talk about what they were doing there, that it was bad for chess! – I don't share that opinion. I also really liked the live commentary by Mark Glukhovsky and Sergey Rublevsky, and then Alexander Khalifman. I listened to them all the time and they did a very good job. Watching the live broadcast and listening to the commentary is simply brilliant! When you look at computer analysis you think: "Ah, so they didn't see that, or that". But the way it was done you were drawn into the process. What's going on? What does Rublevsky think, or Khalifman, or Glukhovsky? All of that was very interesting. I heard from many people who understand Russian that both during the Tal Memorial and the matches in Kazan they listened to the commentary with great pleasure.

Peter, how do you rate Hungary's chances in the Championship?

The very best teams are playing here, and you can see that there's something going on every day. Yes, on paper the Russian team is a little stronger than the rest, but on any given day it can all go differently. Ukraine has been weakened by the absence of Ponomariov, but everything's still to play for. I don't even know what day it is or what the standings look like. I play my games and enjoy it when Hungary wins. We started off very badly: Almasi lost a totally won position to Sashikiran, Balogh missed a win and we drew with India. It was a shock for us. On the following day we lost to Russia; perhaps that was a fair result, although Almasi also had good chances against Grischuk at one point, but again he lost. In the beginning he lost two games with White, but he was playing well until he let everything slip in time trouble. After that we managed to put things right, but the real struggle's still ahead. We want to compete, but who can say what'll happen next?

Will you start playing regularly again now?

Yes, I hope so. I'll be playing in Khanty-Mansiysk. After that I don't have any invitations yet, but if I play well then that question will resolve itself.

Thank you, Peter, and good luck!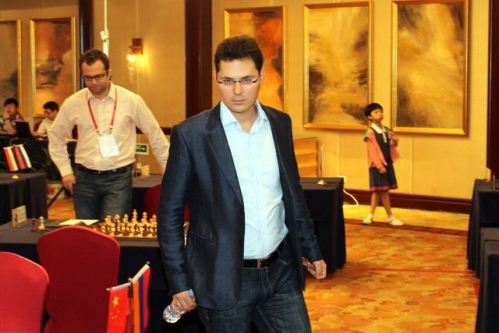 In the viewer below you can play through all Leko's games from the World Team Championship in China.
Game viewer by Chess Tempo
Peter Leko is playing in the 2011 FIDE World Cup in Khanty-Mansiysk. His first round opponent is Sam Shankland from the USA.