Boris Spassky on his recovery, Kirsan Ilyumzhinov on Carlsen, Veselin Topalov on his fear of Santa Claus, and Darek Świercz makes Wijk-aan-Zee, with a little help from his trainer. Chess stories from Russia (and "Eastern Europe") in brief.
Before I got (or rather, was given – thanks!) the idea for this site, I was doing something similar at various chess forums. A difference back then was that I could just post a quick translation or summary almost instantly. There was no need to translate more than the highlights, or write an introduction and provide a context, or choose images to go with the text. With "Bits and Pieces" I want to try and get back to that, while also continuing to write longer and more "serious" articles. So without further ado…
Boris Spassky update
A brief item at Chess-News earlier this week reported on Boris Spassky, the 10th World Chess Champion, who suffered a stroke back in September. He's currently in a rehabilitation hospital in Paris, where he's planning to stay until mid-January. He's quoted as saying:
Recovery after a stroke takes a long time, so that shouldn't raise any concerns about my health. After arriving in Paris I passed all the medical tests and now I'm continuing a rehabilitation programme under the supervision of French doctors, who I'm very grateful to. I'd also like to thank the physicians in Moscow from the 13th City Hospital and the Burdenko Institute, and above all Natalia Vyacheslavovna Kurdyumova, for providing qualified help just when it was needed.
Apparently as well as therapy sessions he's been relaxing by listening to his favourite music from the first half of the 20th century – the Russian Pyotr Leshchenko and Alexander Vertinsky, and the Italian Enrico Caruso.
Let's hope Spassky can soon get back to being a hero on these pages for reasons other than his health! One of the texts I most enjoyed translating this year was this impromptu interview: I liked that the rook moved in straight lines and ate everything.  
Ilyumzhinov: Garry Kasparov is Magnus Carlsen's trainer
A recent interview session with Kirsan Ilyumzhinov at Gazeta.ru showed there's little change on the FIDE front.
Did you think the dream of reducing time controls was a thing of the past? No such luck:
In the tournament halls where chess battles take place total silence has to be observed, and when there's a beautiful move the spectators don't have the right to jump up from their chairs and shout "hurray" or "goal" or "we did it"! The inability to express emotion makes us incapable of competing with other sports where emotion is expressed. But we're still actively working on getting chess onto television. For that, of course, we'll have to shorten the time controls and attract sponsors from computing and the internet… 
The following Q&A might come as a surprise to both Kasparov and Carlsen!
What's behind the open letter of Magnus Carlsen, who refused to play in the Candidates Tournament in Kazan? I've got great doubts that the Kid voluntarily took the decision to postpone a possible World Championship match – after all he'd be one of the favourites in Kazan. I think that Kasparov is behind all this. Does he really have such influence on Carlsen? // Viktor Petrovich

Garry Kasparov is Magnus Carlsen's trainer. What his influence is I can't say precisely. But you can still sense Kasparov's hand in this. It wasn't just Carlsen's declaration, though FIDE still hasn't received an official refusal. Today we sent out contracts to all of the participants in the Candidates Matches which will take place next year in Kazan. By the way, FIDE has already signed a contract with the Russian Chess Federation to hold the matches. That contract was also sent to Magnus Carlsen. We still haven't received a refusal. The time for signing runs out for all the participants on 22 December 2010. If Carlsen doesn't sign the contract then FIDE will act in accordance with the Candidates Matches Regulations. But, as they say, there'll always be someone to take his place (literally: a holy place is never empty). My wish is that sportsmen, and not only Magnus Carlsen, prove their sporting superiority not in press conferences or courtrooms, but at the chessboard.
Other gems include Ilyumzhinov giving his main aims as increasing the number of countries in FIDE to 200 (a great solution to the one country, one vote issue…), and the number of chess players worldwide to 1 billion (a goal that might be hard to "audit"!). And two final quotes:
Which chess player's style of play appeals to you most? // Ilya

Bobby Fischer. I consider Bobby Fischer to have been a chess genius. And I'm happy that in my life I managed to play four games against him in Budapest. You want to ask what the result was? 0:4. But I put up stiff resistance in the final game. For me that was an inexpressible joy and happiness – to play with the chess god himself.
Are you honest with yourself? // Timur

Honesty is the very greatest cunning.
GM Mikhail Golubev gave a succinct and entertaining commentary on the interview at his Russian LiveJournal page, which also addressed Ilyumzhinov telling the New York Times that he planned to write a book on aliens (Golubev proposed a Russian article much like this one on the "psychology and neuroscience of alien abduction" as a preface).
It's hard to resist mentioning another blog entry by Golubev. It relates to a minor scandal that Ilyumzhinov was asked about in the interview: the issue of his still using a flashing light on top of his car (a notorious way officials break traffic regulations – and beat traffic jams – in Russia), despite not being Head of Kalmykia anymore. Golubev writes:
I officially and categorically protest against Ilyumzhinov being deprived of his flashing light.

However, Ilyumzhinov's flashing light needs to be improved.

I propose this classic nano-project from Kin-Dza-Dza.  
Topalov confused by love
That's the perhaps unreliable Google translation of an article in Standart News on Veselin Topalov's appearance this week on a charity edition of Bulgaria's "Who Wants To Be A Millionaire?".
I don't know how he got on (any Bulgarian TV viewers out there want to comment below?!), but the pre-publicity included some curious items. A summary:
Topalov married his Spanish wife Christina on September 4th.
They'd been introduced 4 years ago by Danailov (also married to a Spanish woman).
Christina studied Biology but doesn't work as a biologist. They've never played chess together.
The small ceremony took place in Salamanca with twenty witnesses including only 3 Bulgarians: Danailov, Cheparinov and Topalov's brother, Alexander.
He jokes, "Apart from my results becoming worse after the wedding nothing else has changed".
Topalov apparently talks about a childhood passion for ice cream, a fear of Santa Claus, and the "exotic chinchilla" that he and his brother had in Sofia.
And Danailov phones in (his "phone-a-friend"!?) and tells a story about car trouble on the way to one of Topalov's first tournaments in Spain, where they finally arrived with only 30 euros and had to spend the night in the car. 
Now that's teamwork!
16-year-old Polish GM Dariusz Świercz was the outright winner at the recent Cultural Village Tournament (official website, or at TWIC) and qualifies for Wijk-aan-Zee C, where he'll be joined by his compatriot Radosław Wojtaszek, who's playing in the B Tournament. That caps an impressive last few months for Świercz, after bronze at the World Junior Championship (see this interview I translated after that event), and surviving a Russian baptism of fire at the Chigorin Memorial to come joint 8th on +4 (see the tournament table and this interview at Chessdom).  
It seems as though the Cultural Village victory wasn't the smoothest – in the penultimate game he had this position a pawn down with White after 61 moves: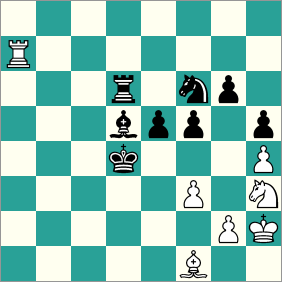 Amazingly his opponent, Twan Burg, managed to get mated on e1 in a mere 8 moves!  You can see how that happened in the second last game on this page at the Polish Chess Federation website. While you're there don't miss the Sulypa – Peelen game above it (with queen – and most other piece – sacrifices galore), about which Piotr Murdzia writes: "It turns out that Romanticism in chess isn't dead after all!"
The winner of that game, Oleksandr Sulypa, was once Vasily Ivanchuk's coach and is now coaching the young Polish GM (and the Polish women's team). Coming into the final round of  the "Cultural Village" the Indian prodigy Sahaj Grover was leading and would have won… except that Sulypa beat him. As Murdzia puts it, "now that's teamwork!"
(I should perhaps explain that I live in Poland, which means I take more than a passing interest in Polish chess!)
Svidler interview coming soon… 
I've now received the first half of Peter Svidler's answers to questions that were posed here (in English), and at Crestbook (in Russian). There's a lot of translating to do, but it should be ready in the next few days – I can promise it'll be well worth the wait!