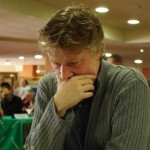 By mishanp on March 29, 2011
If you heard that Sergey Shipov's sixth letter from Aix-les-Bains was about an ex-World Champion and bathroom visits… you'd come to completely the wrong conclusion! Shipov talks about the European Championship venue, and the down-to-earth reality of grandmaster life.
Posted in Russian | Tagged Beliavsky, Crestbook, European Individual Championship 2011, Gallagher, Kasparov, Khalifman, Shipov, time control | Leave a response
By mishanp on June 20, 2010
The second installment of Boris Gelfand's answers to the questions of Crestbook readers kept up the incredible length and quality of the first. A general title might be, "Everything you ever wanted to know about GM chess but never dared to ask". He patiently answers questions ranging from "e4 or d4" to "what's the meaning of life"!
Posted in Russian | Tagged age, Anand, Anti-Moscow, Carlsen, Caruana, cube, Elista, FIDE election, football, Gelfand, Giri, Grischuk, Ilyumzhinov, Ivanchuk, Karpov, Kasparov, Kramnik, Makropoulos, Najdorf, Nakamura, Petroff, Pirc, Rodshtein, time control, Topalov, WC 2010 | 5 Responses