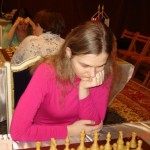 By mishanp on March 13, 2011
Chess events perhaps aren't famed for their organisation, but it's still unusual to find all the participants of a major tournament going on strike before the final round is played. That's what happened in the Cotroceni Women's International that recently finished in Bucharest.
Posted in Russian | Tagged Anna Muzychuk, Cotroceni International, Gunina, Pasarelu, Repkova, Surov, Turova | 7 Responses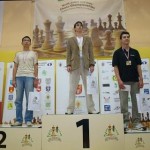 By mishanp on August 20, 2010
The World U-20 Championship in Poland lent itself to photo reports, but there was little real coverage from the venue. An exception was the regional "Super Nowości" newspaper, which interviewed the winners, Anna Muzychuk and Dmitry Andreikin, as well as the Polish star, Dariusz Świercz.
Posted in Polish | Tagged Andreikin, Anna Muzychuk, Świercz, Wojtaszek, World Junior Championship | Leave a response