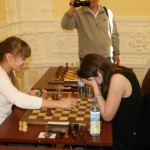 By mishanp on April 4, 2011
Hopefully, at least, as the chess didn't go quite so well for them! The brunette team won the April Fool's Day blitz match in Moscow's Central Chess Club by a crushing 20-point margin, with Nazi Paikidze and Daria Charochkina finishing joint first in the individual standings.
Posted in Russian | Tagged Blondes versus brunettes, Charochkina, Fominykh, Girya, Gunina, Kashlinskaya, Kuznin, Paikidze, Potemkin, Savina, Surov | 4 Responses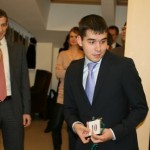 By mishanp on December 24, 2010
With his win on tie-breaks in the Russian Championship, Ian Nepomniachtchi, born in the same year as Magnus Carlsen and Sergey Karjakin and now 2732.8 on the live rating list, confirmed he's back in contention for the highest honours in chess.
Posted in Russian | Tagged Carlsen, Karjakin, Nepomniachtchi, Olympiad, Potemkin, Russian Championship 2010, Savinov, Soviet Sport, Svidler | 1 Response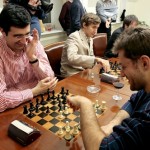 By mishanp on November 16, 2010
On the eve of the World Blitz Championship an event was held in Moscow for the opening of the Russian Women's Championship – where the women were joined by Magnus Carlsen and many of the Tal Memorial players, and Vladimir Kramnik played against a robot.
Posted in Russian | Tagged Aronian, Averbakh, Carlsen, Eljanov, Gelfand, Kosteniuk, Kramnik, Pogonina, Potemkin, robots, Surov, World Blitz Championship | 5 Responses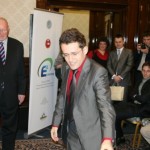 By mishanp on November 5, 2010
Levon Aronian crossed 2800 on the November FIDE rating list, and on the eve of the Tal Memorial he told Evgeny Surov of the new Chess-News website how that made him feel and what he expects from the tournament.
Posted in Russian | Tagged Aronian, Carlsen, Dubov, Kramnik, Potemkin, Surov, Tal Memorial 2010 | Leave a response