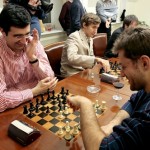 By mishanp on November 16, 2010
On the eve of the World Blitz Championship an event was held in Moscow for the opening of the Russian Women's Championship – where the women were joined by Magnus Carlsen and many of the Tal Memorial players, and Vladimir Kramnik played against a robot.
Posted in Russian | Tagged Aronian, Averbakh, Carlsen, Eljanov, Gelfand, Kosteniuk, Kramnik, Pogonina, Potemkin, robots, Surov, World Blitz Championship | 5 Responses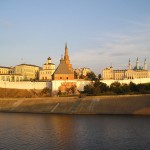 By mishanp on July 24, 2010
In a bolt from the blue, the Kommersant newspaper reports that the Russian Chess Federation is lobbying to have the 2011 Candidates Matches switched from Baku, in Azerbaijan, to Kazan, in Russia. Veselin Topalov has joined the fray by refusing to play in Russia.
Posted in Russian | Tagged Armenia, Aronian, Azerbaijan, Baku, Candidates Matches, Dvorkovich, Extra Time, Ilyumzhinov, Kazan, Kommersant, Kosteniuk, Mair Mamedov, RCF, Selivanov, Sutovsky, Topalov, UEP | 5 Responses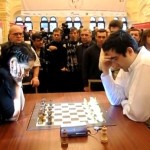 By mishanp on June 25, 2010
Ex-World Chess Champion Vladimir Kramnik turned 35 today, and the Russian daily newspaper Kommersant published greetings from the current Women's World Chess Champion, Alexandra Kosteniuk.
Posted in Russian | Tagged Kosteniuk, Kramnik, Tal Memorial Blitz | Leave a response