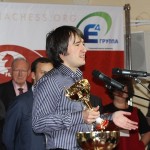 By mishanp on January 7, 2011
One of the last obstacles to the Candidates Matches going ahead in May this year in Kazan appears to have gone, with Teimour Radjabov deciding not to dispute the decision to replace Magnus Carlsen with Alexander Grischuk. He made the announcement in an interview with Teimour Tushiev for Extratime.az.
Posted in Russian | Tagged Candidates 2011, Carlsen, Fischer, Grischuk, Kramnik, Radjabov, World Blitz Championship | 8 Responses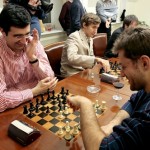 By mishanp on November 16, 2010
On the eve of the World Blitz Championship an event was held in Moscow for the opening of the Russian Women's Championship – where the women were joined by Magnus Carlsen and many of the Tal Memorial players, and Vladimir Kramnik played against a robot.
Posted in Russian | Tagged Aronian, Averbakh, Carlsen, Eljanov, Gelfand, Kosteniuk, Kramnik, Pogonina, Potemkin, robots, Surov, World Blitz Championship | 5 Responses