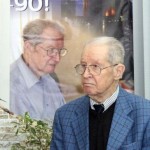 By mishanp on February 19, 2012
Yuri Averbakh, the world's oldest grandmaster, celebrated his 90th birthday on February 8th this year. To mark the occasion he gave a long and fascinating interview to Vladimir Barsky and Eteri Kublashvili, which turned into a whirlwind tour of chess history.
Posted in Russian | Tagged Averbakh, baghchal, Francesc Vicent, Greco, Jacobus de Cessolis, Kasparov, Lasker, N.D. Grigoriev, New Chronology, shatranj | 8 Responses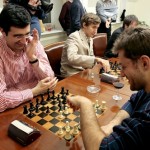 By mishanp on November 16, 2010
On the eve of the World Blitz Championship an event was held in Moscow for the opening of the Russian Women's Championship – where the women were joined by Magnus Carlsen and many of the Tal Memorial players, and Vladimir Kramnik played against a robot.
Posted in Russian | Tagged Aronian, Averbakh, Carlsen, Eljanov, Gelfand, Kosteniuk, Kramnik, Pogonina, Potemkin, robots, Surov, World Blitz Championship | 5 Responses