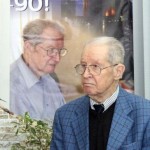 By mishanp on February 19, 2012
Yuri Averbakh, the world's oldest grandmaster, celebrated his 90th birthday on February 8th this year. To mark the occasion he gave a long and fascinating interview to Vladimir Barsky and Eteri Kublashvili, which turned into a whirlwind tour of chess history.
Posted in Russian | Tagged Averbakh, baghchal, Francesc Vicent, Greco, Jacobus de Cessolis, Kasparov, Lasker, N.D. Grigoriev, New Chronology, shatranj | 8 Responses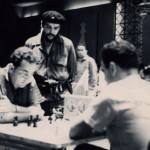 By mishanp on February 15, 2011
For someone perhaps best known for spectacular failure – losing 6:0 to Bobby Fischer – Mark Taimanov has had the most successful of lives. A top Soviet grandmaster and a successful concert pianist, he's now the happy octogenarian father of 6-year-old twins. He talks about his life and contemporary chess.
Posted in Russian | Tagged Alekhine, Anand, Botvinnik, Capablanca, Carlsen, Castro, Che Guevara, Churchill, computers, Fischer, Lasker, Lyubov Bruk, Nakamura, Shostakovich, Spassky, Taimanov, Tata Steel 2011 | 5 Responses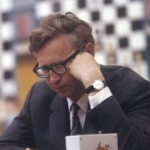 By mishanp on January 14, 2011
The death of the 7th World Champion, Vasily Smyslov (1921-2010), was one of the greatest chess losses of the last year. He featured in two year-end interviews: one with FIDE President Kirsan Ilyumzhinov, who claimed Smyslov also encountered aliens, and the other with GM Sergey Shipov, who recalled the Smyslov he knew.
Posted in Russian | Tagged aliens, Botvinnik, Capablanca, computers, Fischer, Flohr, Gulko, Huebner, Ilyumzhinov, Karpov, Krasenkow, Lasker, Morphy, Shipov, Smyslov, Spassky, Surov | 8 Responses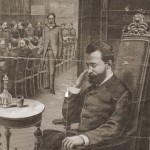 By mishanp on August 18, 2010
Alexander Kentler, who writes a chess column for sportsdaily.ru, was recently sent a remarkable document: the recollections of Mikhail Chigorin's daughter on the 50th anniversary of her father's death. She talks of his legendary absent-mindedness, how cigar smoke thwarted his title ambitions, and describes the last moments of his life. 
Posted in Russian | Tagged Chigorin, Kentler, Lasker, Novoye Russkoye Slovo, Pilsbury, Schiffers, Steinitz, Tarrasch, Znosko-Borovsky | 4 Responses
By mishanp on August 15, 2009
Anatoly Karpov gave a long interview to the Russian RIA News. The most fascinating section is his assessment of his own place in the pantheon of Chess World Champions, including his controversial opinion that Anand and Topalov would have been unable to achieve the same success without computers.
Posted in Russian | Tagged Alekhine, Anand, Aronian, Bogoljubov, Botvinnik, Bronstein, Capablanca, Carlsen, Chigorin, computers, Euwe, FIDE election, Fischer, Ilyumzhinov, Ivanchuk, Karjakin, Karpov, Kasparov, Keres, Korchnoi, Kramnik, Lasker, Leko, Petrosian, Rubinstein, Spassky, Steinitz, Tal, Topalov | 5 Responses