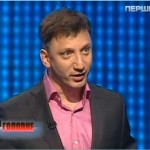 By mishanp on May 3, 2011
Andriy Slyusarchuk's blindfold victory over Rybka last week earned him his 15 minutes of chess fame, which is not at all bad for someone who took up the game 8 months ago! GM Sergey Shipov has written surely the most eloquent assessment of the 'trick', and of the current state of man-versus-machine contests.
Posted in Russian, Ukrainian | Tagged Alekhine, computers, Deep Blue, Fritz, Golubev, Houdini, Ivanchuk, Kasparov, Kramnik, Rybka, Shipov, Slyusarchuk | 2 Responses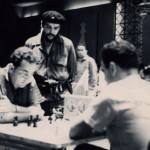 By mishanp on February 15, 2011
For someone perhaps best known for spectacular failure – losing 6:0 to Bobby Fischer – Mark Taimanov has had the most successful of lives. A top Soviet grandmaster and a successful concert pianist, he's now the happy octogenarian father of 6-year-old twins. He talks about his life and contemporary chess.
Posted in Russian | Tagged Alekhine, Anand, Botvinnik, Capablanca, Carlsen, Castro, Che Guevara, Churchill, computers, Fischer, Lasker, Lyubov Bruk, Nakamura, Shostakovich, Spassky, Taimanov, Tata Steel 2011 | 5 Responses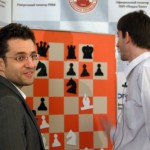 By mishanp on November 14, 2010
The sensation of the eighth round was Sergey Karjakin's crushing win over Vladimir Kramnik. Shipov's report begins, "generational change is inevitable". Other highlights include the awakening of the "lion" Shirov, and Nakamura and Gelfand paying tribute to Capablanca and Alekhine.
Posted in Russian | Tagged Alekhine, Aronian, Capablanca, Eljanov, Gelfand, Grischuk, Karjakin, Kramnik, Mamedyarov, Nakamura, Shipov, Shirov, Tal Memorial 2010, Wang Hao | Leave a response
By mishanp on August 15, 2009
Anatoly Karpov gave a long interview to the Russian RIA News. The most fascinating section is his assessment of his own place in the pantheon of Chess World Champions, including his controversial opinion that Anand and Topalov would have been unable to achieve the same success without computers.
Posted in Russian | Tagged Alekhine, Anand, Aronian, Bogoljubov, Botvinnik, Bronstein, Capablanca, Carlsen, Chigorin, computers, Euwe, FIDE election, Fischer, Ilyumzhinov, Ivanchuk, Karjakin, Karpov, Kasparov, Keres, Korchnoi, Kramnik, Lasker, Leko, Petrosian, Rubinstein, Spassky, Steinitz, Tal, Topalov | 5 Responses
By mishanp on April 27, 2009
Ivanchuk's surreal reply to an odd question on chess genius was one of the highlights of the Nalchik Grand Prix.
Posted in Russian | Tagged Alekhine, Capablanca, Carlsen, Fischer, genius, Ivanchuk, Karpov, Kasparov, Polgar, Tal | 1 Response