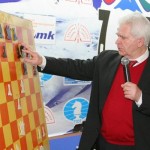 By mishanp on January 30, 2012
Boris Spassky, the Tenth World Chess Champion, today turned 75. In a long interview he talked about his introduction to chess, the road to the title and his friendship and rivalry with Bobby Fischer, as well as about his personal life, from surviving the Siege of Leningrad to his first unsuccessful marriage and moving to France.
Posted in Russian | Tagged Bondarevsky, Fischer, Geller, Keres, Petrosian, Spassky, Tal, Tolush, Zak, Zangalis | 6 Responses
By mishanp on August 15, 2009
Anatoly Karpov gave a long interview to the Russian RIA News. The most fascinating section is his assessment of his own place in the pantheon of Chess World Champions, including his controversial opinion that Anand and Topalov would have been unable to achieve the same success without computers.
Posted in Russian | Tagged Alekhine, Anand, Aronian, Bogoljubov, Botvinnik, Bronstein, Capablanca, Carlsen, Chigorin, computers, Euwe, FIDE election, Fischer, Ilyumzhinov, Ivanchuk, Karjakin, Karpov, Kasparov, Keres, Korchnoi, Kramnik, Lasker, Leko, Petrosian, Rubinstein, Spassky, Steinitz, Tal, Topalov | 5 Responses