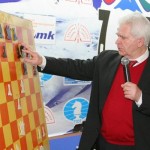 By mishanp on January 30, 2012
Boris Spassky, the Tenth World Chess Champion, today turned 75. In a long interview he talked about his introduction to chess, the road to the title and his friendship and rivalry with Bobby Fischer, as well as about his personal life, from surviving the Siege of Leningrad to his first unsuccessful marriage and moving to France.
Posted in Russian | Tagged Bondarevsky, Fischer, Geller, Keres, Petrosian, Spassky, Tal, Tolush, Zak, Zangalis | 6 Responses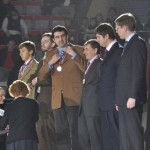 By mishanp on October 6, 2010
While the Russian women's first team took gold with an almost flawless performance, their male counterparts found things a whole lot tougher. Vladimir Kramnik, Evgeny Bareev and Sergey Shipov were among those who assessed the silver-medal performance at the World Chess Olympiad.
Posted in Russian | Tagged Bareev, Grischuk, Karjakin, Kramnik, Levitov, Malakhov, Morozevich, Niepomniachtchi, Olympiad, Shipov, Svidler, Zangalis, Zhukov | 21 Responses