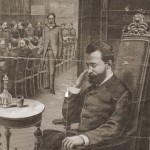 By mishanp on August 18, 2010
Alexander Kentler, who writes a chess column for sportsdaily.ru, was recently sent a remarkable document: the recollections of Mikhail Chigorin's daughter on the 50th anniversary of her father's death. She talks of his legendary absent-mindedness, how cigar smoke thwarted his title ambitions, and describes the last moments of his life. 
Posted in Russian | Tagged Chigorin, Kentler, Lasker, Novoye Russkoye Slovo, Pilsbury, Schiffers, Steinitz, Tarrasch, Znosko-Borovsky | 4 Responses
By mishanp on August 15, 2009
Anatoly Karpov gave a long interview to the Russian RIA News. The most fascinating section is his assessment of his own place in the pantheon of Chess World Champions, including his controversial opinion that Anand and Topalov would have been unable to achieve the same success without computers.
Posted in Russian | Tagged Alekhine, Anand, Aronian, Bogoljubov, Botvinnik, Bronstein, Capablanca, Carlsen, Chigorin, computers, Euwe, FIDE election, Fischer, Ilyumzhinov, Ivanchuk, Karjakin, Karpov, Kasparov, Keres, Korchnoi, Kramnik, Lasker, Leko, Petrosian, Rubinstein, Spassky, Steinitz, Tal, Topalov | 5 Responses