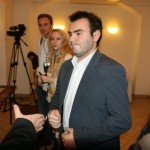 By mishanp on November 8, 2010
Sergey Shipov isn't commentating live on the classical part of the Tal Memorial this year, but he gave a round-up of all the games from the third round for Chess-News. Read on to find out what cockroaches and elite GMs have in common.
Posted in Russian | Tagged Aronian, Eljanov, Gelfand, Grischuk, Karjakin, Kramnik, Mamedyarov, Nakamura, Shipov, Shirov, Surov, Tal Memorial 2010, Tarrasch, Wang Hao | 4 Responses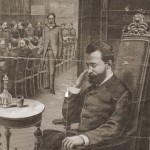 By mishanp on August 18, 2010
Alexander Kentler, who writes a chess column for sportsdaily.ru, was recently sent a remarkable document: the recollections of Mikhail Chigorin's daughter on the 50th anniversary of her father's death. She talks of his legendary absent-mindedness, how cigar smoke thwarted his title ambitions, and describes the last moments of his life. 
Posted in Russian | Tagged Chigorin, Kentler, Lasker, Novoye Russkoye Slovo, Pilsbury, Schiffers, Steinitz, Tarrasch, Znosko-Borovsky | 4 Responses