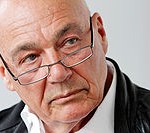 By mishanp on March 30, 2010
Anatoly Karpov gave an almost hour-long interview on Russian prime-time television, discussing his candicacy for the position of FIDE President, and much else besides. 
Posted in Russian | Tagged Capablanca, Euwe, FIDE election, Fischer, Ilyumzhinov, Karpov, Kasparov, Kramnik, Pozner, Tal | Leave a response
By mishanp on August 15, 2009
Anatoly Karpov gave a long interview to the Russian RIA News. The most fascinating section is his assessment of his own place in the pantheon of Chess World Champions, including his controversial opinion that Anand and Topalov would have been unable to achieve the same success without computers.
Posted in Russian | Tagged Alekhine, Anand, Aronian, Bogoljubov, Botvinnik, Bronstein, Capablanca, Carlsen, Chigorin, computers, Euwe, FIDE election, Fischer, Ilyumzhinov, Ivanchuk, Karjakin, Karpov, Kasparov, Keres, Korchnoi, Kramnik, Lasker, Leko, Petrosian, Rubinstein, Spassky, Steinitz, Tal, Topalov | 5 Responses